Muslim Quarter, Xi'an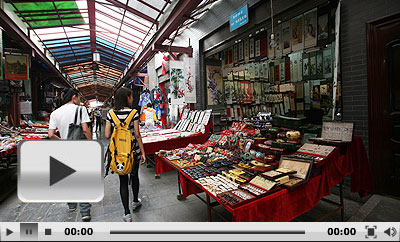 Pictures
Just as its name implies, the Muslim Quarter, also known as Huimin Jie in Pingyin, is the hub of the Muslim community in Xi'an City, Shaanxi Province. Located to the north of the West Street in the city center, the quarter covers several blocks inhabitated by over 20,000 Muslims. There are about ten mosques in the area of the Muslim Street, among which the
Great Mosque
in the Huajue Lane is the most famous and popular.
Muslim food and souvenir market is another feature of the area. The Beiyuanmen Muslim Market located just to the north of the
Drum Tower
is a great choice after the sightseeing in the city center. About 500 meters (about 547 yards) in length from south to north, the street can be reached through the archway under the Drum Tower. This street is paved with dark colored stone with green trees providing heavy shade during summer; the buildings on both sides of the street are modeled on the styles of both the
Ming
(1368-1644) and the
Qing
Dynasties (1644-1911). Some of the constructions are restaurants; while others are stores. But here there is one thing in common: the owners are all Muslims.
| | |
| --- | --- |
| Muslim Quarter | Artwork Stalls |
Beiyuanmen Muslim Street has a long history. It is said that in olden days, foreign diplomatic envoys and merchants lived here and then they married and had children, so gradually the population increased. Today, most of the inhabitants here are the descendants of those immigrants. All the Muslims here are the pious and devout followers of Islam so they form a tight knit community, which maintains its own culture and traditions to this day even in such a modern society. People here are very familiar with each other because they were companions when they were children and then they grew to adults together and still then one after another they got married and had their own children. As time goes on, definitely they will become older and older or even pass by together.
Walking along this twisted, narrow street which is aligned with stores on both sides, you can see that Muslim men with white hats sit inside the stores and talk leisurely with each other. In front of the doors of some stores, old men with white beards sit on the cane chairs enjoying the tender touch of the sun and having fun with the little children running along the street. The main goods of these stores are authentic hand-making Muslim food which tastes very good. While still there are small stores selling the special local products of Shaanxi Province and yet others provide you with exquisite souvenirs.
It is stated that once you have been to the Beiyuanmen Muslim Food Street, you won't feel regretted for the snacks of Xi'an. Crumbled Unleavened Bread in Mutton Stew (Yangrou Paomo) is a very distinctive snack of Xi'an, and is extremely delicious. Fried rice with pickled Chinese cabbage and little capsicum is extremely savoury. And it is a real enjoyment for you to eat it on a hot summer's day. Roast beef, mutton or lamb is another snack that can make your mouth water. After broiling on a charcoal fire with some flavorings on the meat, it is ready for you to enjoy. While the most famous snack on this street is the steamed stuffed bun of Jiasan. The main ingredients of the steamed stuffed bun here are beef or mutton mixed with the soup decocted from the bones of sheep or cattle.

There are also fruit pies made with persimmon here which are considered as the unique refreshment in Xi'an. These pies take the bright red, glittering and translucent persimmons from the Lintong District of Xi'an City, Shaanxi Province as the basic ingredients. When making the pies, firstly people will get rid of the skin of the persimmons, pounding the flesh, mixing it with flour, then putting the sweet-scented osmanthus and white sugar inside as the stuffing, then frying them in oil until they are cooked. When eating them, you will feel savory, sweet and soft.

There are also a great many other snacks to be found along this street, such as preserved meat, casserole, various noodles, and so on. They are waiting for you to enjoy.

How to Get to the Muslim Quarter

By Bus:
1. Take bus No. 7, 15, 32, 205, 215, 221, 222, 251, 252, 612, 618 or Tourist Line 8 (No. 610) and get off at Zhonglou Xi (
Bell Tower
West) Station. Walk towards the Drum Tower and you will easily find the street behind the Drum Tower.
2. Dang-dang Trolley Sightseeing Bus
Dang-dang Trolley Sightseeing Bus
has been put into use with one route for night tour and one route for food tour. The second route links Musilm Quarter and another famous local food court - Yongxingfang. Tourists who would like to taste the special local food can take this bus.

By Metro:
Take
Metro Line 2
and get off at Zhonglou (Bell Tower) Station. Get out from Exit B. Walk towards west for around 6 minutes and you can see the Drum Tower. The street is behind the Tower.
Xi'an Bus / Metro Search
| | |
| --- | --- |
| Admission Fee | Free |
| Opening Hours | Whole day (stores usually open at 08:00-23:00) |
Tip
Tourists can also go to visit the
Gao's Grand Courtyard
near the northern end of the street, or Great Mosque, in the Huajue Lane in this quarter.
Print

Visit a Local Courtyard in Xi'an
: Welcome to Join TravelChinaGuide's tours to visit an authentic courtyard in Muslim Quarter. Want a close contact with the local families and learn to cook Chinese food? Please see
Family Visit In China
.

Top 10 Things to Do in Xi'an

9 Best Xi'an Night Markets
- Last updated on May. 06, 2023 by Catherine He -
Questions & Answers on Muslim Quarter
Asked by Peter Ong from SINGAPORE | Dec. 30, 2019 19:06

Reply
Bell Tower to Mount Huashan
1) How to travel from Bell Tower to Mount Huashan?
2) Do you advise to stay near Bell Tower to visit Mount Huashan?
3) Or is it able to visit only one day Huashan?
Answers (1)
Answered by Pam from USA | Jan. 01, 2020 19:14

0

0

Reply
1. You can take metro line 2 from Bell Tower station to North street station, then transfer to metro line 1 to Fangzhicheng station (Exit D), then you can take direct bus from East Coach Station to Huashan.
2. You can choose Bell Tower area or Xi'an Railway Station area to stay.
3. Yes, it is.
Asked by Waf from USA | Nov. 26, 2019 16:50

Reply
How far is Great Mosque from Beijing The Great Wall Hotel No.10 Dongsanhuan North Road,
Chaoyang District
Answers (1)
Answered by Mary from CANADA | Nov. 28, 2019 18:44

0

0

Reply
The distance is around 15km and you are suggested to take taxi directly.
Asked by Rasoul from IRAN | Sep. 22, 2019 02:15

Reply
is this place Muslim Quarter in Shanghai?
Answers (1)
Answered by Ken from USA | Sep. 24, 2019 17:41

0

0

Reply
Sorry, there isn't.
Asked by NURUL AISHAHFIKA from MALAYSIA | Jan. 09, 2019 18:51

Reply
Can u please help me. How to go to muslim quarter from North Square of Big Wild Goose?
Answers (1)
Answered by Eira from UNITED KINGDOM | Jan. 10, 2019 00:33

0

0

Reply
Take metro line 3 from Dayanta Station to Xiaozhai Station and then transfer to metro line 2 to Zhonglou Station, Exit B. After arriving, walk west around 600 meters to find the destination.
Asked by Ursula from USA | Jun. 03, 2018 21:31

Reply
I will be in Xi'an 1.5 days 2 nighs actually on a tour. Not much time but would I have time besides
visiting the Armee museum,,terracotta warriors vusit the great mosque and muslim quarter?
Maybe at night? Xiexie
Answers (1)
Answered by Dominic from FRANCE | Jun. 04, 2018 02:05

1

0

Reply
The muslim quarter is highly recommended to tour around at night. There are many nice local snacks and local souvenir shops. Have fun!