Top Xian Attractions
More Things to Do
Top 10 City Tours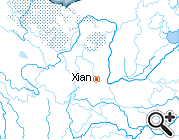 4 Days Private Xi'an Tour with Mt. Huashan or Qianling Mausoleum
Code: XA05
From
$499
per person
Free Inquiry


Sincere greetings & airport-hotel transfer. City Wall.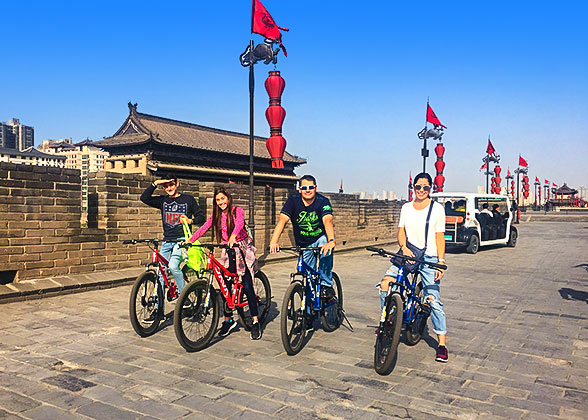 Cycling on the City Wall
When the flight touches down in Xi'an, your professional English-speaking guide will meet you outside the baggage claim area of the airport and then take you to the hotel by a comfortable transfer.
After a short break, your Xi'an 4 days tour will start with a visit to the ancient
City Wall
, which was constructed about 600 years ago during the Ming Dynasty (1368-1644). You can walk, rent a bicycle or take an electric car at your expense to travel around on the way. It is a good place to learn about the history of the city and have a panoramic old city view.
Day 2
Xi'an Highlights Tour
Terracotta Warriors Museum, Shaanxi History Museum, Small Wild Goose Pagoda. (B)
Terracotta Warrior Museum
This morning, we will take a world wonder trip to the
Terracotta Warriors and Horses Museum
. The orderly arranged terra cotta warriors and horses as well as the well-made bronze weapons, chariots and horses will show you how mighty the military forces were and how advanced the manufacturing industry was in the Qin Dynasty, about 2,200 years ago. From hairstyle to clothing, you can also have a glimpse of the custom of that period.
We leave the lunch on your own. There are many restaurants around the museum, besides KFC and Burger King, you can also taste some local foods with the advice of your guide.
In the afternoon, continue your private Xian 4 days itinerary to the
Shaanxi History Museum
, where there is a galaxy of fine artistic and cultural relics. Among the vast array of antiquities, there are exquisite bronzes of the Shang and Zhou dynasties (1600-256 BC), vivid pottery figurines in various postures of different dynasties, rare gold and silver wares of the Han and Tang dynasties (202-907 BC) and peculiar mural paintings in the Tang tombs, all of which are the finest part that should not be missed. After that, your guide will show you around the
Small Wild Goose Pagoda
in the Jianfu Temple.
Meals: Western buffet breakfast
Day 3
A Day Trip to Mt. Huashan or Qianling Mausoleum & Famen Temple
Mt. Huashan with the round trip cable car, or Qianling Mausoleum & Famen Temple. (B)
Mt. Huashan
Today, we will head for a private day trip to
Mt. Huashan
, which is 120 kilometers away from Xi'an City. As one of the five sacred mountains in China, Mt. Huashan is famous for its natural vistas of steep and narrow paths, precipitous crags, lofty peaks and a high mountain range. It takes two hours by car to reach the foot of the mountain.
Upon arrival, you will take a cable car first to the top station located on the hillside of the North Peak under the company of your guide. Then climb up to the top of the North Peak with a high altitude of 1614 meters for around half an hour. If you are energetic enough, you may continue to hike up to the Black Dragon Ridge, one of the most dangerous passes of the mountain. We believe that you will be impressed by the majesty of the Huashan Mountain as well as its supernatural atmosphere. Afterwards, get back to the North Peak and take the cable car down to the foot of the mountain. The whole guided hiking may take around two hours in total. Then we will transfer you back to Xi'an.
►
Alternative trip to Qianling Mausoleum & Famen Temple
If you are not interested in Mt. Huashan, we can arrange a visit to
Qianling Mausoleum
and
Famen Temple
instead. After 1.5 hours' drive from the city, you will arrive at the well-preserved Qianling Masusoleum, which is the tomb of the Emperor Gaozong (628-683) of the Tang Dynasty and his wife Wu Zetian (624-705), the only female Emperor in China. You will also visit the nearby two satellite tombs of Princess Yongtai and Crown Prince of Zhanghuai.
Then, we will take a ride of one hour to Famen Temple. Lunch is arranged on your own, you will get useful advice and assistance from your guide. This ancient Buddhist holy temple with a history of over 1,700 years is world-famous for holding the relic of Sakyamuni's finger bone. After visit, we will transfer you back to Xi'an.
Meals: Western buffet breakfast
Day 4
Departure from Xi'an
Great Mosque, Muslim Quarter. Hotel-airport transfer & see you off. A nice onward trip! (B)
In the morning, we will visit the
Great Mosque
. It is an Islamic mosque with Chinese temple layout, having successive courtyards on an east-to-west axis facing Mecca with pavilions and pagodas adapted to Islamic functions. In the east of the mosque is the famous
Muslim Street
, where you can stroll around leisurely and taste authentic local snacks.
After that, your 4 days Xi'an tour draws to an end and we will transfer you to Xi'an Airport for your homeward flight. We wish you a pleasant trip home!
Meals: Western buffet breakfast
B-- Breakfast
L-- Lunch
D-- Dinner
Tour Prices
With Luxury Hotels
2-3 travelers
4-5 travelers
6-9 travelers

$659

$579

$479
With Standard Hotels
2-3 travelers
4-5 travelers
6-9 travelers

$579

$499

$399
Prices are per person in US Dollars based on double occupancy.
Any part of the itinerary e.g. tour length, activities & hotels can be tailored to your individual interests.

Price Includes
Hotel accommodation with western buffet breakfasts
Private English-speaking guide
Private driver & air-conditioned vehicle
Entrance fees to tourist sites
Price Excludes
International airfares
Lunches and dinners
Entry visa fees
Gratuities to guide and driver
Itineraries you may also like: