Huaqing Pool
30km east of Xi'an and beside the Terracotta Army, Huaqing Pool features the Imperial Pools of the Tang Dynasty (618 - 907), Pear Garden, Frost Flying Hall, Nine-Dragon Lake, Five-Room Building and
Mount Li
. Huaqing Pool is famous for the romantic love story of Tang Emperor Xuanzong and his concubine Yang Yuhuan.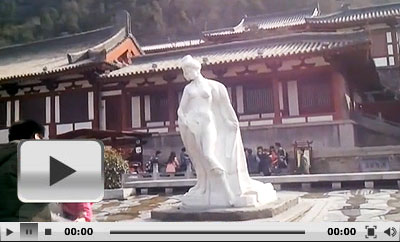 Pictures
It's said that King You first built a palace during
Western Zhou Dynasty
(1046BC - 771BC) at the foot of Mount Li. In later dynasties, additions to the palace had been made. During his reign, the Emperor Xuanzong spent dizzying amounts of his funds to expand it to a luxurious palace named Huaqing Hot Springs or Huaqing Palace.
Imperial Pools of the Tang Dynasty
Inside Huaqing Pool, there are still five hot spring pools remaining: the Lotus Pool, Haitang Pool, Star Pool, Shangshi Pool, and the Prince Pool. The Lotus Pool was Emperor Xuanzong's private bathing pool, which looks like a lotus. Haitang Pool, also named Guifei Pool, is like a Chinese crabapple and was for Yang Yuhuan. The Star Pool was said to have no roof, so one can bath there at night, enjoying the whole stars. Shangshi Pool was for the officials, and the Prince Pool, of course, for the Prince.
Pear Garden & Frost Flying Hall
The Pear Garden in Huaqing Pool is the most famous imperial theater in China. In the Garden, Emperor Xuanzong and his concubine Yang Yuhuan created many tunes and dances. However, the most famous one, Ni Shang Yu Yi Qu has been long-lost.
West of the Pear Garden stands Frost Flying Hall, aka Feishuang Hall in Chinese, the bedroom palace of Emperor Xuanzong. The name, Frost Flying, comes from an interesting story. It's said that the whole hall is quite warm even in winter due to the hot springs. When the snow fell down upon it, all snow turned into frost at once.
| | |
| --- | --- |
| Nine-Dragon Lake | Overlook of Huaqing Pool |
Nine-Dragon Lake
South of the Pear Garden and Frost Flying Hall lies the Nine-Dragon Lake, covering about 530 square meters (634 square yards). The lake is divided into two parts, with the strait crossed by the long Nine-Dragon Bridge. Actually, there are only eight dragon stone carvings on the bridge. The ninth is carved under a pavilion by the lake.
Five-Room Building
Another famous building in Huaqing Pool is the Five-Room Building. It was the shelter of
Empress Dowager Cixi
after the Eight-Power Allied Force captured Beijing in 1900, and was also the temporary residence of Chiang Kai-shek, the leader of the Chinese Nationalist Party during the world-famous Xi'an Incident in Dec. 12th 1936 (12.12 Xi'an Incident). On that day, it was at this place that Chiang was kidnapped by two generals and was forced to unite all Chinese people to fight against enemies.
Mount Li
Mount Li is part of the Huaqing Pool Scenic Area, and is famous for the Beacon Tower fortification of the Western Zhou Dynasty located on the mountain.
| | |
| --- | --- |
| Bingjian Pavilion on Mount Li | Tang-Dynasty Dance Show |
How to Get to Huaqing Pool From Xi'an
1. T
ake
Xi'an Metro Line 9
from downtown area to Huaqing Pool Station directly.
2. South Gate or West Gate of
Tang Paradise
: Take bus 307 to Huaqingchi Station.
3. Xi'an Railway Station: From Wulukou metro Station, take
metro line 1
to Fangzhicheng, and then transfer to metro line 9 and get off at Huaqing Pool Station.
4.
Xi'an North Railway Station: T
ake
metro line 2
to Beidajie and transfer to metro line 1 to Fangzhicheng. Then, take metro line 9 to Huaqing Pool.
If you start from Lintong, take bus 101 from Lintong Bus Station to Huaqingchi.
Xi'an Bus / Metro Search
Huaqing Pool Entrance Fee & Hours
Huaqing Pool Entrance Fee (including Mount Li)
CNY120
Free for children under 1.2m (3.9ft)
Opening Hours
Mar. – Nov.: 7:00 – 19:00;
Dec. – Feb.: 7:30 – 18:00.
Performances in Huaqing Pool
There are two performances in Hauqing Pool now. One is the
Song of Everlasting Sorrow
, telling the romantic stories of Emperor Xuanzong and Yang Yuhuan. The other is the 12.12 Xi'an Incident, showing more details of that famous incident.
The Song of Everlasting Sorrow
12.12 Xi'an Incident
Ticket Fee
Eastern and western areas: CNY 238/268;
Central area: CNY 298;
VIP area: CNY 988/888/588;
CNY169;
Free for children under 1.3 meters (4.3 feet) not occupying a seat.
Show Time
Thursday to Saturday: 20:10 – 21:20; 21:40 – 22:50.
Sunday to Wednesday: 20:30 – 21:40

Note:
1. Only available from Apr. to Oct.
2. The performance might be canceled due to extreme weather. Please refer to the latest notice inside the scenic area.
11:00 – 12:00;
15:00 – 16:00.
Tip:
Tourists are not allowed to use hot springs in this scenic area. If you really want to have such an experience, many hotels near the scenic area welcome you all year around. They have hot springs for you to enjoy. With an even temperature of 43°C (109°F), the ever-flowing water here contains minerals and organic materials that have therapeutic effects on the skin. You can experience the same comfort as Emperor Xuanzong or Yang Yuhuan did.
Tips on Hot Spring
for your reference

How to get to the surrounding scenic spots
The Museum of Qin Terracotta Warriors and Horses
: Take bus 307, 914 or Tourism Bus 5 (306) to Bingmayong Station.
Mount Li
: Visitors can find the entrance of the Mount Li from the back door of the Huaqing Hot Springs.
Print
- Last updated on Apr. 18, 2022 -
Questions & Answers on Huaqing Pool
Asked by Carolina from INDONESIA | May. 17, 2018 22:10

Reply
how to get from terracotta army to to the Huaqing Palace?
Answers (1)
Answered by Donna from CANADA | May. 18, 2018 00:39

0

0

Reply
Take Lintong Bus 826 to Datang Huaqingcheng, and you will get there.
Asked by LING KIM CHAI from MALAYSIA | Dec. 01, 2017 06:07

Reply
Any bus to Huaqing Palace? Bus fare and entrance fee?
Any good shopping or food pedestrian to visit in Xi'an?

Thank you.

Regards,
Ling
Answers (1)
Answered by Amenda from UNITED KINGDOM | Dec. 03, 2017 20:26

0

0

Reply
As I know, Tourist Bus Line 5 from Railway Station can take you directly to the palace and it costs CNY5, takes about 1h.
The entrance fee is CNY120.
As for food pedestrian, you can go to Huimin Street near Bell Tower, where you can find many local snacks.
Asked by Cyrille Kim from PHILIPPINES | Sep. 27, 2017 02:58

Reply
Hi, kindly help me on how to get to Xi'an Railway Station from Huaqing Hot Spring
we are planning to watch Everlasting Sorrow Performance, so probably we'll leave the place at almost 10 in the evening.
Thank you for your answer in advance.
Answers (1)
Answered by Blair from UNITED KINGDOM | Sep. 27, 2017 21:54

0

0

Reply
Sorry to tell you no bus is available at that time, so you need to take a taxi back. It takes 30-40 minutes and CNY80-90.
Asked by Cheer from THAILAND | Sep. 21, 2017 03:52

Reply
The Song of Unending Sorrow (Chang Hen Ge) vs Tang Dynasty show.
Hi there,

We are going to Xi'an in October, and if we are to watch only one performance. Would you recommend Chang Hen Ge or Tang Dynasty show?

Some people said that Tang Dynasty show is not interesting anymore and Chang Hen Ge is more popular (and of course more expensive).
Answers (2)
Answered by Chole from FRANCE | Sep. 21, 2017 22:53

0

0

Reply
Chang Hen Ge is recommended, as you said, it's more popular and interesting.
Answered by Angle | Sep. 22, 2017 02:32

0

0

Reply
By Tang Dynasty show, do you refer to the refer in Tang Yue Gong? If so, I personally recommend it more. I've seen it once and the sets and performances are all worthy. You will find more than half of guests are foreigners there. Also the dumpling banquet there is also suggested.