Cheongsam (Qipao)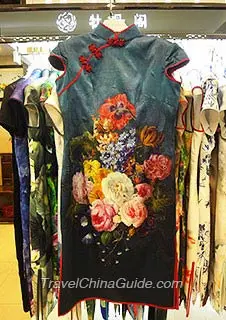 Silk Cheongsam
The Cheongsam (also known as Qipao or Chipao), is a traditional Chinese close-fitting dress for women. Originating from a type of Manchurian female garment, it quickly developed, becoming very popular from 1912 to 1949. Its main characteristics are a mandarin collar, fitted waist, Chinese knotted buttons, hemmed slits on two sides, and a tailored form fit. It is usually made from satin brocade, silk, or cotton. Some are even beautifully embroidered.

The original Manchurian garment was loose and wide, covering most of the woman's body with only the head, hands and toes revealed. With time, the style of the Cheongsam began to change to more closely fit people's bodies. The 1820s~1830s was the golden time for its development and it was during this time that the Cheongsam occupied an irreplaceable position in ladies fashion. More western elements began to be added to Chinese clothes. The hem became shorter, the collar became smaller and it began to follow the woman's figure. The short hem and small collar style gradually formed during this time and has changed little since.

After 1949, Chinese no longer wore the Cheongsam in daily life and up until the 1980s it was regarded as the dress of the service industry, being seldom worn by ordinary people. In recent years the Cheongsam has begun to be worn by Chinese people as formal wear on important occasions. Not only Chinese women, but also women from foreign countries, such as Paris Hilton, are interested in wearing them.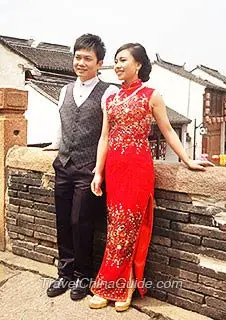 During its development, two different styles came into being, the Shanghai style and the Beijing style. The Shanghai style, absorbing western elements, focuses on diverse styles and reveals the wearer's figure, while the Beijing style focuses on the traditional pattern with colorful decorations. The Beijing's focuses on displaying the beauty of the Cheongsam instead of the people wearing it. Of the two kinds, Shanghai leads the fashion trends.

Tips for Wearing
The Cheongsam can be worn in both formal situations and daily life. In formal situations, one suit from a good textile, with bright colors, decent designs, comparatively traditional styles and patterns as well as delicate workmanship are necessary. When wearing it, people should do up all the buttons and have certain hair styles and makeup. For instance, for a Chinese wedding, many brides choose to wear red Cheongsams when toasting with the guests. Fashionable patterns but delicate style dresses are chosen by women who intend to attend banquets. For daily wear, there are no specific requirements, so one can choose the one you like best. When wearing the Cheongsam, a few simple accessories are suggested. Too many accessories may detract from the clothes' beauty.

Tips for Choosing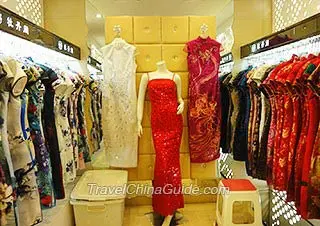 The Cheongsam can be bought directly from stores or you could have one custom made at the tailor's. Here are some tips for you to choose a prefect dress.

BWH needs to be measured correctly to make sure it fits your figure.

The collar, the length of the clothing as well as the sleeves needs to be carefully checked when you try one in the store.

Famous Cheongsam Shops
| | |
| --- | --- |
| Store Names | Address |
| Ruifuxiang | No. 190, Wangfujing Street, Beijing |
| A Helen | No. 309, Block C, Yuanyang Xinganxian, Sanyuan East Bridge, Chaoyang District, Beijing |
| Lisa Tailor Shop | Shop 5011, 3.3 Sanlitun Clothes Market, No. 33, Sanlitun North Street, Chaoyang District, Beijing |
| Hanyi Store | No. 217-221, Changle Road, Luwan District, Shanghai |
| 2002 Haishang | No. 201, Changle Road, Luwan District, Shanghai (close to South Maoming Road) |
| Manloulan | No. 243, Changle Road, Luwan District, Shanghai |
- Last updated on Aug. 08, 2022 -
Questions & Answers on Cheongsam (Qipao)
Asked by stella from MALAYSIA | Feb. 03, 2017 02:52

Reply
How much is the ready made cheongsam in Silk market
Answers (1)
Answered by Coco | Feb. 03, 2017 02:56

5

0

Reply
It depends on the quality of the silk and level of the tailor. There are cheap ones at CNY200-300 and there are expensive ones costing several thousands CNY.