Features of Traditional Chinese Clothing
During the long history of traditional Chinese clothing, changes, developments, and improvements occured all the time. However, Chinese clothing can still be easily told apart from others, all because of its unique features. Some of the general features include: cross-collar with junction leading to right, no buttons but tying with sash on the waist. In addition, there are many other detailed features that make the unparalleled style of Chinese clothing unique.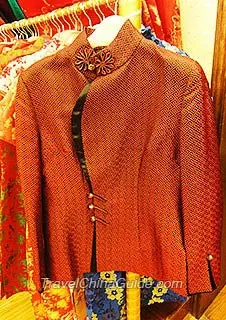 Tangzhuang Suit

Traditional Chinese clothing has two basic forms: blouse plus skirt, and long gown. They have been co-used and co-existed in history for many thousands of years. Generally, men wore long gowns more often, while women preferred blouse and skirt.

Appearance: Emphasizing longitudinal direction to make the body look longer. The clothes drop naturally from collar; there are no exaggerations on shoulders; the sleeves are long enough to cover the hands and the skirt is long and in a tubular shape.

Tailoring: Plane, straight-line cutting. This makes the structure of the clothes simple. No matter whether it is a gown, a shirt, a blouse, or a jacket; there are usually only two structure lines from armpits down to two sides, and no armholes and shoulder pads. Thus, the piece of cloth can be laid flat. However, this tailoring method often pays too much attention to the front and back, neglecting the two sides, which in turn hides the beauty of body curve.

Details of Specific Areas: The types of collar include cross, round, and straight, etc. When Chinese style buttons came into being, they can be set down the middle front, on the twisted front, and from collar down to right armpit, etc. The gowns or skirts are usually designed with two full-length slits, to either side, or less commonly, four; one each: left, right, front, and back…For millennia, and still today, these crafts continue to be employed by clothing designers to show quintessential Chinese elements. Straight collar and slits on two sides are the most typical.
| | |
| --- | --- |
| Straight Collar of Chinese Suit | Collar of Cheongsam |

Decoration: The most common techniques include: inlay, inserting, border, coiling, and
embroidery
, etc. These crafts make simple-tailored clothes colorful and beautiful. Among all these, embroidery is the most famous and popular worldwide. With a history of millennia, this style has remained an integral part of Chinese culture for over 2000 years.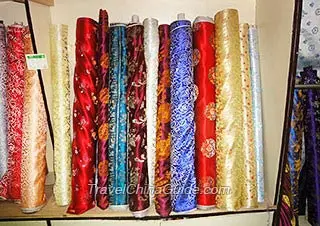 Material for Making Chinese Costume

Materials: The earliest materials used in making clothes are kudzu cloth, ramie cloth, and hemp cloth. About 4,700 years ago,
silk
was invented, and it gradually became a very popular material, especially with the upper class. The invention of silk was, and remains, one of the great contributions the Chinese people have given to the world. It inspired the large-scale commercial communication between the Orient and Occident, which is famously referred to as "The
Silk Road
". By the time of the Yuan (1271 - 1368 AD) and Ming (1368 - 1644 AD) dynasties, one other material of worldwide significance was introduced from India; Cotton, which became widely used.

Colors: The colors of traditional Chinese clothing are greatly influenced by
Five-element Theory
: cyan, red, black, white, and yellow, which represent the five elements. These are pure colors, while the others are secondary colors. Pure colors were mostly used by the upper class in most dynasties. They were also matching colors, as favored by common people. Another popular color among folk was blue, like indigo calico, and batik fabrics. In color matching, ancient Chinese people preferred bright ones in order to make the clothes grand and elegant.

Patterns: It is a tradition for Chinese people to express good wishes by using patterns. This is echoed in the arts of making clothes, from luxury silk, to relatively cheap calico. The patterns used on clothes can be animals, plants, flowers, mountains, architectures, geometrical patterns, or other
auspicious designs
. They are not only beautiful, but also meaningful. One example, dragons on an Emperor's robe are saying that the Emperor is the "son of the heaven".
- Last updated on Apr. 20, 2021 -
Questions & Answers on Features of Traditional Chinese Clothing
Asked by Francesca from ITALY | Sep. 18, 2017 10:29

Reply
Can you tell me which is the best fabric to sew traditional chinese dancing dress with long sleeves?
Answers (1)
Answered by Lesily from UNITED KINGDOM | Sep. 19, 2017 00:58

1

2

Reply
Generally speaking, silk and cotton cloth are main materials to make traditional Chinese dancing dress. :)
Asked by Maryelen from USA | Jan. 17, 2016 11:08

Reply
Can you tell me about a traditional Chinese dancing dress?
It's white and has long sleeves to the floor and the dress is also floor length. The decorative colors include, yellow, blue, pink pastels. There is a colorful sash included and I think a braided tiara- like hat.
Answers (1)
Answered by Mike from IRELAND | Jan. 19, 2016 03:05

0

2

Reply
Maryelen, such a costume can be seen both in Han and ethnic minority dances. It doesn't have a specific name.
Asked by Faith Urbanec from USA | Mar. 04, 2014 09:23

Reply
what do you call the clothes the chinese wear on chinese new year
Answers (3)
Answered by LiuTing from PRC | Mar. 05, 2014 03:05

4

6

Reply
I don't know how people from the minorities call it. I am from Han and I am pretty sure that we call it Xin Yi Fu (brand-new clothes), haha.
Answered by Kyle from CHINA | Dec. 24, 2019 06:46

0

0

Reply
😂😂
Answered by Faith Urbanec from USA | Dec. 24, 2019 19:50

0

0

Reply
This is 5 years old dude.. It was for a project. You're late and I was trying to learn nothing funny about it