The Five Elements (Wu Xing)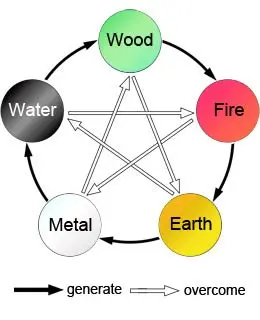 Five Element Interaction
Usually known as the Five Elements,Wu Xing is also named the Five Movements, Five Phrases or Five Steps. The five elements are jin (metal), mu (wood), shui (water), huo (fire), tu (earth). The five elements in daily life were regarded as the foundation of everything in the universe and natural phenomena. They have their own characters and they can generate or destroy one other.
Generating Interaction (also begetting, engendering or mothering)
Metal generates water; water nourishes wood; wood feeds fire; fire creates earth/ash; earth bears metal.
Overcoming Interaction (also destruction)
Fire melts metal; metal chops wood; wood break up earth; earth absorbs water; water quenches fire.
In ancient China, newborn babies usually got their name from the 'eight characters of birth time' consisting of year, month, day and hour which is represented by two characters each, one character from the
Heavenly Stems
and one from the Earthly Branches. The four pairs of the birth time reveal the elements in one's life. Then the parents will give the baby a name containing the element, as compensation, which doesn't exit in the baby's eight characters. The tradition is still followed by some people nowadays.
Characteristics of the Five Elements
Wood – Benevolence
The wood pronounces the fate, lowliness or nobleness, representing extractive, luxuriant, brilliant, blooming, flourishing etc.
Fire – Propriety
The fire pronounces the feature, strength or softness, representing power, influence, bravery and intense.
Metal – Righteousness
The metal pronounces the life span, longevity or abortion, foretelling any penalties, dangers, difficulties and dead end.
Water – Wisdom
The water pronounces the talent, sage or fool, representing aptitude, brightness, agile mind and accuracy,
Earth – Fidelity/Honesty
The earth pronounces the status, rich or poor, representing the birth and growth of everything.
The Five Elements Grid
| | | | | | |
| --- | --- | --- | --- | --- | --- |
| Elements | Metal | Wood | Water | Fire | Earth |
| Zodiac signs (yang) | Monkey | Tiger | Rat | Horse | Dragon/Dog |
| Zodiac signs (yin) | Rooster | Rabbit | Pig | Snake | Ox/Sheep |
| Colors | White | Green | Black | Red | Brown |
| Seasons | Autumn | Spring | Winter | Summer | Intermediate |
| Hours | 15-19 | 3-7 | 21-01 | 9-13 | 1-3,7-9,13-15,19-21 |
| Directions | West | East | North | South | Central |
| Organs (Yin) | Lung | Liver | Kidney | Heart | Spleen |
| Organs (Yang) | Large Intestine | Gall Bladder | Urinary Bladder | Small Intestine | Stomach |
| Sensory Organs | Nose | Eyes | Ears | Tongue | Mouth |
| Diseases | Dry | Wind | Cold | Hot | Wet |
| Tastes | Spicy | Sour | Salty | Bitter | Sweet |
| Planets | Venus | Jupiter | Mercury | Mars | Saturn |
| Heavenly Creatures | White Tiger | Green Dragon | Black Tortoise | Vermilion Bird | Yellow Dragon |
| Heavenly Stems | Geng Xin | Jia Yi | Ren Gui | Bing Ding | Wu Ji |
| Year Ends with | 0, 1 | 4, 5 | 2, 3 | 6, 7 | 8, 9 |
As mentioned in the grid, the five elements can be regarded as the symbols of the five planets, Metal, Wood, Water, Fire Earth corresponding to Venus, Jupiter, Mercury, Mars, Saturn. They are thought to be the ruling planets or elements affecting the compatibility between two astrological Chinese zodiac signs.
- Last modified on Dec. 03, 2018 -
Questions & Answers on The Five Elements (Wu Xing)
Asked by ELAINA | Nov. 30, 2018 09:52

Reply
Tiger female born 24 April 1962 met man born 20 Dec 75 are we compatible?
Sadly the man born 21 Oct 1966 has a girlfriend so I will not pursue this.

I am a Tiger female born 24 April 1962 met man born 20 Dec 75 are we compatible?
We seem to hit it off well, but would like to know if we are compatible long term, or not?
Answers (1)
Answered by Amy from NETHERLANDS | Dec. 03, 2018 14:30

0

0

Reply
Well, your love compatibility is just on average but it may be improved by your joint efforts. Good luck.
Asked by RJ from USA | Nov. 22, 2018 00:10

Reply
Hello I just want to know if me and my girlfriend are good for each other i was born Aug 22,1988
and she was baron Sept 19,1995
Are we compatible?

thank you in advance
Answers (1)
Answered by Cindy from UNITED KINGDOM | Nov. 22, 2018 18:44

0

0

Reply
According to the love compatibility, you're easy to become good friends and partners. You are complimentary in most of aspects and can understand each other in most time. Best wishes.
Asked by Gary Lee-Nova from CANADA | Nov. 07, 2018 12:48

Reply
Is it not true that Ancient Chinese Cosmology had 2 qualities for the 5 elements - BIG & Small?
As in BIG Fire, small Fire, BIG Metal, small metal, BIG Wood, small wood, BIG Earth, small earth and BIG Water and small water.

The interactions of ten characters is much more intricate and interesting than what has been expressed about five characters.

Of interest, the five characters can also represent a set of natural resources.

Answers (2)
Answered by Jack from USA | Nov. 08, 2018 18:54

0

0

Reply
I haven't heard this before but it sounds interesting.
Answered by Sam from SINGAPORE | Nov. 28, 2018 23:48

0

0

Reply
BIG element is considered strong while small element is weak. Big element has Direct influence on another or same big element(be it; plus or minus) and likewise for small element on small element. Complimentary influence for Big element on Small element. It also depends whether for example, "BIG Fire" is a heavenly Stem or a Earthly Branch, the direct or complimentary influence is again totally different.
Asked by Monja from SLOVENIA | Oct. 31, 2018 05:31

Reply
Are we compatible? Both women ;) I'm may 10. 1994, she was born on december 31. 1986. Thanks!
Answers (1)
Answered by Tanya from ROMANIA | Oct. 31, 2018 20:30

0

0

Reply
Hi, you are highly complementary in many respects and it's easy for you to find common interests and hobbies. You will have a chance to be a perfect couple and mutual understanding is always very important. Best wishes!
Asked by Alaina from USA | Oct. 25, 2018 09:49

Reply
Met man born 21 Oct 1966 I am Tiger female born 24 April 1962 are we compatible?
We seem to hit it off well, but would like to know if we are compatible long term, or not?

Have had terrible luck with men in the past so am wondering.
Answers (2)
Answered by Nicholas from NEW ZEALAND | Oct. 25, 2018 20:44

0

0

Reply
Hi, you are perfectly matched on the basis of the zodiac love compatibility. It's a lucky thing that you may have a chance to remain your relationship for a long time. Best wishes for you!
Answered by sam from SINGAPORE | Nov. 29, 2018 00:11

0

0

Reply
You are Big water tiger and always very inquisitive, good at solving issues. Men have their own egotism. In your case, Your male partner, Small water cow is overly stretch or pressurised by Big Earth, Small Earth and Big Fire that needs Big Water or Big Metal to assist. So, Good as a friend or companion in my view.