The Five Elements (Wu Xing)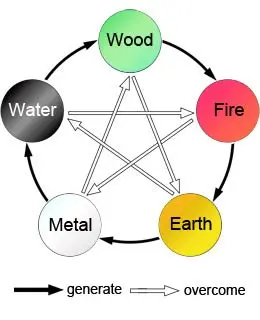 Five Element Interaction
Usually known as the Five Elements,Wu Xing is also named the Five Movements, Five Phrases or Five Steps. The five elements are jin (metal), mu (wood), shui (water), huo (fire), tu (earth). The five elements in daily life were regarded as the foundation of everything in the universe and natural phenomena. They have their own characters and they can generate or destroy one other.
Generating Interaction (also begetting, engendering or mothering)
Metal generates water; water nourishes wood; wood feeds fire; fire creates earth/ash; earth bears metal.
Overcoming Interaction (also destruction)
Fire melts metal; metal chops wood; wood break up earth; earth absorbs water; water quenches fire.
In ancient China, newborn babies usually got their name from the 'eight characters of birth time' consisting of year, month, day and hour which is represented by two characters each, one character from the
Heavenly Stems
and one from the Earthly Branches. The four pairs of the birth time reveal the elements in one's life. Then the parents will give the baby a name containing the element, as compensation, which doesn't exit in the baby's eight characters. The tradition is still followed by some people nowadays.
Characteristics of the Five Elements
Wood – Benevolence
The wood pronounces the fate, lowliness or nobleness, representing extractive, luxuriant, brilliant, blooming, flourishing etc.
Fire – Propriety
The fire pronounces the feature, strength or softness, representing power, influence, bravery and intense.
Metal – Righteousness
The metal pronounces the life span, longevity or abortion, foretelling any penalties, dangers, difficulties and dead end.
Water – Wisdom
The water pronounces the talent, sage or fool, representing aptitude, brightness, agile mind and accuracy,
Earth – Fidelity/Honesty
The earth pronounces the status, rich or poor, representing the birth and growth of everything.
The Five Elements Grid
| | | | | | |
| --- | --- | --- | --- | --- | --- |
| Elements | Metal | Wood | Water | Fire | Earth |
| Zodiac signs (yang) | Monkey | Tiger | Rat | Horse | Dragon/Dog |
| Zodiac signs (yin) | Rooster | Rabbit | Pig | Snake | Ox/Sheep |
| Colors | White | Green | Black | Red | Brown |
| Seasons | Autumn | Spring | Winter | Summer | Intermediate |
| Hours | 15-19 | 3-7 | 21-01 | 9-13 | 1-3,7-9,13-15,19-21 |
| Directions | West | East | North | South | Central |
| Organs (Yin) | Lung | Liver | Kidney | Heart | Spleen |
| Organs (Yang) | Large Intestine | Gall Bladder | Urinary Bladder | Small Intestine | Stomach |
| Sensory Organs | Nose | Eyes | Ears | Tongue | Mouth |
| Diseases | Dry | Wind | Cold | Hot | Wet |
| Tastes | Spicy | Sour | Salty | Bitter | Sweet |
| Planets | Venus | Jupiter | Mercury | Mars | Saturn |
| Heavenly Creatures | White Tiger | Green Dragon | Black Tortoise | Vermilion Bird | Yellow Dragon |
| Heavenly Stems | Geng Xin | Jia Yi | Ren Gui | Bing Ding | Wu Ji |
| Year Ends with | 0, 1 | 4, 5 | 2, 3 | 6, 7 | 8, 9 |
As mentioned in the grid, the five elements can be regarded as the symbols of the five planets, Metal, Wood, Water, Fire Earth corresponding to Venus, Jupiter, Mercury, Mars, Saturn. They are thought to be the ruling planets or elements affecting the compatibility between two astrological Chinese zodiac signs.
- Last modified on Apr. 21, 2019 -
Questions & Answers on The Five Elements (Wu Xing)
Asked by Thomas from NORWAY | Apr. 24, 2019 15:03

Reply
Are we compatible? Earth 29 January 2000 and i think she is wood 05 April 2000
I literally just found out about these Chinese elements, and i saw that earth people and wood people should stay away from each other. This does not make any sense to me, because i really love her, and we have never had a major conflict. I was really convinced that growing my earth personality would help me in life, but after seeing earth and wood not fitting together i'm becoming more sceptical.
Answers (1)
Answered by Mia from USA | Apr. 24, 2019 20:58

0

0

Reply
Hi, your love compatibility is normal and the elements clash won't affect a lot. Just follow your heart and don't worry too much. Best wishes :D
Asked by Rodney from SINGAPORE | Apr. 19, 2019 22:26

Reply
Are we compatible I born in 27 Dec 1988 and my girlfriend is 20 Dec 1985?
How can we works things out every time we quarrel. What kind of career I am suitable to work for, im engineer.
Answers (1)
Answered by Mandy from NEW ZEALAND | Apr. 21, 2019 23:46

0

0

Reply
Well, it is not very positive in your love aspect according to the Chinese zodiac compatibility. However, when facing conflicts, try to stay calm and communication is the most helpful way to solve problems. Good luck!
Asked by Samantha Hayes from UNITED STATES | Apr. 17, 2019 07:11

Reply
Are we compatible earth rabbit feb16th 1999 and a wood pig July 26th 1995
I'm always reading about the pig and the rabbit how they are compatible but I want to know if our elements are compatible. I really love him and hope our elements can still work even though we are earth and wood.
Answers (1)
Answered by Emilie from FRANCE | Apr. 17, 2019 18:57

0

0

Reply
Yes, you are compatible enough and there is no problem of your elements. Don't worry and best wishes for you!
Asked by Anis from MALAYSIA | Apr. 10, 2019 01:01

Reply
Hi, I am born in 9 jul 1991, how do i know which type of element i am lack of?
and how is my career, health, finance & love?
Answers (1)
Answered by Nancy from AUSTRALIA | Apr. 10, 2019 19:10

0

0

Reply
It is hard to judge the element you like. As for your fortune in 2019, it is lucky in most respects. It is favorable enough for you to develop love life and things are also very smooth in career and wealth. However, you need to spend more time with families.
Asked by Donovan from USA | Apr. 01, 2019 06:59

Reply
Fire doesn't destroy Wood?
Hi. Thank you for putting together the five element topic. Its very informative and concise which is hard to find for a non Chinese. I'm just curious. I see Mountain Fire destroying Tree (trees makes up Woods) in the nature. Thank you!
Answers (1)
Answered by George from USA | Apr. 01, 2019 20:31

0

0

Reply
Well, that's true but this is just a kind of old traditions approved by most people in ancient times.