Golden Triangle & Yangtze
SG07: 11 Days Small Group Tour of Beijing - Xi'an - Chongqing - Yangtze River Cruise - Yichang - Shanghai
Tour Type:
Small Group of max 18, guaranteed departures
Guide & Driver:
English-speaking guide, experienced driver with an air-conditioned coach
Accommodation:
7 nights at good 5-star hotels, 3 nights on Yangtze River cruise
Highlights:
Must-see sights in China - Mutianyu Great Wall, Forbidden City, Terracotta Army.
Unwind with a Yangtze River cruise tour & see the Three Gorges.
Take in the impressive skyline of Shanghai as you walk along the Bund.
Enjoy a la carte meals, Peking Opera & Tang Dynasty Music and Dance Show.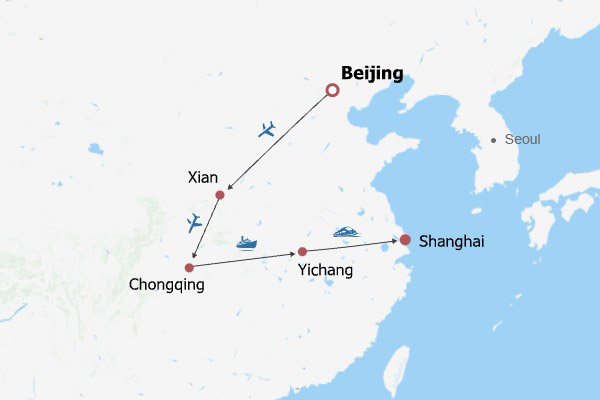 Welcome your arrival anytime at the airport and transfer to hotel.
As the flight lands in Beijing today, your long-anticipated 11 days guided tour of China starts with a warm welcome from your guide. We then transfer you to the hotel and the rest of the day is free for you to relax and recover from jet lag. A full day of scheduled sightseeing awaits you tomorrow.
Accommodation: The Great Wall Hotel Beijing





- the former Sheraton
Visit Tiananmen Square and Forbidden City including Treasure Gallery; enjoy an a la carte welcome lunch with authentic Peking Duck; continue to visit Yonghe Temple and Temple of Heaven; and watch the classic Peking Opera in the evening. (B+L)
After breakfast, you will meet your guide and other group members for an orientation briefing held in the hotel. The exciting trip begins with a visit to the world famous
Tiananmen Square
and the
Forbidden City
in the morning.
From the Forbidden City, the world's largest imperial palace complex, 24 emperors of Ming and Qing dynasties (1368 – 1911 AD) ruled continuously for 490 years. For ordinary people, this place sounded like a paradise glowing with golden lights, but for palace maids, this was a prison to enslave them, yet which many of them hardly wanted to escape even if they were offered the opportunity to leave at the age of 25. Perhaps it's because they had been too old to be married at that time, and the relentless slavery might have deprived them of the ability to conceive a child, or it's simply because they couldn't accept the common life, as they had been used to the luxury in the palaces. Today, in addition to a tour around the most important palaces, we will also head to the Treasure Gallery in the northeast of the Forbidden City, to have a glimpse of the most luxurious side of imperial life through the emperors' personal accessories all made of gold, jade, or other gemstones.
Explore the Imperial Palaces at the Forbidden City
Lunch will feature an authentic
a la carte Chinese meal
(valued at CNY150.00 per person and included in our price) at a nice restaurant - not the touristy kind arranged by most agencies. You get to taste Peking Roast Duck here, which was served only on aristocratic tables and can date back more than 300 years.
In the afternoon, you will visit the historically significant
Yonghe Temple
, or Yonghe Lamasery, the center of the Qing Empire for religious affairs about Tibetan Buddhism, and
Temple of Heaven
, where Ming and Qing emperors offered sacrifices to the God of Heaven annually, praying for grain harvests.
Your evening will be spent appreciating
Peking Opera
in a historical theater which has been honored by many important figures. Since it started to appear on international stages, Peking Opera has been acclaimed by various world-renowned dramatists, who even sought inspiration from the art. Just as a French dramatist said, the themes, structures, and techniques used for expression make Peking Opera shine in the drama world. Today, you will watch not only the performances, but how the artists prepare for it. We will arrive earlier to see them paint their faces with heavy makeup, which plays an essential role in indicating the character of the actors. Then we will drive you back to your hotel.
Meals: Western buffet breakfast, A la carte welcome lunch
Visit Mutianyu Great Wall by round-trip cable car and toast for Great Wall challenge with red wine; drive by Olympic Bird's Nest; then take a rickshaw ride through Hutong alleys and visit a local family in a traditional courtyard house. (B)
Have a big breakfast at the hotel today and we will take a 1.5-hour drive to the majestic
Mutianyu Great Wall
. This section of the Great Wall of China embodies the best of this wonderful military defense project. Climbing the great wall requires much effort, so we arrange a round-way cable car ride for you. That leaves you with more energy on the wall to appreciate the grand views. We also prepare red wine for a group toast on the wall to celebrate and commemorate this memorable moment. You might want to have some fast food for today's lunch as the restaurants nearby are not up to our standards. For any advice, you can ask our guide.
Enjoy a Leisurely Walk on Mutianyu Great Wall
This afternoon, we first stop in front of the
Olympic National Stadium
, or the Bird's Nest, for you to take pictures of this beautifully-structured engineering feat. Then we head forward for you to have a tour by rickshaw through
Hutongs
, the historical residential area of Beijing, meaning narrow streets or alleys with courtyard houses on both sides. There are thousands of Hutongs surrounding the area of the Forbidden City, most of which were formed from Yuan to Qing dynasties (1271 – 1911 AD). You will tour around this part until you stop to pay a visit to a family in a courtyard house, which we consider the best way for you to experience local cultures. Finally, we escort you back to the hotel.
Meals: Western buffet breakfast
Day 4
Beijing to Xi'an by Flight
Visit Panda Hall and Summer Palace; taste local flavors for lunch; fly to Xi'an and transfer to hotel. (B+L)
This morning you will first visit
Panda Hall, Beijing Zoo
, to watch roly-poly giant pandas eating and playing in their active moods. Although they've been downgraded from endangered to vulnerable, they still need human care and love to survive. Then we go to the
Summer Palace
, which offers you a visual pleasure through its harmonious combination of Chinese royal buildings, a Buddhist pagoda, classical garden design, and man-made hills and lakes.
Visit the Scenic Summer Palace
Chinese People in the Village
Eat some local food we arrange for you as lunch, and your guide and driver will transfer you to the airport for your flight to Xi'an. The local guide and driver in Xi'an will pick you up at the airport and help you check in at the hotel for a two-night stay.
Meals: Western buffet breakfast, Lunch
Accommodation: Crowne Plaza Xi'an





Visit Terracotta Army and the discoverer's home of the first terracotta warrior; have a unique experience to make your own mini clay warrior; continue to visit Giant Wild Goose Pagoda, and then enjoy dumpling dinner and Tang Dynasty Music and Dance Show in the evening. (B+D)
After breakfast, you will set out for the world famous
Terracotta Army Museum
. More than 9,000 life-size and vivid terracotta statuaries made 2,200 years ago to serve the afterlife of Emperor Qin Shi Huang (259 – 210 BC) – the first emperor in China's history - will definitely amaze you. But the whole mausoleum of the emperor is far bigger than this. To give you an idea, it occupies an area 70 times it of the Forbidden City, with the Underground Palace alone 10 times larger than a basketball court. Everyone is curious about what the inside looks like, but it will be only known when technology is advanced enough to allow us to make it appear intact.
The Vivid Terracotta Warriors of 2,200 Years Ago
★
Travel Different:
►
A Special Family Visit to Explore Who Discovered the Terracotta Army
The Terracotta Army was unearthed in 1974 but few people know who discovered the amazing wonder. Today's afternoon, you will solve the puzzle during a unique visit we've arranged for you to the home of the discoverer, whose name is Yang Zhifa. You can chat with him or his family and learn details about the discovery at that time. You also get to witness the hoe and the wooden cart he once used to dig out the first warrior.
►
Try Making a Terracotta Warrior on Your Own!
We have also prepared an interesting DIY activity for you. You will have a chance to make a mini Terracotta Warrior with the help of molds and an artisan, who will patiently show you the making process of clay soldier and you can follow to make it step by step. The clay used is the same as it for the terracotta warriors you saw in the museum, which is collected from 7-9 meters (23 to 30 ft.) underground. There are several different 10-cm (4-in) tall models, including a cartoonish one, for your choice. It takes only about 40 minutes to make a statue, which you can bring home as the most meaningful souvenir for your Xi'an tour.
The rest of your afternoon will be spent visiting the
Giant Wild Goose Pagoda
, built after Mahabodhi Pagoda - the most famous pagoda of India - and a major participant in introducing Buddhism during Tang Dynasty (618 – 907 AD). During twilight hours, you will feast your eyes on an inspiring
Tang Dynasty Music and Dance Show
over a
Dumpling Dinner
in a local theater. Then we will escort you back.
Travel Tips: Since the theater is usually not open in Jan, Feb, Mar and Dec, we will not arrange the show and dumpling dinner for tours during these months.
Meals: Western buffet breakfast, Dumpling dinner
Day 6
Xi'an to Chongqing by Flight
Connect with local people at City Wall Park and learn to practice Tai Chi from a master, then visit City Wall; taste local flavors for lunch at Muslim Quarter; fly to Chongqing and board Yangtze River cruise ship. (B+L+D)
You will spend the whole morning in the City Wall area of Xi'an. First, you come to the
City Wall Park
, the best place to know about the local daily life and ways of entertainment. You also have a chance to learn some moves of Tai Chi boxing, a school of martial arts practiced to strengthen body and mind through slow, graceful movements. Then you ascend the ancient
City Wall
, the landmark site of the city, on which you can walk around and feel the history of the city. Additionally, you can rent a bicycle (it charges but only a small fee) for a special ride on the ancient wall.
A Morning Market under the Xi'an City Wall
Chinese Countryside People Celebrating the Festival
Afterwards, you will fly to Chongqing. Your guide will meet you at the airport and take you to a ferry terminal to board one of the most luxurious cruise ships on Yangtze River. Have a well-prepared buffet dinner and join the Welcome Party to clink wine glasses with the Captain. The ship sails at 22:00.
★
Experience 5-star cruise from start to finish
We have chosen a member from the Century fleet to provide you with consistent 5-star services. Apart from the buffet dinner for today, you will also enjoy exquisite buffet themed meals for next two days, with alcoholic drinks and night snacks to make your day. All these are exclusive to the ship we've carefully selected.
Meals: Western buffet breakfast, Local flavor lunch, Buffet dinner
Cruises: Century Victory





Day 7
Yangtze River Cruise
Take an onshore excursion to Ghost City, then enjoy your leisure time on board or participate in some cultural activities; three buffet meals a day plus midnight snacks are served. (B+L+D)
In the morning, the river guide will give an introduction to the cruise schedule and the Yangtze River. At about 12:30, the ship will dock at Fengdu County for an onshore excursion in the
Ghost City
scenic spot, a sprawling building complex where you get to known how spirits of the dead are tested before they can enter afterlife in Chinese folklores. Your afternoon will be cheered onboard by some interesting activities carefully prepared by the cruise company.
Meals: Full board served in buffet style
Day 8
Yangtze River Cruise
Admire Yangtze Three Gorges and take an onshore excursion to Shennv Stream. (B+L+D)
The climax of your Yangtze River Cruise is coming today. The unique scenery of the Three Gorges will be gradually unveiled in front of you. Among them,
Qutang Gorge
is the most dangerous and shortest part.
Wu Gorge
is the most beautiful, renowned for its deep valley and elegant beauty. In Wu Gorge, you will change to a sampan to take a side trip along Shennv Stream, where you will be bathed in primitive natural beauty and learn about the traditional life of Tujia ethnic minority through traces left by them. After that, you will return to the ship and sail into
Xiling Gorge
, the longest section of the Three Gorges. After a great buffet dinner, you will watch some artistic performances to end your day.
Meals: Full board served in buffet style
Relaxing Yangtze River Cruise
Shennong Stream Excursion
Day 9
Yichang to Shanghai by High Speed Train
Disembark from cruise ship and visit Three Gorges Dam; take a high-speed train to Shanghai and transfer to hotel. (B)
After breakfast, having packed your luggage and completed check-out procedures, you will disembark for an excursion around the
Three Gorges Dam
. Following the excursion, the cruise ship company will drive you to the Three Gorges Tourist Center in Yichang city. Your local guide will meet you there and then see you off at Yichang East Railway Station for a high-speed train trip to Shanghai.
The rail journey takes approximately 6.5 hours, so music, movies, snacks or fruits are good company. Free hot drinking water is available on the train, so passengers can have coffee, tea or instant food. You should bring a mug, spoon and fork if you decide to prepare your own hot drinks or food on the train. Washrooms are available between each carriage. On arrival in Shanghai, you will be met and taken to the hotel.
Meals: Western buffet breakfast
Accommodation: Radisson Blu Hotel Shanghai New World





Visit Shanghai Museum and Yu Garden; enjoy an a la carte farewell lunch; have a panoramic view of the city skyline, and then explore the Bund with a Huangpu River cruise tour. (B+L)
Shanghai is an international metropolis with a blend of rich history and modernity. This one-day trip will give you a general knowledge of the city. In the morning, visit
Shanghai Museum
and the beautiful
Yu Garden
. In the museum, there are nearly 1.02 million historical relics left by ancient China. Yu Garden formed part of a private residence that was constructed 400 years ago, and is one of the best combinations of ancient Chinese buildings, with water features, rockery and natural scenery. By the garden there is a traditional bazaar, where you will have some free time to explore.
Around noon, a luxurious farewell
a la carte lunch
(valued at CNY150.00 per person and included in our price) will be served at a famous restaurant with the most classic Shanghai cuisine.
Our Guests with Local People at the Bund
In the afternoon, we will accompany you to the world's highest bookstore - "Duo Yun Book Store", on the 52nd floor of Shanghai Tower, the tallest building in China. You will be guided to its view platform to enjoy the breathtaking city views, while having a cup of drink. Then go down to
the Bund
to experience the thrills of old and modern Shanghai. You will also have a
cruise tour
along the Huangpu River. In the end, your guide and driver will transfer you back to the hotel and say goodbye to you at the lobby.
Meals: Western buffet breakfast, A la carte farewell lunch
Day 11
Departure from Shanghai
Please check out before 12:00, and head for the airport in our recommended ways; a pleasant journey home! (B)
There are two airports in Shanghai: one is Pudong International Airport (PVG) and the other Hongqiao Airport (SHA). Please check carefully to see which airport your flight departs from. You can book a taxi (CNY200 to Pudong, and CNY100 to Hongqiao) at the hotel's Bell Desk the day before, or take Metro Line 2 to reach the airports from the station near your hotel. We wish you a safe, smooth flight and hope we can serve you again in the near future.

Meals: Western buffet breakfast
B-- Breakfast
L-- Lunch
D-- Dinner
Prices are per person on twin sharing basis; departures are guaranteed even with two persons!
Christmas & 2024 Special:
12% off
- Book before Dec 31, 2023
| Arrival Date | Departure Date | Double Occupancy | Single Room Supplement | |
| --- | --- | --- | --- | --- |
| Sep 22(Fri) | Oct 02(Mon) | USD2829 | USD969 | |
| Oct 06(Fri) | Oct 16(Mon) | USD2829 | USD969 | |
| Oct 13(Fri) | Oct 23(Mon) | USD2829 | USD969 | |
| Oct 20(Fri) | Oct 30(Mon) | USD2829 | USD969 | |
| Oct 27(Fri) | Nov 06(Mon) | USD2799 | USD1059 | |
| Nov 03(Fri) | Nov 13(Mon) | USD2649 | USD919 | |
| Nov 10(Fri) | Nov 20(Mon) | USD2649 | USD919 | |
Remark: The prices in red reflect the current discount.
Prices are per person on twin sharing basis; departures are guaranteed even with two persons!
Christmas & 2024 Special:
12% off
- Book before Dec 31, 2023
Arrival Date
Departure Date
Double Occupancy
Single Room Supplement
Apr 08(Mon)
Apr 18(Thu)

USD2539

USD2234

USD919
Apr 19(Fri)
Apr 29(Mon)

USD2539

USD2234

USD919
May 10(Fri)
May 20(Mon)

USD2539

USD2234

USD919
May 24(Fri)
Jun 03(Mon)

USD2539

USD2234

USD919
Jun 10(Mon)
Jun 20(Thu)

USD2479

USD2181

USD849
Jun 21(Fri)
Jul 01(Mon)

USD2479

USD2181

USD849
Jul 05(Fri)
Jul 15(Mon)

USD2569

USD2260

USD939
Jul 19(Fri)
Jul 29(Mon)

USD2569

USD2260

USD939
Aug 02(Fri)
Aug 12(Mon)

USD2569

USD2260

USD939
Aug 16(Fri)
Aug 26(Mon)

USD2569

USD2260

USD939
Sep 06(Fri)
Sep 16(Mon)

USD2569

USD2260

USD939
Sep 16(Mon)
Sep 26(Thu)

USD2569

USD2260

USD939
Oct 07(Mon)
Oct 17(Thu)

USD2569

USD2260

USD939
Oct 18(Fri)
Oct 28(Mon)

USD2569

USD2260

USD939
Nov 01(Fri)
Nov 11(Mon)

USD2369

USD2084

USD839
Nov 15(Fri)
Nov 25(Mon)

USD2369

USD2084

USD839
Price Includes
Domestic airfares & train fare
Hotel accommodation with breakfasts
A la carte lunches as itinerary specifies
Professional English-speaking guides
Drivers & air-conditioned vehicles
Entrance fees to tourist sites
Yangtze River cruise with full board
Tips or gratuities for hotel porters
Price Excludes
International airfares
Entry Visa fees
Personal expenses
Tips or gratuities for guides and drivers
Why Travel With Us
Itineraries you may also like: