Fengdu Ghost City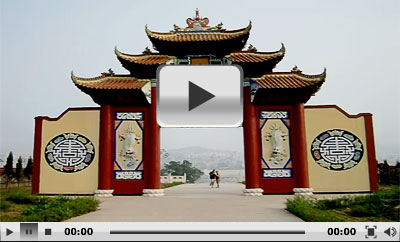 Ghost City Photos
Located on the Ming Mountain on the northern bank of the Yangtze River, Fengdu County is known to most Chinese as the 'Ghost City'. Having nearly two thousand years' history, the Ghost City combines the cultures of Confucianism, Taoism and Buddhism with the mystique of ghosts. Many famous literary works like Journey to the West, Apotheosis of Heroes and Strange Tales of a Lonely Studio contain vivid references to Fengdu.

Fengdu got its name as the Ghost City in the Eastern Han Dynasty. Two officials from the imperial court Yin Changsheng and Wang Fangping decided to come to Ming Mountain to practice Taoist teachings. Through self-cultivation they became immortals. Combining their surnames produces the term "Yinwang" meaning the "king of hell." Later, during the Tang Dynasty, a stupendous temple was erected on Ming Mountain depicting life in hell. It displays demonic images and torture devices and reflects the notion that good people will be treated well in the afterlife and that bad people will be punished by going to hell.

In the Chinese vision of the afterlife, the dead must undergo three major tests to enter the netherworld. These tests are taken at three locations - Nothing-To-Be-Done-Bridge; Ghost Torturing Pass and the Tianzi (son of heaven) Palace. These three locations are among many attractions in this scenic area.

Nothing-To-Be-Done-Bridge
Built during the
Ming Dynasty
, the bridge connects the nether world with the real world and is a testing point for good and evil. According to legend, the Nothing-To-Be-Done-Bridge is composed on three identical stone arches. The middle arch is used for testing people. There are different protocols for crossing the bridge depending on your gender, age and marital status. Below the bridge are square-shaped pools of water. Virtuous people will pass over the bridge without obstacle; villainous people will fall into the pools below. The other two arches are called the golden and silver bridges respectively. When preparing to leave, visitors are encouraged to pass these two bridges because according to local superstition this will bring them good fortune.
| | |
| --- | --- |
| Statues of Black and White Impermanents | Nothing-To-Be-Done-Bridge |
Ghost Torturing Pass
It is the second test before entry into the nether world. It is said that this is the place where the dead report to the Yama, the King of Hell, for judgment. In front of the structure there are eighteen sculptures depicting ferocious demons. Each of these devils is quite lifelike creating a feeling of true eerieness.
Tianzi Palace
Having over three hundred years' history the palace covers an area of nearly 2,908 square yards. It is composed of a temple gate (paifang) and the palace itself. The gate is an archway made of wood and stone rising to height of nearly 33 feet. The palace is the nerve center of this scenic area and is the oldest and largest temple on Ming Mountain.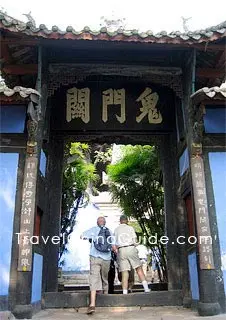 Ghost Torturing Pass
The third test to evade hell takes place at a large stone in front of the gate. The ghost must stand on the stone on one foot for three minutes. A good person will be able to do this while an evil one can not and will be sent to hell.

One other ghostly attraction in Fengdu worth mentioning is the Last-Glance at Home Tower. This structure was built in 1985 and commemorates the site where spirits consigned to hell could take one last look at their families.

Visitors coming here will marvel at the artisanship of ancient craftsman, the unique styles of architecture and the culture of the ghost. Whatever your beliefs, you are constantly reminded the "Good will be rewarded with good, and evil with evil." A major highlight here is the annual temple fair every March 3 - 5 featuring all kinds of folk activities and performances.

| | |
| --- | --- |
| Admission Fee: | CNY 80 |
| Cable Car: | CNY 20 (round-trip); CNY 15 (one-way) |
| Opening Hours: | 09:00 to 17:00 |
- Last updated on Mar. 29, 2023 -
Questions & Answers on Fengdu Ghost City
Asked by Patapong from THAILAND | Mar. 29, 2023 06:03

Reply
how long from fengdu rail station to fengdu city?
how long from fengdu rail station to fengdu city?
is there a taxi from railway station to ghost city? and about how much?
Thank
Answers (1)
Answered by Fiona | Mar. 29, 2023 18:18

0

0

Reply
It's about 10km from Fengdu Railway Station to Fengdu Ghost. If travel by taxi, it costs about CNY30.

You can also travel by bus no.113, taking only CNY2 and around 20-30min.
Asked by Bbee from THAILAND | Oct. 04, 2018 11:08

Reply
How can i get to fengdu ghost city?
I want to go ghost city. If i go to fengdu city by train, and then...what about a bus from fengdu railway station to ghost city?

Thanks
Answers (1)
Answered by Henry from CANADA | Oct. 07, 2018 23:19

0

0

Reply
You can take Bus Line 201 to Xia Nanxi Station and then transfer to Bus Line 109 to the scenic area.
Asked by Kasma from CHINA | May. 08, 2018 03:11

Reply
I recently bought a drone with a video camera and want to film the temple and surrounding area.
I have registered the drone so that it is legal to fly in China. Does anyone know if you are allowed to fly a drone in Fengdu?
Answers (1)
Answered by Lily from JAPAN | May. 08, 2018 21:41

0

0

Reply
As I know, you are allowed to fly a drone in that city.
Asked by Arianna from ITALY | Mar. 01, 2018 05:44

Reply
Is there a speed boat from Shibaozhai to Chongqing please? I know it takes 3 hours, correct?
Answers (1)
Answered by Luke from FRANCE | Mar. 01, 2018 19:32

0

0

Reply
Sorry I cannot find the boat schedule from Shibaozhai to Chongqing. But there is no speed boat. Only cruises are available. In general, it takes around 15 hours on the way.
Asked by Arianna from ITALY | Feb. 28, 2018 04:10

Reply
Taxi or bus from Shibaozhai to Chongqing Airport
Hello again! I'm trying to find a solution to my dilemma.... as you know I'd like to visit Shibaozhai Pagoda but I have to find a means of transportation to come back to Chongqing. So the timetable from Zhongxian to Chongqing is impossible for me, I don't know if I can find a taxi there? Or what about a bus from Zhongxian to Fengdu, just to come nearer? Thanks to everyone who can give me some ideas!!!!🙏
Answers (4)
Answered by Jonathan from UNITED KINGDOM | Feb. 28, 2018 21:40

2

0

Reply
Well, I'm afraid that you cannot find an official cab when you arriving there. But don't worry. You can find a private car or share a car with other passengers. This is a way to save some money.
Answered by Arianna from ITALY | Mar. 01, 2018 00:40

0

0

Reply
So you mean I will find a way to come back, I don't want to risk to miss my flight which is at 21.00. In this case I have to move at around 14.00, is it ok, Jonathan?
Answered by Jonathan | Mar. 01, 2018 20:12

1

0

Reply
You can try to find the private car nearby the entrance of scenic area. The long-distance bus takes around 2.5 hours on the way. For private car, the duration will be shorter.
Answered by Arianna from ITALY | Mar. 01, 2018 23:41

0

0

Reply
Ok, Jonathan, and how much will they ask more or less if I'm traveling alone please? Thanks again!!