Three Gorges of Yangtze River
Three Gorges of the Yangtze River are Qutang Gorge, Wu Gorge, and Xiling Gorge from east to west. Located in central China, the Three Gorges start from the Baidi City in Fengjie of Chongqing, and extend 193 kilometers (120 miles) east to traverse Wushan County of Chongqing, Badong and Zigui of Hubei, and end at Nanjin Pass in Yichang.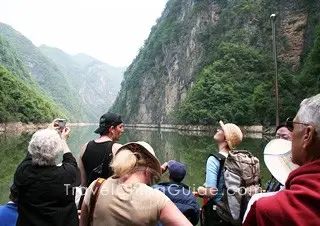 Three Gorges came into being because of the terrain rising and the strong downward water erosion of this area. Along the banks, fantastic steep peaks and cliffs face each other, generally standing 700 - 800 meters (2,300 – 2,600 feet) high above the water. The narrowest part is less than 100 meters (330 ft). Landscapes of Three Gorges are distinct and magnificent, making it the most beautiful section of Yangtze River.

Best Time to Visit Three Gorges of Yangtze River
The best time to visit Yangtze River Three Gorges is from March in spring to November in autumn. In spring, blooming flowers on two banks are so beautiful. In summer, the mountain peaks are at its greenest covered by lush plants. As for autumn, you can appreciate the red leaves all over the peaks. However, the river water is turbid during the rainy days and the peaks are veiled in mist, therefore you'd better not go sightseeing there in such period.

Yangtze River Three Gorges is like a scroll of landscape painting with scenic spots scattering on both banks. But the high mountains on both sides are not suitable for driving a car or bus. Therefore, it is the most ideal way to tour the Yangtze River Three Gorges by water. You can enjoy the splendid view along the river on board, and go ashore to visit the famous scenic spots. In this way, you can avoid the trouble of changing hotels while appreciating different scenery opened up in front of you.



Cruise Time: 4 to 5 days


Popular Three Gorges Cruise Routes:
a. Chongqing to Yichang: downstream, fast-paced
b. Yichang to Chongqing: upstream, slower
Three Gorges Dam
, it has become a well-known tourist attraction worldwide. There are many scenic spots in the Three Gorges area, the most famous of which include
Fengdu Ghost City
,
White Crane Ridge
– Underwater Stele Forest, unique styled
Shibaozhai
,
Zhang Fei Temple
in Yunyang,
Longgupo Pithecanthrope Site
, great Three Gorges Dam, etc.
Qutang Gorge

Location: Fengjie County, Chongqing


Length: 8 kilometers (5 miles), shortest in the Three Gorges


Features: grand and spectacular, with precipitous cliffs


Must-see Attractions: White Emperor City, Kui Gate

Qutang Gorge starts from Baidi Mountain in Fengjie County in the northwest to Daxi Town in Wushan County in the southeast. In the western starting point, Kui Gate lies there, just like a door of Qutang Gorge, where the background pattern of current 10 yuan banknote was taken. Although Qutang Gorge is the shortest, it has always been a garrison area linking Sichuan and Chongqing with Hubei together.

Wu Gorge

Location: Wushan County of Chongqing to Badong County of Hubei


Length: 46 kilometers (28.6 miles)


Features: deep and serene, with winding river course


Must-see Attractions: Goddess Peak, Three Little Gorges

Wu Gorge is the most beautiful gorge of Yangtze River Three Gorges with deep, serene and winding course. There are the famous Twelve Peaks standing on both banks, among which the Goddess peak is the most marvelous one. Wu Gorge is magnificent, like a sinuous and fascinating art gallery.

Xiling Gorge

Location: Zigui County, Hubei


Length: 120 kilometers (74.5 miles), the longest in Three Gorges


Features: dangerous shoals, rapid river water


Must-see Attractions: Lantern Shadow Gorge, Military Books and Precious Sword Gorge

Xiling Gorge starts from the confluence of Fragrant Stream and the Yangtze in Zigui County in the west to Nanjin Pass, Yichang in the east. There are multiple smaller gorges and shoals along it. Xiling Gorge embraces four main gorges, which are Military Books and Precious Sword Gorge, Ox Liver and Horse Lung Gorge, Kongling Gorge and Lantern Shadow Gorge from west to east. The cruise trip in Xiling Gorge would be an exciting tour.


Further Reading
China Sightseeing Tours to Top 6 Attractions on CNY Banknotes
8 Interesting Places in China for Outdoor Enthusiasts
15 Spectacular Natural Wonders of China
- Last updated on May. 11, 2021 -