Shibaozhai (Precious Stone Fortress)
Cruising along the Yangtze River, one will see a huge rock standing along the river's northern bank in the Territory of
Zhongxian County
of Chongqing, against which a pavilion was constructed named Shibaozhai (Precious Stone Fortress). The rock, 164 feet (50 meters) high, is in a shape of an imperial seal and the pavilion leaning it is vermilion with 12 floors. A legend tells that when Nü Va patched up the sky, she left this large colored stone, regarded as precious stone and where later during the
Ming Dynasty
(1368 - 1644) an insurgent army settled and used it as their fortress. Hence the place got its name the Precious Stone Fortress.
Built in the Ming Dynasty, Shibaozhai consists of a gate, a pavilion and a temple. The gate is caved with some vivid reliefs. Within the gate is the 184 feet high 12-storey wooden pavilion. It is the tallest specimen of ancient architecture with the most storeys in China and reputed as one of the eight fantastic examples of architecture in the world. Originally it was only nine storeys high; in 1956 three more (called Kuixing Pavilion) were added. A spiral staircase in the pavilion can take tourists to the top to reach the temple.
Inside the pavilion, there are steles and inscriptions of past dynasties of each floor. Visitors can also admire the spectacular Yangtze River from the windows of each floor. As the higher floor is reached, the space becomes narrower. Originally, there was no such building. The temple at the top could only be reached by path hewn in the rock with an iron chain to hold on to. A clever artificer once saw an eagle spread its wings and flying little by little up to the temple, which gave him the idea for creating a scaling ladder within a building and so the pavilion was erected.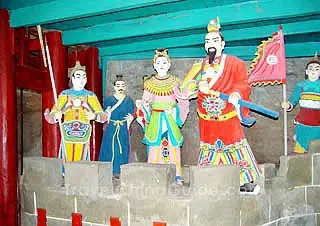 Upon arriving at the top of the pavilion, there is a flat stone dam. Here stands the ancient 'Lanruo Temple' at the highest point of the Precious Stone Fortress. A mural depicting the story of Nv Wa patching up the sky can be seen in the main hall of the temple. The so-called Rice Flowing Hole can be seen at the rear hall. According to a legend, rice once flowed from the hole everyday after the temple was built. A greedy monk wanting more rice to flow from the hole made it larger and from that day no more rice appeared!
After the water level rises because of the Water Storage of
Three Gorges Dam Project
, part of Shibaozhai can be submerged. Thanks to a wise decision to protect the relic, it has been well preserved after a series of measures.
| | |
| --- | --- |
| Admission Fee: | CNY 50 |
| Operating Hours | 08:00 - 17:00 |