Shibaozhai Pictures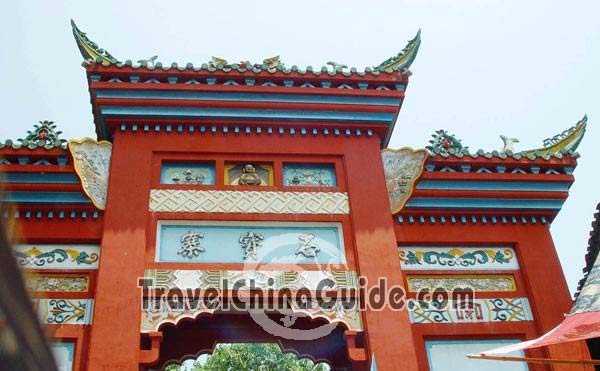 The gate of Shibaozhai (Precious Stone Stronghold)
Shibaozhai is an isolated steep peak rising almost straight up from the northern bank of the Yangtze River. A magnificent red twelve-story pavilion was built on the mountain during the reign of Emperor Jiaqing of the Qing Dynasty. Tourists can climb to the top by a roundabout staircase. It is a wonderful site from which to view Yangtze River scenery. Attraction Intro:
Shibaozhai
- Last modified on Nov. 13, 2017 -
Questions & Answers on Shibaozhai Pictures
Asked by Bertrand from CANADA | Sep. 21, 2015 14:41

Reply
How steep are the steps to shibaozhai? i have hard time walking. any short cut?
Answers (1)
Answered by Heidi from GERMANY | Sep. 22, 2015 22:15

0

0

Reply
Bertrand, the usual route is to climb the pavilion to reach the top and get down from the back of the pavilion. The steps in the pavilion is very steep. However, the steps on the back side are easier to step down. Perhaps, you might climb the steps from the back side.

Before reaching Shibaozhai, you need to pass a suspension bridge. The bridge shakes if there are people on it. Please walk carefully.
Asked by Ms.Mimi | Feb. 25, 2011 02:50

Reply
We will be visiting Shanghai, Beijing, Wuhan, Yueyang, Xiling Gorge area, Shibaozhai, Chongqing and Xi'an the last week of August and first week of September.

What would you suggest bringing for clothing? Besides an umbrella and rain shoes. Sweaters? Light jacket? Or just long sleeve cotton shirts? Tee shirts?

Thanks!

Answers (1)
Answered by Ms.Sophie | Feb. 25, 2011 19:41

1

0

Reply
Actually, most of these cities are still in hot summer. I have went to Wuhan-yangtze river-Chonqing from Shanghai at the end of August, 2007. Very hot, so short-sleeves T-shirt is enough. Although it may have heavy rain suddenly, the rain just lasted for a couple of minutes. Well, at the end of last August I have been to Shanghai, muggy days and then heavy rains for a whole day. Just cool for a short time. Both of summer shoes and warterproof shoes are okey~
Asked by Mr.Johan | Nov. 26, 2010 21:10

Reply
Is there any way to catch a train in time from Yichang to Xi'an, or Yichang to Xi'an after the Three River Gorges cruise? We will only be landing 14:00
Answers (1)
Answered by Ms.Kate | Nov. 27, 2010 00:47

0

0

Reply
Yes there is a train K628 from Yichang to Xi'an, the whole trip takes about 18 hours. You may see details at China Trains(https://www.travelchinaguide.com/china-trains/) .
Asked by Ms.rennie from SINGAPORE | Sep. 23, 2009 12:52

Reply
let me have nore details about this cruise in Xiamen and Halong bay
Answers (1)
Answered by Mr.roy | Sep. 23, 2009 20:12

0

0

Reply
As far as I know, there is no cruise between Xiamen and Halong bay, but there is a cruise running between Beihai and Halong bay.
Asked by Mrs.inge woudstra from NETHERLANDS | Sep. 19, 2009 04:22

Reply
if i understand correctly, there are no boats left between suzhou and hangzhou, or the other way around? we'll be there in october and would like to make the boattrip. does anyone know for sure?
Answers (1)
Answered by Mr.hello | Sep. 19, 2009 20:15

0

0

Reply
Hi, as far as I know, the cruise between Suzhou and Hangzhou has already stopped for the bad business.