Xiling Gorge of Yangzte River
Starting from Xiangxi (Fragrant Stream) Kou of Zigui County in the west and ending at Nanjin Pass in the east, Xiling Gorge, zigzagging about 49 miles, is the longest among
the three gorges of the Yangtze River
.
Because of numerous reefs and odd-shaped stones existing in rapid shoals, it is also well known for its danger. Scenery along the Xiling Gorge is spectacular. Some renowned streams, springs, stones and karst caves can be found along this section.
As many historic celebrities such as Qu Yuan and Bai Juyi have been here and left numerous poems praising its natural scene , it is bestowed with a great sense of history.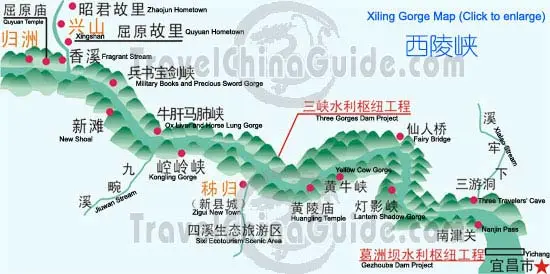 Yangtze Xiling Gorge Map
(Click the map to enlarge it, or go for more Yangtze River Maps)
Major Sights
Xiling Gorge is mainly composed of smaller gorges and dangerous shoals. From west to east, there are four gorges - The Military Books and Precious Sword Gorge (Bingshu Baojian Xia), The Ox and Horse Lungs Gorge (Niugan Mafei Xia), Kongling Gorge, and Lantern Shadow Gorge (Dengying Xia) - and some dangerous shoals such as Qingtan, Xietan, Xintan and Konglingtan. In the past, a great number of boats have sunk here, striking the reefs in the rapid flow of water. Thanks to the Gezhouba Water Conservancy Project, the water now has been calmed to some extent.

Besides the natural landscape, some historic landmarks including the Huangling Temple and Three Travelers' Cave (Sanyou Dong) are also worth visiting. As one of the two natural gateways of the Yangtze River (the other is Kui Gate, the gate of Qutang Gorge), Nanjin Pass is the end of Xiling Gorge at the eastern end of the Three Gorges. As your boat cruises downstream out of Nanjin Pass, the scenery of dangerous cliffs and shoals will be left behind as the middle section of the Yangtze River begins. On the two banks of Nanjin Pass, cragged peaks tower into the sky majestically and river narrows. So the pass makes this part of Yangtze River like a mouth of a flask. Here is the natural boundary of the upper and middle sections of Yangtze River and frequently the point of battles in history due to its great strategic value.

Now, because of the Gezhouba Water Conservancy Project, great changes have taken place in Nanjin Pass. A bridge, navigation tower and buildings have replaced part of the dangerous cliffs. Standing on the bridge, the Gezhouba Water Conservancy Project is just within view.

Now it has become a highlight of the Yangtze River Cruise and has been praised by numerous visitors, both native and foreign.
Sightseeing List:

Military Books and Precious Sword Gorge
(Bingshu Baojian Xia)

Ox Liver and Horse Lung Gorge
(Niugan Mafei Xia)

Huangling Temple

Lantern Shadow Gorge
(Deng Ying Xia)

Three Travelers' Cave
(San You Dong)
- Last updated on Nov. 03, 2021 -