Huangling Temple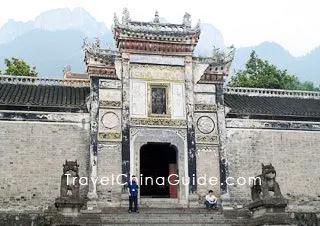 Huangling Temple, Yichang
Located at the foot of Huangniu Mountain on the southern bank of Yangtze River in Xiling Gorge Section, is Huangling Temple. It is the largest and oldest ancient architecture of the Three Gorges Area.
Built in the Spring and Autumn Period (770 BC - 476 BC), it was to commemorate
Da Yu
(a hero who controlled floods in Chinese history) and the yellow ox who helped Da Yu control the water - so it is also called Yellow Ox Temple. In Song Dynasty, Oyang Xiu, who was a reputed litterateur as well as the county magistrate changed its name to Huangling Temple as he thought there was no yellow ox who helped Da Yu.
Historically the temple was regularly used for prayers and devotions. However, due to wars, it has been destroyed and rebuilt many times. The current one was rebuilt in 1618 in Ming Dynasty. The Temple Gate, Yuwang Dian (The Hall of Da Yu) and Wuhou Temple (Zhuge Liang Memorial Hall) are the main parts of the temple.
Disembarking from the Yangtze River; one can see an antique drama-playing stage after passing the temple gate. Yuwang Dian is just opposite the flat and is the main architectural feature of the temple. It is magnificently supported by 36 poles carved with nine lifelike dancing dragons. One in particular, on the left of the hall, records flood water level over 120 years. On the pole is hung a board stating 'The flood reached here in 1870' recording the most severe Yangtze River flood ever. Also in the hall, there are two wooden plaques. One of them is written by
Cixi
.
To the right of Yuwang Dian is Wuhou Temple. Now, only a plaque can be seen inside. Behind the temple is a garden with a cycas revoluta thumb which is said to have been planted by Zhuge Liang, a great strategist during the Three Kingdoms Period (220 - 280). A well can also be found in the yard. Even in drought years, the well is always full.
Huangling Temple is picturesquely encircled by orange trees.
- Last modified on Apr. 09, 2019 -