Three Gorges Reservoir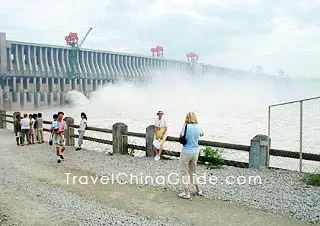 Three Gorges Reservoir is a large artificial lake formed after
Three Gorges Dam
began to restrict the river's flow. With a total area of 1,084 square kilometers (419 sq mi), the reservoir region covers 21 cities and counties in Chongqing and Hubei, which includes 1,711 villages. The reservoir has a maximum depth of 175 meters (574 feet), and a total storage capacity of 39.3 billion cubic meters (51.4 billion cubic yards), thereby ensuring the dam functions well for flood water storage, irrigation, power generation and so on.
Facts of Three Gorges Reservoir

Region: From Jiangjin, Chongqing to Three Gorges Dam, Yichang; starting from Changshou in Chongqing when the water level at the lowest


Length: 524 – 663 km (326 – 412 mi)


Width: 1,700 m (1,859 yd) at average; 2,000 m (2,187 yd) at the widest part


Area: 1,084 square kilometers (419 sq mi)


Depth: 140 m (460 ft) at average; 175 m (574 ft) at the deepest


Total Capacity: 39.3 billion cubic meters (51.4 billion cubic yards)


Flood Capacity: 22.15 billion cubic meters (29 billion cubic yards)


Initial Water Storage Time: June 1st, 2003


Submerged Area: 79,000 square kilometers (30,502 sq mi)

Map of Three Gorges Reservoir
Benefits: Flood Control Is Intended to Be the Vital Function.
Three Gorges Reservoir has a flood capacity of 22.15 billion cubic meters (29 billion cubic yards), helping control flood effectively of the middle and lower reaches, in particular, of the section in Hubei. A small flood is eliminated directly by storing water. If a large flood occurs, it would be reduced to a lower grade, as the Three Gorges Reservoir can restrict the water's flow by 27,000-33,000 cubic meters (35,315-43,162 cubic yards) per second.

Importantly, the water stored can be used to generate power, and irrigate farmland in dry seasons. As a consequence of storing the water, the navigation in the reservoir area has been greatly improved as well.

Problems Caused by Three Gorges Reservoir
As the mountains on both banks are submerged in Three Gorges Reservoir, the possibility of geological disasters is increased, mainly including landslides, debris flows and even earthquakes although Three Gorges Reservoir was designed to be earthquake-proof. Meanwhile, the climate changed as the water area was expanded, which led to increased evaporation, and diurnal temperature differences narrowed. Before the land was submerged, 1.2 million inhabitants needed to be resettled. The Three Gorges Reservoir also impacts on the river creatures and inevitably many historical relics were submerged.

Pollution and Sedimentation in Three Gorges Reservoir
After the Three Gorges Dam was built, Yangtze River in the reservoir area has become wider and deeper and flows more slowly, making the self-purification of the river worsen. As a result, the pollutants cannot be rushed away but remain in the reservoir. Also, a flood can bring floating litters from upstream to create large islands of rubbish in the reservoir. Each year, a large number of people are engaged in the clearance of this floating wastes.

As the water flows more slowly, silt and sediment tend to be deposited more easily, especially in the main channel and the wider sections. Sedimentation decreases lifetime of a reservoir. Fortunately, measures have been introduced to reduce serious sedimentation, such as blocking sediments, planting forests and other more actions for conservation of water and soil. Now, the situation has been improved beyond expectation.

What to See in Three Gorges Reservoir
Even though some spots have disappeared forever as they have been inundated or partly inundated, there are quite a few newly created scenic spots in Three Gorges Reservoir area. For example, the wholly submerged White Crane Ridge became an underwater museum of a steles forest. Zhang Fei Temple and Quan Yuan Temple were removed to new sites. In addition, the tourist area of the Three Gorges Dam was opened officially in 1997, which attracts many visitors every year. The tourist area mainly consists of Tanzi Mountain, 185 Dam Viewing Point and Damming Memorial Garden. Also, the improved waterway enables a smooth cruise through the Three Gorges.

Best Way to Tour Three Gorges Reservoir
A Three Gorges Cruise between Chongqing and Yichang is the best way to enjoy the Three Gorges Reservoir. The ships go downstream from Chongqing to Yichang in 4 days and 3 nights; and those go upstream take 5 days and 4 nights. During the cruise journey, you will see most of the famous scenic sites in the Three Gorges Reservoir from the ship; you will also go ashore to visit some sites on the banks, such as Fengdu Ghost City, Shibaozhai, etc.
- Last updated on Aug. 07, 2023 -
Questions & Answers on Three Gorges Reservoir on Yangtze River
Asked by Tracey Whalen from USA | Aug. 05, 2023 16:38

Reply
Island behind the dam
What is the name of the little island directly behind the Three Gorges Dam. It is submerged often but the bridge to it remains visible.
Answers (1)
Answered by Eric | Aug. 07, 2023 02:25

0

0

Reply
I think you mean Zhongbao Island.