Zhang Fei Temple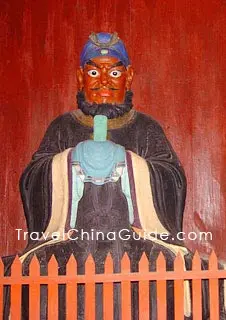 Statue of Zhang Fei
Built in the late years of Shu (one of the kingdoms in
Three Kingdoms Period
), the Zhang Fei Temple is one of the few historic relics in Yunyang County along the southern bank of the Yangtze River. For thousand of years it has attracted a great number of visitors because of its unique architectural style and wood carvings, calligraphy and paintings.
The Temple was built in remembrance of Zhang Fei, a renowned general of Shu and one of the three sworn brothers during the Three Kingdoms Period. It has been destroyed more than once and that we see today was rebuilt in the Ming and Qing Dynasties. It is regarded as a memorial to the people of Yunyang who were sacrificed annually and Zhang Fei is seen as a patron saint.
Legend of the Temple:
It is said that in the late Three Kingdoms Period, Zhang Fei was beheaded by two of his followers. His head was thrown into the river and drifted eastward. While his head was floating in the Yunyang section he appeared in a dream of a local fisherman. In the dream he told the fisherman to salvage his head and not let it float to the territory of Kingdom Wu. The next day the fisherman found his head and called his countrymen to build a temple beneath the Fenghuang (Phoenix) Mountain in memory of him.
In 2002 the Zhang Fei Temple was moved 20 miles westward from the original place because of the water storage of the
Three Gorges Dam Project
. Now located in Long'an Village of Panlong Town, it is just opposite to the New Town of Yunyang.
The new temple largely remains true to the original. Over 4,500 cultural relics, 127 ancient trees, 193 wood carvings and 178 steles have been moved successfully into the new temple.
The main buildings in the Zhang Fei Temple are the Main Hall, the Side Hall, the Jieyi Building (the Building of the Sworn Brothers) and the Cuckoo Pavilion. The first floor of the temple houses calligraphy, paintings and wood carvings by celebrities. On the second floor you will find the statues of the Three Sworn Brothers (Liu Bei, Guan Yu and Zhang Fei). The bronze statue of Zhang Fei is on the third floor. As the original painted clay sculpture of Zhang Fei in the old temple was too difficult to move, a new bronze one was built. Many visitors tie a red cloth to the balustrade in front of the statue in order to be blessed.
Every year on August 27 of the lunar month on the birthday of Zhang Fei or when some important festival falls, the local people always make a sacrifice to the general in the temple.
- Last updated on Apr. 23, 2019 -