Three Gorges Dam Benefits: 5 Major Advantages
Three Gorges Dam is a project has been completed of great weight to China. What are the advantages of the Three Gorges Dam? So far, the project has begun to bring benefits to Chinese people in mainly five aspects: flood control, power generation, navigation, drought resisting and tourism.

1. Flood Control: Prevent Hundred-Year-Big Floods
Flood control is a vital Three Gorges Dam benefit. Since ancient time, Yangtze River floods have been disasters to people, especially in the section of Hubei province and Dongting Lake area. Three Gorges Dam can efficiently store the water from upper stream and reduce the flood during the flood season.

The normal storage level of Three Gorges Dam can be reached to 175 meters (574 feet) and its flood control capacity is as large as 22.15 billion cubic meters (29 billion cubic yards) which will protect the middle or the lower reaches of Yangtze River. If severe floods that are once in a century happen, the big dam can hold the water and discharge the flood of 27,000-33,000 cubic meters (35,315-43,162 cubic yards) per second, which wins time for transferring personnel to avoid loss of life.



See also: How does the Three Gorges Dam work in Yangtze River flood control?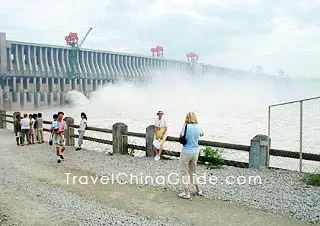 Power Generation, Three Gorges Dam
2. Annual Power Generation: 100 Billion kWh
This Three Gorges Dam benefit is obvious. Three Gorges Dam is world's largest hydropower station with a total capacity of 22.5 million kilowatts and the annual power generation is 100 billion kilowatt hours, which greatly meets the electricity demands in middle and eastern China. Located in the middle of China, this hydropower station supplies power to the middle, eastern and southern China, that within 400 to 1,000 km economic transmission distance of the load, including the provincial regions of Henan, Hubei, Hunan, Jiangxi, Chongqing, Shanghai, Jiangsu, Zhejiang, Anhui and Guangdong.

3. Boost Yangtze River Navigation
Located in the middle reach of Yangtze River, the Three Gorges Dam raises the water level in its upper stream and greatly improve the waterway conditions from Chongqing to Yichang, totaling 660 kilometers (410 miles). In dry season, the water in its lower reaches can get ample supply to ensure regular water transport. The ships of ten thousand tons can sail directly between Chongqing and Wuhan even further and Shanghai. Besides, due to the improvement of the navigable waterways, the ship size and fleet size are accelerated standardization and become larger, and the transport costs can be expected to reduce.

4. Drought Resisting and Water Supplementation for Downstream
Resisting drought is one of advantages of the Three Gorges Dam that was not intended to have when the dam was designed. Later in consideration of the water shortage and drought in middle and lower reaches of Yangtze River, the government decided to make Three Gorges Dam play the role of fighting against drought. In dry season or when drought occurs to Yangtze River Basin, the stored water in Three Gorges Reservoir would be discharged to downstream, ensuring the water level of downstream, meanwhile, supplying water for farm irrigation, industrial production and drinking of people and animals.

By the beginning of the year 2019, a total of 212.7 billion cubic meters (278.2 billion cubic yards) of water has been supplied for downstream from Three Gorges Reservoir, which has played a positive role in combating drought. Only in January of 2019, 4 billion water was discharged through Three Gorges Dam to middle and lower reaches of Yangtze River.

| | |
| --- | --- |
| Cruise Ship on Yangtze River | Yangtze River Cruise |
5. Yangtze River Tourism Thrives
Thriving tourism has been one of most important Three Gorges Dam benefits since the dame was opened to public in 1997. Visitors are delighted to see the wonder in the Yangtze River where a grand dam rises out of the calm lake among the steep gorges. The Three Gorges Dam Scenic Area mainly consists of Tanzi Mountain, 185 Dam Viewing Point and Memorial Garden, covering an area of 15.28 square kilometers (about 5.9 sq mi). Over 20 million tourists have visited it so far, and in the single year of 2019, the dam received over 3 million visitors.

Except for the Three Gorges Dam Scenic Area, Three Gorges cruise tours between Chongqing and Yichang are also quite popular, which attract more and more tourists from home and abroad.



Further Reading
Problems Caused by Three Gorges Dam
- Last updated on Feb. 12, 2023 -
Questions & Answers on Three Gorges Dam Benefits: 5 Major Advantages
Asked by Emma from USA | Feb. 10, 2023 05:37

Reply
How is it beneficial for the people other than what you have listed?
Answers (1)
Answered by Frank | Feb. 12, 2023 19:39

0

0

Reply
It also saves numerous coal from electricity generating, decreasing the carbon dioxide emissions and do good to the environment.
Asked by Hulbifhbilvfsliuh | Oct. 18, 2022 19:08

Reply
Why is it important to build the 3 gorges Dam?
Answers (1)
Answered by John | Oct. 19, 2022 06:37

0

0

Reply
China needed a new source of clean energy ever since around the 1950's when a cleaner fuel was needed instead of all the coal being used. However, dams do so much environmental damage so more energy and tourism profit would be the only benefit.
Asked by C. J. Lardo from AUSTRALIA | Jul. 06, 2016 07:03

Reply
Are there any cruises available starting from around the 14/5/17 for 3 Gorges Dam?
Answers (1)
Answered by Stuart from ITALY | Jul. 06, 2016 20:38

5

12

Reply
As I know, the cruise is available every day and there should be schedules on 14/5/17. No worry. You can go to either Chongqing Chaotianmen Port or Yichang New Century (Xinshiji) Port to start your cruise.