Three Gorges Chongqing: Touring Route, Sightseeing & Fun
Three Gorges is the most beautiful part of
Yangtze River
. Two of the three gorges, Qutang Gorge and Wu Gorge, are in
Chongqing
, thus Three Gorges tour is a visiting card of Chongqing. Many tourists embark the cruise ship in Chongqing to enjoy beautiful landscapes of the Three Gorges.
Recommended Routes for Touring Three Gorges Chongqing
There are 2 most popular Yangtze cruise routes – Chongqing to Yichang, and Yichang to Chongqing. More tourists choose the route from Chongqing to Yichang, which travels downstream and provides a better tour experience than upstream route. It generally takes 4 days and 3 nights for a downstream Chongqing Three Gorges tour.

The boarding wharf of Chongqing Yangtze cruise is Chaotianmen Dock, the largest dock in Chongqing. It lies at the confluence of Jialing River and Yangtze River. It had been the gateway of Chongqing in ancient times and one of the most prosperous areas of the city. Nowadays, the surrounding area is still the busiest commercial area in the city.



How to Get There:


1. Take Chongqing Metro Line 1 or Line 6 to Xiaoshizi Station and then walk northeast to find Chaotianmen Dock.


2. Take the city buses 414, 440, 480 inter-zone line, 503, t001, t002, t031, t040, t480 to Changbin Road No.9 Wharf; or take city bus 466 inter-zone line, 401 inter-zone line or 466 inter-zone line and get off at Chaotianmen Junction Station.

When is the best Time to visit Three Gorges Chongqing?
Anytime from March to November is great to visit Three Gorges Chongqing, including three seasons of spring, summer and autumn. In spring, Three Gorges is thriving as plants sprout and flowers are blooming. In summer, Three Gorges tour is popular with lush forests on banks and exciting drifting in Little Three Gorges on the tributary Madu River. In autumn, the tree leaves all over the mountains turn to be red, which is absolutely attractive. In winter from December to February, the weather is cold in Chongqing with less river water, so that only a few ships sail and they won't berth in some interesting scenic spots.

What are the highlights of Three Gorges Chongqing?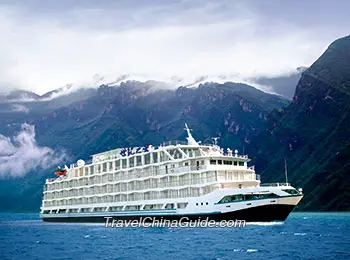 The highlights of Three Gorges Chongqing are four main parts: Qutang Gorge, Wu Gorge, Xiling Gorge and Three Gorges Dam. During the Chongqing Yangtze cruise, there are also a great many natural and historical attractions for visitors to go ashore to have a visit, such as Fengdu Ghost City, Snow Jade Cave, Shibaozhai (Precious Stone Fortress), Zhang Fei Temple, and so on.

Qutang Gorge is the shortest of the Three Gorges, but it has been known as the most majestic gorge since ancient times, especially its western end Kui Gate, where is the place of the background of current 10 yuan banknote.

Wu Gorge: Delicate Beauty, the Best of Three Gorges
Wu Gorge is so beautiful with exceedingly strange mountains on the banks, which is like an amazing gallery that has been praised for long. There are not a few notable peaks, such as Twelve Peaks, among which the Goddess Peak is the most famous. Changing to a black-awning boat to cruise on Shennu Stream is also a fun thing to do in Wu Gorge.

Daning River Three Little Gorges is a fantastic spot in Wu Gorge as well, including Dragon Gate Gorge, Misty Gorge and Emerald Gorge.


Dragon Gate Gorge looks like a gate with the cliffs on both banks seem to be cut from middle, and only a linear piece of sky could be seen from the river.


Misty Gorge, also called Iron Coffin Gorge, was named for a black iron Suspended Coffin hanged four or five meters above water between two cliffs on the eastern bank.


Emerald Gorge is the longest and the most beautiful gorges in Three Little Gorges, which is deep and serene.

Xiling Gorge is the longest in Three Gorges Chongqing with a length of 120 kilometers (75 miles). In ancient times, it was well known for winding river way, jagged rock peak forest and multiple shoals of rapid water, thus drafting there was very dangerous. Now, the river water becomes slower and gentler, and Xiling Gorge becomes a popular section of Chongqing Three Gorges tour with beautiful natural scenery.

When the ship arrives in Yichang during the Chongqing Yangtze cruise, you can go ashore to visit Three Gorges Dam. Three Gorges Dam is the largest water conservancy project all over the world, playing vital roles in flood control, shipping, power generation, etc. Taking the scenic lift to the top of Tanzi Mountain, the highest point of dam area, you can see the full view of the Three Gorges Dam and the five-level ship lock, which would show you a grand image of majestic dam rise over the wide peaceful water.

Have Fun in Chongqing
If you have ample time, you can arrive in Chongqing one or two days in advance, to visit Chongqing city and taste delicious Chongqing foods.


Must-see Spots: People's Liberation Monument, Hongya Cave, Qiansimen Bridge, Nightscape of Hongya Cave, Ci Qi Kou Porcelain Village, Wulong Karst National Geology Park...


Must-try Foods: Chongqing Hot Pot, Chongqing Noodles, Hot and Sour Rice Noodles, Boiled Duck Blood Curds with Chili Sauce, Spicy Chicken, Roasted Pig Brain, Chrysanthemum Cakes...
- Last updated on Apr. 21, 2021 -