Yangtze Three Little Gorges
The Wushan Three Little Gorges also called Daning River Three Little Gorges, zigzags about 31 miles from
Wushan County
in the south to the
Dachang Ancient Town
in the north. It refer to the three gorges of the lower reaches of Daning River (the largest branch of Yangtze River) in Wushan County - Dragon Gate Gorge (Longmen Xia), Misty Gorge (Bawu Xia), and Emerald Gorge (Dicui Xia). Because of its beauty, it has been said that although Wushan Three Little Gorges are not the Three Gorges of Yangtze River, they are almost the same.
When the cruise ship reaches Wu Gorge, the vale of Daning River is within sight. Scenery along the Daning River is elegantly stunning with beautiful peaks, dangerous shoals and unusual stones. The Three Little Gorges, with their combination of natural scenery and historic relics, are the highlight of Daning River scenery. Drifting along the gorges by sitting in a rubber dinghy can add an extra dimension to the trip.
Dragon Gate Gorge
The first is the Dragon Gate Gorge. About 3,281 yards long, it refers to the section of river from the west pass of Wu Gorge to the Yinwo Tan. The precipitous cliffs at the mouth face each other along the two banks making the gorge mouth look like the Kui Gate of
Qutang Gorge
. This place is therefore reputedly known as the Little Kui Gate. While drifting there, you can admire the Dragon Gate Spring, the Ancient Plank Road, and some other sights like the Nigh-dragon pole, Yinwo Tan (the dangerous shoal of Dragon Gate Gorge), and the Bear Cave.
Misty Gorge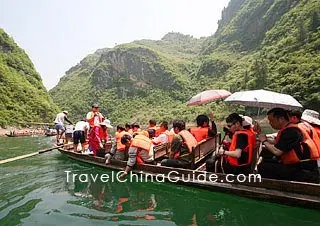 The little boat takes you
to visit Three Little Gorges.
Also known as the Iron Coffin Gorge, it measures six miles. In the cliff of this section, there hangs a black Suspended Coffin. Because the color of it is like that of iron, the coffin is called the Iron Coffin, hence the name. The gorge is characterized by rare rocks on both banks. Some take the form of the monkey fishing for the moon and some look like Kwan-yin sitting on the lotus platform. All of them are full of humor and wit.
Emerald Gorge
It (Dicui Xia) (so named because of its emerald green color) spans 12 miles and is the longest and most charming of the three gorges. Madu River, the Mini Three Gorges, plank road and Boat Coffins are popular sites for visitors to appreciate.
Drifting six miles upstream from the Emerald Gorge, the Dachang Ancient Town has over 1,700 years' history. It is the first large town along the bank of Daning River. The ancient architecture, dock and arches (Paifang) of Ming and Qing Dynasties always tell people the history of the town.
The Three Little Gorges, regarded as a bright pearl of the Yangtze River, offer townspeople a chance to experience another way of life which is calm, natural and simple.

Sightseeing List:

Ancient Plank Road along Daning River

Boat Coffins

Dachang Ancient Town

Little Three Gorges of Madu River

Longgupo Pithecanthrope Site

Luyou Cavern

Suspended Coffins

Wushan Man
- Last modified on Apr. 02, 2018 -
Questions & Answers on Yangtze Three Little Gorges
Asked by Helen Loch from USA | May. 06, 2016 14:56

Reply
What is the proper name of the inlet off the Yangtzee located halfway from 3 Gorges dam&GeZhouDam?
We docked at a point and walked into this amazing green valley with walkways lining turquoise water. A Chinese group of people were dressed in beautiful costumes and were spotted along the way. We saw monkeys at one point, a huge waterwheel, and the walk ended at a path to a tall waterfall. I do not know the name of this spot. Could you help me?
Answers (1)
Answered by Gray from SPAIN | May. 08, 2016 20:42

0

0

Reply
From your decription, I assume it should be Three Gorges Waterfall.
Asked by Samantha from USA | May. 07, 2015 13:58

Reply
Are there any boat tours of the three little gorges for just one day?
Answers (1)
Answered by Martin from INDIA | May. 09, 2015 02:10

0

1

Reply
It's possible from Wushan County. You can take no.101 or 105 bus to reach Three Little Gorges Tourist Reception Center. It takes around 20 minutes and costs CNY1.5 per person. Or you can take a taxi to reach there. Then you can choose to take a boat to have a tour.

If you are in Chongqing, I am afraid that you can not finish this trip within a day. You know, you need to take long distance bus from Chongqing Longtousi Bus Station to Wushan County first. It takes around 5 hours. The bus fare is around CNY179. A round-trip bus tour needs 10 hours. So you need to spare two days if you go there from Chongqing.
Asked by Nigel from USA | Feb. 07, 2013 14:23

Reply
How can we get from Chongqing to Wuxi?
What is the best way to get from CQ City to the Daning River for seeing the Three Little Gorges? Thank you
Answers (1)
Answered by Glora | Feb. 17, 2013 00:52

1

0

Reply
You can take ferry from Chaotianmen Ferry Terminal in Chongqing and arrive at Wushan. Then transfer to bus to Longmen Ferry Port of the Three Little Gorges.
Asked by PHardja from INDONESIA | Jun. 15, 2011 23:16

Reply
If we go for Yangtze River Cruise, shall our ship pass the Five-Stack Ship Locks?
Answers (1)
Answered by james from CHINA | Jun. 16, 2011 21:24

3

0

Reply
Do you mean the Three Gorges Dam? Yes, definately.
Asked by Mr.raymond from PHILIPPINES | Jan. 27, 2011 12:40

Reply
im going to shanghai for 9 days, i really want to go to the yangtze river specially the three litlle gorges, but im on a tight budget. where do i go? to chongqing? then can i take a regular ferry that sails through the river? thanks
Answers (3)
Answered by Mr.Hank | Jan. 27, 2011 20:48

1

0

Reply
You should should go to Chongqing to take a cruise from the chaotianmen Dock.
Answered by Mr.raymond from PHILIPPINES | Jan. 28, 2011 19:30

1

0

Reply
hey thanks, do you have any idea how long the cruise takes and rough estimate as to how much it costs?
Answered by Mr.Henry | Jan. 28, 2011 20:03

1

2

Reply
It takes 4-17 days, you may see the details from https://www.travelchinaguide.com/cruise/