Yangtze Three Little Gorges
The Wushan Three Little Gorges also called Daning River Three Little Gorges, zigzags about 31 miles from
Wushan County
in the south to the
Dachang Ancient Town
in the north. It refer to the three gorges of the lower reaches of Daning River (the largest branch of Yangtze River) in Wushan County - Dragon Gate Gorge (Longmen Xia), Misty Gorge (Bawu Xia), and Emerald Gorge (Dicui Xia). Because of its beauty, it has been said that although Wushan Three Little Gorges are not the Three Gorges of Yangtze River, they are almost the same.
When the cruise ship reaches Wu Gorge, the vale of Daning River is within sight. Scenery along the Daning River is elegantly stunning with beautiful peaks, dangerous shoals and unusual stones. The Three Little Gorges, with their combination of natural scenery and historic relics, are the highlight of Daning River scenery. Drifting along the gorges by sitting in a rubber dinghy can add an extra dimension to the trip.
Dragon Gate Gorge
The first is the Dragon Gate Gorge. About 3,281 yards long, it refers to the section of river from the west pass of Wu Gorge to the Yinwo Tan. The precipitous cliffs at the mouth face each other along the two banks making the gorge mouth look like the Kui Gate of
Qutang Gorge
. This place is therefore reputedly known as the Little Kui Gate. While drifting there, you can admire the Dragon Gate Spring, the Ancient Plank Road, and some other sights like the Nigh-dragon pole, Yinwo Tan (the dangerous shoal of Dragon Gate Gorge), and the Bear Cave.
Misty Gorge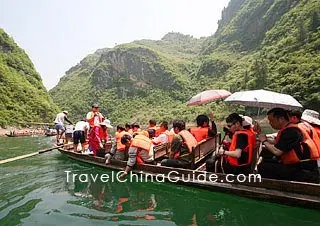 The little boat takes you
to visit Three Little Gorges.
Also known as the Iron Coffin Gorge, it measures six miles. In the cliff of this section, there hangs a black Suspended Coffin. Because the color of it is like that of iron, the coffin is called the Iron Coffin, hence the name. The gorge is characterized by rare rocks on both banks. Some take the form of the monkey fishing for the moon and some look like Kwan-yin sitting on the lotus platform. All of them are full of humor and wit.
Emerald Gorge
It (Dicui Xia) (so named because of its emerald green color) spans 12 miles and is the longest and most charming of the three gorges. Madu River, the Mini Three Gorges, plank road and Boat Coffins are popular sites for visitors to appreciate.
Drifting six miles upstream from the Emerald Gorge, the Dachang Ancient Town has over 1,700 years' history. It is the first large town along the bank of Daning River. The ancient architecture, dock and arches (Paifang) of Ming and Qing Dynasties always tell people the history of the town.
The Three Little Gorges, regarded as a bright pearl of the Yangtze River, offer townspeople a chance to experience another way of life which is calm, natural and simple.

Sightseeing List:

Ancient Plank Road along Daning River

Boat Coffins

Dachang Ancient Town

Little Three Gorges of Madu River

Longgupo Pithecanthrope Site

Luyou Cavern

Suspended Coffins

Wushan Man