Tokyo Cherry Blossom Tour
TJP08: 5 Days Private Tour of Tokyo - Mt. Fuji - Tokyo - Kamakura - Tokyo
Tour Type:
Private guided tour, with 1 day Seat-in-Coach tour to Mt. Fuji
Transportation:
Japan's efficient public transportation
Accommodation:
Handpicked 4 and 5 stars hotels
Highlights:
Specially arranged cruise and ropeway, for all-round views of Mt. Fuji.
Top 3 sakura viewing spots: Chidorigafuchi, Sumida cruise, Shinjuku Gyoen.
Romantic Yozakura: mesmerized by night cherry blossoms at Meguro River.
Wander among historic sites and cherry blossoms in Kamakura.
This trip can be customized to meet your individual needs!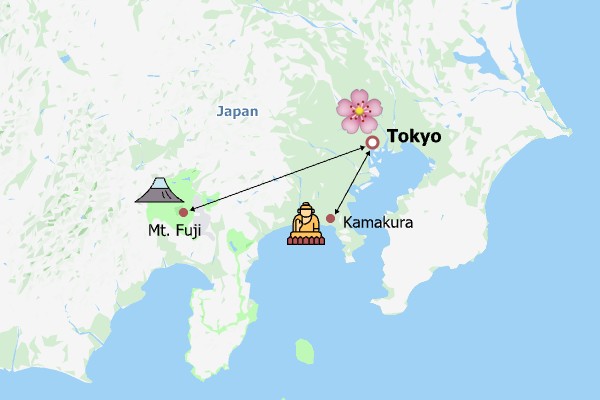 This tour can be booked all year round. If you are not visiting Tokyo during the cherry blossom season, you can contact our travel consultants to replace some of the sakura spots with other attractions worth seeing, as our tours can be customized to your personal interests.

Please note that if you are visiting specifically for Hanami events in Japan, it is recommended that you come in March or April. Every year, the Japanese Meteorological Agency makes a 'cherry blossom forecast' – the cherry blossoms bloom from late March to early May across Japan, while the main sakura viewing spots in Tokyo reach peak bloom from late March to mid-April. Plan your vacation in advance and contact us as early as possible to book, because hotels, air tickets, train tickets, etc. are in high demand during the 2 to 4 weeks of cherry blossom. Also, be prepared for the crowds, but it's worth it, for a once-in-a-lifetime trip filled with pink cherry blossoms!
Day 1
Tokyo Airport Pick-up
Welcome to Japan! We offer a round-the-clock pick-up service. Just let us know in advance when your flight will land and whether it will be at the Narita or Haneda Airport of Tokyo. Our English-speaking assistant will meet you at the airport and help you board the shared car transferring you to the hotel. Take a break and enjoy the superb facilities and services of our selected hotel.
►
Tip: If you get your energy back and want to go for a walk by yourself, the Shinjuku area near the hotel has much to offer. Kabukicho, an entertainment district in eastern Shinjuku is a place to go for those who are curious about Tokyo's special industry. Get dazzled by a variety of neon signs, feel the vitality of the metropolis, but be aware to reject the pimps outright for safety.
Accommodation:
Hotel Century Southern Tower (4 stars) or Hilton Tokyo (5 stars)
Day 2
Tokyo to Mt. Fuji Tour: Lake Ashi Cruise & Hakone Ropeway
►
Seat-in-coach group tour with shared bus and guide.
What represents Japan? The Japanese will definitely answer you with Mount Fuji and cherry blossoms. There's nothing more romantic than visiting the Mount Fuji during cherry blossom season. This morning, the coach will depart from the Keio Plaza Hotel at 8:15 to take you to the Mount Fuji.
*
It is recommended that you arrive at the Keio Plaza Hotel before 8:00.
1. From Hotel Century Southern Tower: Walk 14 minutes northwest, or take a taxi there in 5 minutes.
2. From Hilton Tokyo: Walk 6 minutes southeast, or take a taxi there in 3 minutes.
During the 2-hour drive, the on-board guide will explains how Mount Fuji has gone from a scary dormant volcano to Japan's most iconic attraction. The bus will take you to the
Mt. Fuji 5th Station
, a viewing platform at 2,305 meters (7,562 feet) above sea level, where you can look up from the closest distance and feel the majesty of Mount Fuji. You won't find a tree above this height, and the mountain is covered with volcanic lava and sand, revealing a unique and desolate beauty. Visit a small shrine, souvenir shops, and send a postcard from the highest post office in Japan if you like. Then descend to enjoy a delicious Sukiyaki (hot pot) lunch with seasonal fruits and unlimited coffee.
After lunch, walk along the winding shore of
Lake Ashi
to admire Mt. Fuji from different angles. Enjoy a
Lake Ashi Cruise
and watch tens of thousands of sakura trees blossom by the lake. Capture the striking red torii gate of the lakeside Hakone Shrine, and the reflection of Mount Fuji in the lake. Next, take the
Hakone Komagatake Ropeway
up to a commanding point where a stunning view will unfold before your eyes - surging clouds, Mount Fuji in the distance, the turquoise lake below, and a sea of pink flowers.
★
Bonus for Our Guests:
Mount Fuji is not visible on cloudy or rainy days, which is often the case throughout the year. Fortunately, you have found us, a travel agency that offers tailor-made itineraries and adjustable dates. Check the weather forecast in advance, discuss with our travel consultants, and choose to visit the Mount Fuji on any clear day during your stay in Tokyo.
Finally, take the coach back to Tokyo and arrive at Shinjuku Station West Exit at approximately 20:00. Please walk back to your hotel - 7 minutes south to Hotel Century Southern Tower, while 10 minutes northwest to Hilton Tokyo.
Meals:
Breakfast, Lunch
Accommodation:
Hotel Century Southern Tower (4 stars) or Hilton Tokyo (5 stars)
Mt. Fuji, Japan
Ladies in Japanese Traditional Dress
Day 3
Tokyo Highlights: Imperial Palace, Senso-ji Temple, Sumida Cruise, Meguro River
After breakfast, meet our guide in the hotel lobby and let's check out top 5 attractions of Tokyo today, with some being the most sought-after cherry blossom viewing spots.
1. Imperial Palace & Chidorigafuchi Park:
Wander in the gardens surrounding the Imperial Palace, the residence of Japanese Emperor. Admire the historic buildings, including the eye-catching Nijubashi Bridge. Follow the guide to the northwest moat of the palace, known as Chidorigafuchi, literally meaning the 'abyss of thousand birds', which is a famous cherry blossom viewing spot in Tokyo. In late March, the cherry trees on the 700-meter-long riverbank path intertwine above and the blooming flowers form a dreamlike pink tunnel. It would be a travel with no regret when you see the Tokyo Tower in the distance together with the sukura-flanked moat.
2. Tokyo National Museum:
Must-visit museum to learn about Japan's history and cultural roots. More than 100,000 pieces in its collection covering Japanese sculpture, dyeing, weapons, ceramics, paintings, architectural components, as well as art and cultural relics from other Asian countries will make you keep saying 'Wow!'.
►
If it happens to be a Monday when the museum isn't open, visit
Akihabara
instead, a vibrant anime street to feel the manga and otaku culture.
3. Senso-ji Temple:
Walk through the Kaminarimon Gate with an iconic big red lantern, stroll along the lively Nakamise-dori Street, and visit the Senso-ji Temple at the end of the street, the oldest temple in Tokyo, built in 628 AD. The red Five-story Pagoda against the pink weeping cherry blossoms offers great photo opportunities.
4. Sumida Park & Sumida River Cruise:
Out of the temple, follow the guide to walk east to the park by the Sumida River, where cherry trees line the banks. It would be an unforgettable sight when you look at the Tokyo Skytree in the distance through the foreground of cherry blossoms. Then we'll take a Sumida River cruise (50 minutes) and drift slowly down the river, admire Tokyo landmarks along the way, and feel the romantic atmosphere of pink petals falling in the gentle breeze.
5. Meguro River:
The river, unremarkable in other seasons, is a must-visit during cherry blossom time, especially for the night sakura. If you travel in early April, ask the guide to take you to the Meguro River before sundown to enjoy free time here. You'll find a completely different charming world after dark - paper lamps are lit, and the illuminated cherry blossoms stretching for miles along the river give off an ethereal glow. You can have dinner and coffee at a riverside restaurant, browse the lantern-lit stalls lined up along the bank, and enjoy the bustling hanami festival atmosphere. You won't help but take countless photos tonight.
Finally, take a taxi or metro back to the hotel by yourself. Have a sweet dream full of cherry blossoms.
Meals:
Breakfast
Accommodation:
Hotel Century Southern Tower (4 stars) or Hilton Tokyo (5 stars)
Nijubashi Bridge, Imperial Palace
Cherry Blossom Season in Japan
Day 4
Tokyo to Kamakura: Tsurugaoka Hachimangu Shrine, Great Buddha
This morning, our guide will escort you from the hotel on a 1-hour train ride to Kamakura, an ancient capital and quiet coastal town, revealing a traditional Japan outside the metropolis. Upon arrival, we'll first visit the Tsurugaoka Hachimangu Shrine, built in 1063 AD. Dedicated to the patron saint of samurai, it is known as the soul of Kamakura. Marvel at its two large ponds and gardens, with cherry and vine flowers in spring, lotus flowers in summer, and red leaves in fall. Enjoy a moment of peace visiting its shrines, museums and the Dance Stage. Next, take a walk through the nearby Komachi-dori Street, content to be surrounded by local specialties, snacks, souvenirs and trinkets, feeling touched and healed by the friendly local people. Later, visit the Hase-dera Temple and learn about its magical origin - a Kannon statue carved out of divine wood in Nara, 400 km (250 mi) away, in 721 AD, was pushed into the sea in search of its destined place, and 15 years later drifted to Kamakura and was enshrined in this temple.

In the afternoon, make a pilgrimage to the Great Buddha of Kamakura (Daibutsu) in Kotoku-in Temple. Worship this huge bronze Buddha statue 11.3 meters (37 feet) high, which has guarded Kamakura in a peaceful sitting position for 800 years. In spring, you can take a picture of the Great Buddha with the cherry blossoms next to it, which is a blessing from nature. Finally, the guide will take you on the Eno-den train along the Kamakura coastline all the way west to the small island of Enoshima, for beautiful and wide views of the Sagami Bay. Before sundown, we'll take a train back to Tokyo.

Meals: Breakfast
Accommodation: Hotel Century Southern Tower (4 stars) or Hilton Tokyo (5 stars)
Day 5
Shinjuku Gyoen National Garden, Meiji Jingu, Harajuku; Departure from Tokyo
On the last day of your 5 days private tour of Tokyo, head to
Shinjuku Gyoen National Garden
, a local favorite spot for cherry blossom viewing. Take a leisurely morning walk in the typical Japanese and French gardens, and feel the joy of being surrounded by cherry blossoms, as the thousands of Somei Yoshino and Kanhizakura trees dye the entire park pink.
►
Visit Yoyogi Park instead if happens to be a Monday when the Shinjuku Gyoen is closed.
Next, we will visit the
Meiji Jingu Shrine
, which is a perfect combination of cultural heritage and natural scenery, as it is not only a very important shrine, but also a huge green space hidden in the metropolis. If lucky, you may encounter a traditional Japanese wedding here. Afterwards, the guide will show you
Harajuku
, a place to know Tokyo's fashion, culture, street art and more. Depending on your interests, you can explore the buzzing Takeshita Street, featuring youth fashion, cosplay shops, and the birthplace of Japan's 'Kawaii' (cute) culture; or Cat Street, where there are no cats but a wide variety of shops, from small boutiques to high-end designer shops; or Omotesando Avenue, which offers luxury brands and upscale shopping experiences.
►
Visit Shibuya if time permits.
Then our guide will accompany you back to your hotel to collect your luggage, and it's time to say goodbye. The guide will be helpful explaining to you the easiest way to the airport. Please go to the airport by yourself. Wish you a pleasant trip home!
Meals:
Breakfast
* How to Get to Narita Airport of Tokyo: (for your reference)
1. The fastest way is by taxi, which takes about 70 minutes and costs USD 200 to 220 from both hotels to the airport.
2. Economical ways: Guests of the Hotel Century Southern Tower can take the rail transit: walk 8 minutes northeast to Shinjuku Station to take the Narita Express train to the airport, taking 1 hour and 40 minutes and costing USD 26 per person. Guests of the hotel Hilton Tokyo are recommended to take the Airport Limousine Bus running directly to the airport, taking 2 hours and 20 minutes and costing USD 23 per person.
* For guests going to the Haneda Airport, please ask our guide or travel consultants for suggestions.
* Note:
Our Tokyo tours can be tailored to the length of your holiday. Want to stay longer? Feel free to contact our travel consultants to add a day tour to Tokyo Disneyland, Nikko, or Yokohama, otherwise check our
6 Days Best Japan Tour to Tokyo - Mt. Fuji - Kyoto - Nara - Osaka
.
Shinjuku Gyoen National Garden
Meiji Jingu Shrine
This trip can be customized to meet your individual needs!
Tour Prices
Mar 15 - May 10
Other Time
Tour Prices with 4 Stars Hotels
Month
2-3 travelers
4-5 travelers
Mar 15 - May 10

USD2169

USD1739

Other Time

USD2089

USD1659
Tour Prices with 5 Stars Hotels
Month
2-3 travelers
4-5 travelers
Mar 15 - May 10

USD3509

USD3079

Other Time

USD3299

USD2869
Prices are per person on twin sharing basis.
Price Includes
Accommodation with daily breakfast at selected hotels
Service of English-speaking guide as per itinerary
Public transfer & bullet train as per itinerary
Entrance fees as itinerary specifies
Price Excludes
International flights of arrival and departure
Airport see-off
Meals other than those mentioned in the itinerary
Personal expenses
Japan visa fee
Itineraries you may also like: