Best Japan Tour
TJP02: 6 Days Private Tour of Tokyo - Mount Fuji - Kyoto - Nara - Osaka
Tour Type:
Private tour, with English guide and customizable itinerary
Transportation:
Japan's convenient public transport
Accommodation:
Handpicked 5 stars luxury & 4 stars comfort hotels
Highlights:
Cross Mount Fuji off your bucket list and get stunned by the panoramic view.
Find contrasts in Tokyo: thousand-year-old Senso-ji and trendy Shibuya.
Feel the spiritual power and make a wish at a Japanese shrine or temple.
Travel in depth to the ancient capital Kyoto and spot a geisha in Gion.
Sample fresh sushi and authentic snacks at a local market.
This trip can be customized to meet your individual needs!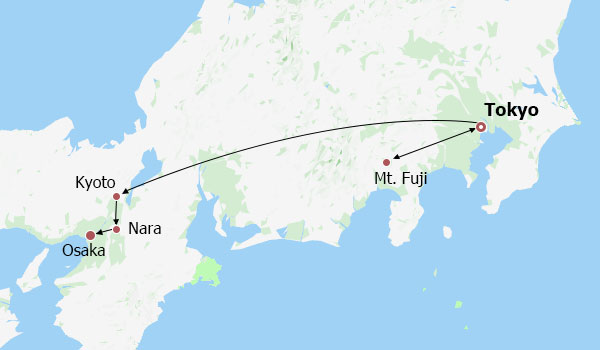 Day 1
Arrive in Tokyo, Japan; Airport Pick-up
Welcome to choose our best Japan tour! As soon as your flight lands in Tokyo, you will be warmly greeted by our English-speaking assistant, who will guide you on a convenient shared car to our carefully selected hotel in central Tokyo. After check-in, enjoy your free time for the rest of the day.
Accommodation:
Hotel Century Southern Tower (4 stars) or Hilton Tokyo (5 stars)
➤
Activities & Dinner Suggestion:
To ease your fatigue from the long flight, we have no fixed sightseeing plans for the day. Have a good rest at the hotel, or, if you are still energetic, you can make your own way to the Tsukiji Outer Market, Japan's most prestigious seafood market. Although the once flourished fish market has moved away, there are still many old restaurants frequented by local foodies, offering the best seafood and sushi. Remember to go early, as many shops and restaurants close at 17:00 or 18:00. For sunset and night view, the Tokyo Skytree is a great place.
➤
Heed the Experts' Advice:
It is strongly recommended that you ditch the heels and embrace comfortable hiking boots or sneakers for your Japanese adventure. Considering the substantial walking you'll encounter, particularly on cobblestone paths surrounding many attractions, comfy shoes are essential.
Day 2
Tokyo Highlights: Imperial Palace, Senso-ji Temple, Meiji Jingu, Shibuya
After breakfast, our guide will meet you in the hotel and take you on a metro to begin the exploration of metropolitan Tokyo. First, we'll visit the stately
Imperial Palace
, the residence and office of the Emperor of Japan. Take our specially arranged route to avoid the crowds and visit its Kokyo Gaien National Garden and the East Gardens. You would be amazed at how big a green and peaceful place there is in the middle of such a cluster of skyscrapers. The guide will show you the bronze statue of the ancient hero general Kusunoki Masashige and give you time to take photos in front of the classic Nijubashi Bridge.
Next, we'll head to Asakusa, Tokyo's most distinctive Edo-style playground popular with both locals and tourists. Wander through the magnificent
Kaminarimon Gate
and the bustling
Nakamise-dori Street
, getting excited by the lively vibe of century-old shops selling Japanese food and folk crafts. Approach the
Senso-ji Temple
, the oldest temple of Tokyo, at the end of the street. Pay homage to a Kannon statue accidentally salvaged by the local fishermen in 628 AD. Do what the locals do here - draw an Omikuji fortune slip or buy a charm for good luck. View the towering
Tokyo Skytree
from a nearby alley.
Later, the guide will take you to the
Meiji Jingu Shrine
. Walking from the noisy streets, we would suddenly enter a tranquil green land made up of 100,000 trees and get close to the Japanese spiritual center, the shrine dedicated to Emperor Meiji (1852 – 1912 AD), who led Japan into an industrialized world power. Let's visit the main hall, write wishes on a wooden plaque, and leisurely stroll through the Meiji Jingu Gyoen, where the shobu flowers field was often visited by the emperor and his wife, and legend has it that it can bring good luck and positive energy to those who visit.
Senso-ji Temple
Traditional Wedding at Meiji Jingu Shrine
Afterwards, head to
Shibuya
, one of Tokyo's most popular commercial areas. Standing in the world's busiest
Shibuya Crossing
, you will truly feel the hurried footsteps of Japanese people. See the iconic
Hachiko Memorial Statue
, a popular meeting place featuring a bronze statue of a famous loyal Akita dog. If you've seen the Japanese film Hachiko Monogatari or any other adaptations, you must have been moved to tears by the story of the dog who waited 10 years after his owner died. Next, you can explore various shopping malls according to your preferences, such as the Shibuya 109, Shibuya Center-Gai, and Shibuya Parco. A variety of shops, entertainment facilities, restaurants and cafes will make your afternoon. The guide will finally escort you back to the hotel, or you can enjoy some free time here and return by yourself.
➤
Tip: Nonbei Yokocho, a ramshackle alley tucked away behind Shibuya's fashion and modernity, is full of tiny bars, bistros, and eateries. Here you can enjoy authentic teppanyaki and sake for dinner
.
Meals:
Breakfast
Accommodation:
Hotel Century Southern Tower (4 stars) or Hilton Tokyo (5 stars)
➤
How to Return to Your Hotel from Shibuya:
1. To Hotel Century Southern Tower: A taxi takes 15 minutes and costs USD 15. Rail transit takes 9 minutes and costs USD 1 per person. Take the metro Yamanote Line from Shibuya Station for 4 minutes (2 stops) to Yoyogi Station, and walk 5 minutes north to the hotel.
2. To Hilton Tokyo: A taxi takes 18 minutes and costs USD 15 to 20. Rail transit takes 20 minutes and costs USD 1.3 per person. From Shibuya Station, take the Fukutoshin Line for 6 minutes (2 stops) to Shinjuku-sanchome Station, transfer to the Marunouchi Line to ride for another 3 minutes (2 stops) to Nishi-shinjuku Station, and walk 4 minutes south to your hotel.
Day 3
Mount Fuji Tour by Ropeway and Cruise
No trip to Japan is complete without a visit to
Mount Fuji
. Today is going to mark your epic adventure to the mountain, which is Japan's symbolic natural sight. Meet our guide in your hotel lobby and start with an express bus ride to the Lake Kawaguchi, a sought-after resort for appreciating the beauty of Mount Fuji. Board the
Lake Kawaguchi cruise
to get a close view of Mount Fuji from different directions, with its snow-capped peak reflected on the aquamarine water. Ride the
Panoramic Ropeway
specially arranged for you, ascend from the lakeshore to the observation deck on the top of the Mount Tenjo in just 3 minutes, for a striking panoramic view.
★
Why Choose Us: 4 Reasons1.
Adjustable Date:
We unprecedentedly offer a flexible choice of dates to visit Mount Fuji, depending on weather. This is deadly necessary as the Mount Fuji is not often seen due its special climatic conditions. If rain is forecast for the day, then you can agree with our guide to advance the Mount Fuji trip to Day 2, and visit the weather-proof sites in Tokyo on Day 3.
2.
Early Departure and Smart Travel:
Our early morning pick-up ensures enough time to explore Mount Fuji, given the long drive of 4 hours for a round trip. Arrive early to avoid the crowds and get a better experience.
3.
All-inclusive:
We share your dislike for unexpected add-ons, so we don't have any hidden fees. Our one-price tour generously includes the sightseeing cruise on the Lake Kawaguchi as well as the Mount Fuji Panoramic Ropeway.
4.
Handpicked Photo Spots:
Book our exclusive route designed by insiders, and get served by senior guides, with more than 10 years of experience and at least 5 monthly visits to Mt. Fuji, who will help you find unknown photo spots by the lake, and show you how to take superb pictures.
Completing this awesome Fuji day tour, our guide will accompany you on an express bus returning to Tokyo for the night.
Meals:
Breakfast
Accommodation:
Hotel Century Southern Tower (4 stars) or Hilton Tokyo (5 stars)
Mount Fuji, Symbol of Japan
Try Authentic Local Food
Day 4
Tokyo to Kyoto: Visit Golden Pavilion, Pure Water Temple & Gion
In the morning, please check out and make your way to Tokyo Station to catch the Shinkansen bullet train to Kyoto by yourself (train tickets already reserved and included). The lightning speed allows the 450 km (280 mi) journey be completed in just 2.5 hours. Enjoy the scenery flashing by the window, and buy a Japanese ekiben for lunch if you like.
➤
How to Get to Tokyo Station:
1. From Hotel Century Southern Tower: 20 minutes and USD 20 to 25 by taxi; 23 minutes and USD 2 per person by rail transit: take the Shinjuku Line from Shinjuku Station for 11 minutes (6 stops) to Ogawamachi Station, transfer to the Marunouchi Line to ride for another 3 minutes (2 stops) to Tokyo Station.
2. From Hilton Tokyo: 20 minutes and USD 25 to 30 by taxi; 25 minutes and USD 1.5 by rail transit: walk 5 minutes north to Nishi-shinjuku Station to take the Marunouchi Line for 20 minutes (10 stops) to Tokyo Station.
Upon arrival, our Kyoto guide will greet you at the train station, escort you to check in to the hotel, and show you the
Kyoto Tower
just outside the station. The guide will familiarize you with the ancient city, which served as the capital of Japan from 794 to 1868 AD, and retains a considerable amount of historical relics and World Heritage sites.
After a short break, head to the
Temple of the Golden Pavilion (Kinkaku-ji Temple)
to appreciate its remarkable 3-story Sarira Pavilion covered with pure gold leaf, which is a far cry from the austere Buddhist architecture you're used to. Next, we'll visit the
Pure Water Temple (Kiyomizu-dera Temple)
, the oldest temple in Kyoto which was first built in 778 AD. In addition to ascending to the elevated veranda for a gorgeous overlook of Kyoto, you can also pray for longevity, wisdom and health, as the locals do, by drinking from the spring water of the wish-granting Otowa Waterfall flowing down from the mountain. Just beyond the temple are the historical alleys of
Sannenzaka and Ninenzaka
, which are protected areas for important traditional Japanese architecture. Following the guide to stroll up and down the stone-paved pedestrian ramps, you can take pictures of typical Kyoto style before the
Yasaka Pagoda
, and get fascinated by the quaint wooden houses flanking the road, which sell local snacks, groceries, and souvenirs. Visit the
Yasaka Shrine
, and we'll then step into the time-honored
Gion geisha district
. Bet you'll be lucky to see geishas or maikos passing by the
Hanamikoji Street
in elaborate kimonos and makeup.
Our guide can escort you back to your hotel, or you can extend your evening with some leisure activities. Dining at a favorite restaurant, or watching a geisha show at a teahouse, followed by a night view of Gion, will make for an unforgettable night in Japan. Finally, you can easily hail a taxi to return to your hotel in 10 minutes.
Meals:
Breakfast
Accommodation:
Mitsui Garden Kyoto Station (4 stars) or The Thousand Kyoto (5 stars)
Golden Pavilion (Kinkaku-ji Temple)
Pure Water Temple (Kiyomizu-dera Temple)
Day 5
Kyoto Essence & Nara Park
This is a day to delve into the culture heritage and local life of Kyoto. After breakfast, our guide will accompany you on a visit to one of Kyoto's representative sights, the
Fushimi Inari Taisha
, a popular shrine dedicated to Inari, the kami of agriculture and commerce. In addition to the traditional prayer halls, you will be led to hike through the
Senbon Torii
, renowned for its more than 10,000 vermilion torii gates, which form a spectacular pathway stretching to the top of the Inari Mountain. Our thoughtfully arranged morning visit allows you to avoid the crowds. Run up the path of endless torii gates like the heroine of the movie 'Memoirs of a Geisha', make your wish, and create the most eye-catching photos on social media. Next, step into the 400-year-old
Nishiki Market
just before noon. Meander through the lively stalls, be dazzled by the abundance of local food and sundries, and buy some snacks for lunch if you like.
In the afternoon, a taste of the old world awaits you. Take a train to the ancient capital Nara and visit the
Nara Park
, a peaceful natural resort. Visit the
Kofuku-ji Temple
boasting a striking Five-story Pagoda, witness the giant bronze Buddha statue at the
Great Eastern Temple (Todai-ji Temple)
, and walk into the
Kasuga Taisha Shrine
, a hidden treasure in the primeval forest with a thousand years' history. A visit to Nara is not merely about seeing its rich historical legacy, but also about forging an unforgettable connection with the park's longtime inhabitants, the hundreds of deer of an ancient breed unique to Japan. As a guest in their domain, it's essential to treat these revered creatures with respect and understanding. Buy a packet of crackers to feed the deer, and they will usually give you a polite nod. After a relaxing afternoon, our guide will escort you back to your hotel in Kyoto.
Meals:
Breakfast
Accommodation:
Mitsui Garden Kyoto Station (4 stars) or The Thousand Kyoto (5 stars)
Sannenzaka and Ninenzaka
Fushimi Inari Shrine, Kyoto
Day 6
Kyoto to Osaka, Departure from Osaka
Your best Japan tour is coming to an end. Depending on your departure flight time, please go by yourself from Kyoto to Osaka Kansai International Airport for your flight home. Wish you a pleasant trip!
Meals:
Breakfast
➤
How to get to the airport: Walk a few minutes from your hotel to Kyoto Station, take the express train Haruka Line for 1 hour and 20 minutes (4 stops) to the airport, at a cost of USD 24 per person.
➤
If your flight leaves late, you can also arrive in Osaka early and explore the popular attractions such as the Osaka Castle and Dotonbori on your own. Otherwise, contact our travel consultants for an extended or customized guided tour of Osaka.
This trip can be customized to meet your individual needs!
| Destinations | 4 Stars Hotels | 5 Stars Hotels |
| --- | --- | --- |
| Tokyo | Hotel Century Southern Tower | Hilton Tokyo |
| Kyoto | Mitsui Garden Kyoto Station | The Thousand Kyoto |
Tour Prices
Prices with 4 Stars Hotels
2-3 travelers
4-5 travelers

USD2389

USD1889
Prices with 5 Stars Hotels
2-3 travelers
4-5 travelers

USD3279

USD2769
Prices are per person on twin sharing basis.
Price Includes
Accommodation with daily breakfast at selected hotels
Service of English-speaking guide as per itinerary
Airport shared car, public transfer & bullet train as per itinerary
Entrance fees for mentioned sights visited
Price Excludes
International flights of arrival and departure
Meals other than those mentioned in the itinerary
Airport see-off
Personal expenses
Japan visa fee
Itineraries you may also like: