Panoramic Japan
TJP04: 10 Days Private Tour of Tokyo - Mt. Fuji - Kanazawa - Shirakawa-go - Kyoto - Nara - Osaka - Hiroshima
Tour Type:
Fully escorted tour with English-speaking guide
Transportation:
Japan's convenient public transport
Accommodation:
Selected 5 stars luxury & 4 stars comfort hotels
Highlights:
Visit Mount Fuji, the symbol of Japan, by panoramic ropeway and cruise.
Ride Shinkansen bullet train that whizzes you from east to west Japan.
Step into a bygone era at Shirakawa-go, a UNESCO World Heritage village.
Wear a kimono or meet a geisha in Gion of ancient capital Kyoto.
Uncover the tragic history of Hiroshima, the site of atomic bombing.
This trip can be customized to meet your individual needs!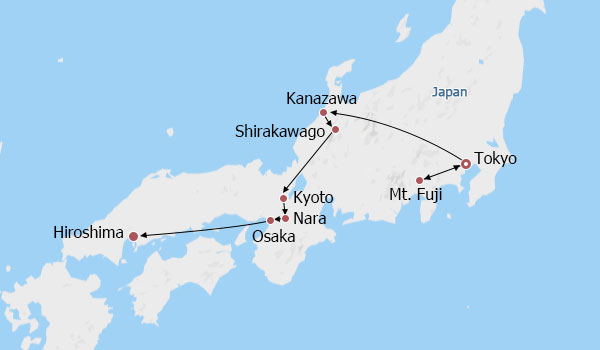 Day 1
Arrive in Tokyo, Japan; Airport Pick-up
Welcome to book our panoramic private tour to Japan, with personalized service! Whether your flight lands at Narita International Airport or Haneda Airport, our English-speaking assistant will meet you on time and lead you to a shared shuttle that serves several passengers but goes directly to your hotel with no transfers. Relax in the highly-rated hotel carefully selected by our experts.
Accommodation:
Hotel Century Southern Tower (4 stars) or Hilton Tokyo (5 stars)
➤
Free Time Suggestion:
If you arrive early and are not tired, just hang out on your own. The hotels are located in the bustling and convenient Shinjuku area. It is a 10-minute walk from the hotels to Kabukicho, a famous entertainment district with a lively streetscape and numerous clubs. Tucked away in the heart of Shinjuku, Omoide Yokocho, a narrow alleyway teeming with late-night snack bars, beckons you with its delectable treats.
Day 2
Tokyo Sightseeing: Meiji Jingu Shrine, Imperial Palace, Senso-ji Temple
In the morning, our guide will pick you up from the hotel lobby. Let's try Tokyo's convenient public transportation and explore the best sights of the city. The first destination today is the
Meiji Jingu Shrine
, built in memory of Emperor Meiji (1852 - 1912 AD), who has long been revered by the Japanese people. Step into the peaceful shrine surrounded by large forests, admire the seasonal iris garden, and you may witness a traditional Japanese wedding held here, a solemn ceremony steeped in reverence and devoid of laughter, which would be a stark cultural contrast. Next, we'll head to the
Imperial Palace
, an elegant classical complex where the Japanese Emperor's family live. Our expert guide will show you the most popular Kokyo Gaien National Garden and the East Gardens inside, and tell you the best angle to photograph the Nijubashi Bridge.
★
Special Lunch with Sushi Making Class
We will arrange a special activity for you at noon. Do you want to try Japan's most famous food - sushi? Ever wanted to learn how to make sushi? Our guide will take you to a local workshop where you can learn about the history of sushi, practice the etiquette of eating sushi, and learn step by step how to make it from a professional sushi chef. Try using nori to slowly roll up the rice with various ingredients, and you will get a sense of accomplishment. Enjoy your hand-made sushi for lunch and try a cup of sake if you like.
After lunch, we'll visit the oldest temple in Tokyo, the
Senso-ji Temple
. Getting to Asakusa, a vibrant hub of recreation for locals, you'll see the
Kaminarimon Gate
, adorned with a huge red lantern. Stroll along the bustling
Nakamise-dori Street
which runs north from the gate, and we'll reach the Senso-ji Temple. Pay homage to the Goddess of Mercy statue enshrined in the temple. In addition to seeing the religious buildings, you can also wear a traditional kimono to take photos or experience a rickshaw ride at your own expense, and our guide will be glad to interpret and help you with the rental. Beyond the temple grounds, the guide will show you a nearby alleyway, where the towering
Tokyo Skytree
emerges from the distance, a testament to the city's modern marvels. Finally, you will be escorted back to the hotel.
Meals:
Breakfast, Lunch
Accommodation:
Hotel Century Southern Tower (4 stars) or Hilton Tokyo (5 stars)
Meiji Jingu Shrine
Senso-ji Temple
Day 3
Mount Fuji Tour from Tokyo, by Lake Kawaguchi Cruise & Panorama Ropeway
Today, we will visit the
Mount Fuji
, Japan's No.1 attraction and most iconic natural sight. Early in the morning, our guide will meet you in the hotel lobby and accompany you to take 2-hour express bus from the Shinjuku Bus Terminal to the
Lake Kawaguchi
.
Take the advantage of our both close and distant viewing solutions. Upon arrival at the lake just at the foot of the Mount Fuji, the guide will invite you to board a
sightseeing cruise
to have a close-up view of the Mount Fuji and its elegant reflection in the blue lake. Later, enjoy a lift by the
Fuji Panoramic Ropeway
to the top station. It would be an etched moment when you stand so high to get stunned by the snow-capped Mount Fuji and the surrounding lakes below.
★
What Makes Our Service Superior:
1. Considering that Mount Fuji is somewhat difficult to see, only visible 80 days a year, given the special terrain and climate of the area, so that we offer you the opportunity to change your visit date flexibly. Depending on the weather forecast, you can swap your Fuji tour with the previous day's Tokyo city tour if necessary.
2. The viewing location we have chosen for you is the outstanding Lake Kawaguchi, rather than any alternative among the Fuji Five Lakes arranged by other travel agencies, which are easy to book but less scenic.
Late in the afternoon, we'll return to Tokyo by express bus. The guide will escort you back to your hotel around 20:00.
Meals:
Breakfast
Accommodation:
Hotel Century Southern Tower (4 stars) or Hilton Tokyo (5 stars)
Mount Fuji
Japanese Sushi
Day 4
Tokyo to Kanazawa; Visit Kenroku-en Garden & Kanazawa Castle
This morning, please check out after breakfast and get to Tokyo Railway Station by yourself, for a Shinkansen bullet train to Kanazawa. Tickets will be booked in advance and stored in the transportation card we give to you.
➤
How to Get to Tokyo Station:
1. From Hotel Century Southern Tower: 23 minutes and USD 2 by rail transit: take the Shinjuku Line from Shinjuku Station for 11 minutes (6 stops) to Ogawamachi, transfer to the Marunouchi Line to ride for another 3 minutes (2 stops) to Tokyo Station. Or you can take a taxi there in 20 minutes at a cost of USD 20 to 25.
2. From Hilton Tokyo: 25 minutes and USD 1.5 by rail transit: walk 5 minutes north to Nishi-shinjuku Station to take the Marunouchi Line for 20 minutes (10 stops) to Tokyo Station. Or you can take a taxi there in 20 minutes at a cost of USD 25 to 30.
Enjoy the fast-flashing scenery outside the window, and you'll reach Kanazawa in 2.5 hours. Upon arrival, our local guide will greet you at the train station, escort you to the hotel to settle your luggage. After a short rest, we will begin our afternoon tour of Kanazawa. The guide will first take you to the beautifully designed
Kenroku-en Garden
, where you can take a leisurely stroll around the lake or sit on the tatami mat of the tea pavilion to enjoy the exquisite courtyard view; and then the
Kanazawa Castle Park
right next to it, which features a reconstructed 16th century castle. Next, we will head to the
Higashichaya Old Town
, Kanazawa's largest teahouse street since the Edo Period (1603 – 1867 AD). Hang around this neighborhood of quaint alleys, admire the protected wooden houses, and get attracted by the old teahouses, snack bars and craft shops. Finally, follow the guide into the
Nagamachi District
, once home to the samurai warriors and their families 200 years ago. The austere cobblestone streets, earthen walls and a plethora of historic samurai mansions will make you feel like traveling back in time. After the visit, the guide will accompany you back to your hotel.
Meals:
Breakfast
Accommodation:
ANA Crowne Plaza Kanazawa (4 stars) or Hyatt Centric Kanazawa (5 stars)
Higashichaya Old Town, Kanazawa
Shirakawa-go Village
Day 5
Enjoy Rural Scenery in Shirakawa-go; Travel to Kyoto
In the morning, the guide will accompany you to take an express bus for 1.5 hours from Kanazawa to
Shirakawa-go
, a historic village in a remote mountainous area known for its gassho-style residential houses. Here, you will be away from the hustle and bustle of the city, and feel the secluded country life. Climb to the
Ogimachi Castle Observation Deck
on the hillside for a postcard-like peaceful view of the entire village. Among the more than 100 distinctive thatched houses, we'll visit the most representative
Wada House
with a history of 400 years. Marvel at its strong structure built without a single nail, which has survived many heavy storms and earthquakes. If you happen to visit Shirakawa-go in winter, when the thatched houses are covered in snow and the village is breathtakingly tranquil, you will understand better why it is a World Heritage site.
►
Tip: For lunch, you can try rice and miso soup with meat or fish as a side dish at your own expense, which has been an essential daily diet for villagers here for centuries.
In the afternoon, our guide will lead you back to Kanazawa by bus to collect your luggage, and then escort you to Kanazawa Railway Station, from where you will take a 2.5-hour train ride to Kyoto by yourself (train tickets reserved and included). Upon arrival, please check in to our carefully selected hotel, just east of Kyoto Station, a 2-minute walk away.
Meals:
Breakfast
Accommodation:
Mitsui Garden Kyoto Station (4 stars) or The Thousand Kyoto (5 stars)
Day 6
Kyoto Visit: Nijo Castle, Golden Pavilion, Pure Water Temple, Gion Geisha District
With a history of 1,200 years, Kyoto is known as the museum of ancient architecture in Japan. Today, we'll explore some of its iconic temples, shrines and World Heritage sites. Our guide will pick you up from the hotel and we'll first visit the
Nijo Castle
, the home palace for the shogun Tokugawa Ieyasu built in 1603 AD. Take a walk through the ruins of the Honmaru Palace, and admire the well-preserved architecture and murals of the Ninomaru Palace. Walking on 'Nightingale Floor' of the corridors would be the most interesting thing because it will make a chirping sound as you walk by, which is caused by the friction of nails and boards under the old floor. One theory is that it was designed to detect intruders in time. Our second stop is the
Temple of the Golden Pavilion (Kinkaku-ji Temple)
. Its gorgeous three-story tower covered in pure gold leaf will make you linger.
In the afternoon, we'll visit the
Pure Water Temple (Kiyomizu-dera Temple)
. Built in 778 AD, it boasts historic buildings, among which the most famous is the stage suspended in front of the main hall. Standing here, you can overlook the street layout of Kyoto. Once out of the temple, we will come to
Sannenzaka and Ninenzaka
streets, which retain the look and feel of Japan's feudal era. Enjoy your time going through a maze of narrow alleys and ramps lined with pottery shops, teahouses and traditional kaiseki restaurants, and we'll finally arrive at the
Gion area
, where you may see geishas or maikos dressed in beautiful kimonos.
★
Special Activity: Tea Ceremony with Maiko
Our guide will leave you in a traditional teahouse where you will enjoy an unparalleled cultural experience. Spend an hour watching a wonderful tea ceremony accompanied by maiko dancing, one of Japan's most unique female art performances. You can also make your own matcha with the help of maiko and taste the yummy dried sweets.
Afterwards, admire the night view of Gion before taking a 10-minute taxi back to your hotel.
Meals:
Breakfast
Accommodation:
Mitsui Garden Kyoto Station (4 stars) or The Thousand Kyoto (5 stars)
Pure Water Temple (Kiyomizu-dera Temple)
Geishas in Gion of Kyoto
Day 7
Kyoto to Nara: Visit Fushimi Inari Shrine & Nara Park
We will check out another landmark of Kyoto, the
Fushimi Inari Shrine
, in the morning when it is less crowded. This is a head shrine built against a hill dedicated to Inari, the kami of rice and agriculture. You can take photos at the striking
Senbon Torii
, where there is a line of surprisingly numerous red torii gates that stretches along the path up the hill.
Next, our guide will accompany you on a 40-minute train ride to Nara, which was the capital of Japan during the 8th century AD and retains many World Heritage sites. Upon arrival, check into the hotel and follow the guide to explore the
Nara Park
, a vast green space where nature and human civilization coexist in harmony. The park is surrounded by a number of historic temples and shrines. Depending on your time and preference, we will visit some of the representative sites, including the
Kofuku-ji Temple
,
Ukimido Pavilion
, and
Great Eastern Temple (Todai-ji Temple)
. Continue our exploration to the
Kasuga Taisha Shrine
on the east side of the park. Walk along a path flanked by antique stone lanterns, you will reach the shrine deep in the virgin forest, solemn, quiet and mysterious. In addition to the ancient architecture and religious art, the most interesting thing you can't ignore here is the deer roaming around. You can buy some deer biscuits to feed them and take pictures with these gentle and lovely creatures.
If time permits, we'll venture into the Naramachi neighborhood, where authentic local life unfolds amidst charming alleyways and traditional architecture. Wander past the
Gango-ji Temple
and
Goryo Shrine
, see delicate local residences that line the narrow paths, and visit the
Naramachi Koshi-no-Ie (Lattice House)
to satisfy your curiosity about traditional Japanese homes. Appreciate its smartly-designed lattice façade, tatami tearoom, small patio, storage, and other functional spaces. Finally, the guide will accompany you back to your hotel.
Meals:
Breakfast
Accommodation:
Henn na Hotel Nara (4 stars) or Nara Hotel (5 stars)
Fushimi Inari Shrine, Kyoto
Goryo Shrine, Nara
Day 8
Nara to Osaka: Visit Kuromon Market, Osaka Castle, Dotonbori
After breakfast, please check out and walk to the Kintetsu-Nara Station for a half-hour train to Osaka (train tickets included). Upon arrival, our Osaka guide will pick you up and escort you on a short walk to your hotel.
Then, the guide will lead you to go deep into the local life as you visit Osaka's most popular and historic marketplace, the
Kuromon Market
(close on Sunday), which is packed with various shops selling fresh seafood, fruits and vegetables. Next, we'll head to the
Osaka Castle
and the park that embraces it. Get to know this castle with undeniable historical significance as one of the three largest ancient castles in Japan. You'll be impressed by the romantic scene if you happen to visit during the sakura season. The guide will show you the best place to photograph the towering castle, with pink flowers in the foreground
.
In the afternoon, follow the guide to stroll in
Shinsaibashi
and
Dotonbori
, where rows of shops range from haute couture to crafts and souvenirs. Experience the charm of Osaka's busiest commercial district and its food culture. The huge, colorful billboards and shop signs will dazzle you, while a variety of local snacks will make your mouth water. Take a guided our all the way from Dotonbori to your hotel, or you can have more free time to stay into the evening, as Dotonbori's night view is also exciting, and it is easy to return by yourself to the hotel within 7 or 8 minutes' walk.
Meals:
Breakfast
Accommodation:
Namba Oriental Hotel (4 stars) or Swissotel Nankai Osaka (5 stars)
➤
Top 5 Places to Eat in Dotonbori:
1. Kushikatsu Daruma Dotonbori: Fried skewered meat and vegetables
2. Chibo: Okonomiyaki
3. Kani Doraku: Sushi and seafood specializing in crabs
4. Creo-Ru: Takoyaki and okonomiyaki
5. Ichiran Ramen: Tonkotsu ramen
Day 9
Osaka to Hiroshima: Travel in Memory of Peace
In the morning, our guide will accompany you on a 1.5-hour bullet train journey to Hiroshima, a city reminiscent of Japan's greatest war trauma in modern times. Settle your luggage at the hotel, and then we'll head to the pier to board a ship to the
Miyajima Island
. As the ship passes the iconic giant torii, we'll arrive at the entrance to the World Heritage site –
Itsukushima Shrine
. If you come during high tide, you'll be impressed by the vermilion torii gate floating on the sea. After seeing the majestic shrine and the rest of the island, we will return to downtown Hiroshima.
★
Special Visit to Atomic Bombing Site:
A special stop will be arranged for you in the afternoon - the
Hiroshima Peace Memorial Park and Museum
, showing another side of Japan and 'A Lost Way of Life'. Here, you will know the harrowing history of Hiroshima as the first city in the world to be severely damaged by an atomic bomb. The
Genbaku Dome (Atomic Bomb Dome)
that remains at the center of the explosion and the horrible photographs in the museum are a constant reminder of the brutality of war and the importance of peace. With these thoughts and revelations, you will spend the last night of your trip to Japan in Hiroshima.
Meals:
Breakfast
Accommodation:
Daiwa Roynet Hotel Hiroshima-ekimae (4 stars) or Sheraton Grand Hiroshima (5 stars)
➤
Recommended Local Food: Hiroshimayaki
Near the Atomic Bombing Site, there is a famous restaurant Nagataya where you can have lunch or dinner. The best dish to try is Hiroshimayaki, a large pancake made of flour, cabbage, noodles and other ingredients. You can watch the chef make it in front of you, and then add okonomiyaki sauce, mayonnaise, minced dried fish, and nori flakes to your taste. Other Hiroshima snacks, such as grilled seafood, ramen and the specialty Unicress, are also popular. You can ask our guide for recommendations.
Itsukushima Shrine
Atomic Bomb Dome
Day 10
Departure from Hiroshima, Japan
Your 10 days Japan tour is completed. Please get to the Hiroshima Airport or Train Station by yourself. Thank you for travelling with us, and we wish you a pleasant journey home!
Meals:
Breakfast
➤
How to Leave Hiroshima (for your reference):
Hiroshima Train Station is just a 5-minute walk south of the Daiwa Roynet Hotel Hiroshima-ekimae and a 3-minute walk west of Sheraton Grand Hiroshima. From this station, you can go back to Osaka or Tokyo for your homebound flight, or travel to other cities in west Japan.
If you plan to leave Hiroshima by air, then from Hiroshima Station Shinkansen Exit, you can take the Hiroshima-Airport Limousine Bus for 50 minutes to the airport, which has flights to Tokyo, Sapporo, China, and South Korea.
➤
If you would like to book a train or air ticket to leave, or extend your trip, please feel free to contact our travel consultants.
This trip can be customized to meet your individual needs!
| Destinations | 4 Stars Hotels | 5 Stars Hotels |
| --- | --- | --- |
| Tokyo | Hotel Century Southern Tower | Hilton Tokyo |
| Kanazawa | ANA Crowne Plaza Kanazawa | Hyatt Centric Kanazawa |
| Kyoto | Mitsui Garden Kyoto Station | The Thousand Kyoto |
| Nara | Henn na Hotel Nara | Nara Hotel |
| Osaka | Namba Oriental Hotel | Swissotel Nankai Osaka |
| Hiroshima | Daiwa Roynet Hotel Hiroshima-ekimae | Sheraton Grand Hiroshima |
Tour Prices
Christmas & 2024 Special:
12% off
- Book before Dec 31, 2023
Travelers
Prices with 4 Stars Hotels
Prices with 5 Stars Hotels
2-3 travelers

USD4749

USD4179

USD6399

USD5631

4-5 travelers

USD3699

USD3255

USD5349

USD4707
Prices are per person on twin sharing basis.
The prices in red reflect 12% discount.
Price Includes
Accommodation with daily breakfast at selected hotels
Service of English-speaking guide per itinerary
Public transfer & bullet train as specified in the itinerary
Entrance fees for mentioned sights visited
Price Excludes
International flights of arrival and departure
Hiroshima airport see-off
Meals other than those mentioned in the itinerary
Personal expenses
Japan visa fee
Itineraries you may also like: