Classic Japan Escorted Group
TJP12: 10 Days Group Tour to Tokyo - Mt. Fuji - Nagoya - Kyoto - Nara - Osaka - Kurashiki - Hiroshima - Himeji - Kobe - Osaka
Tour Type:
Group guided tour of 10 to 20 pax, with English-speaking guide
Transportation:
Comfortable air-conditioned vehicle with experienced driver
Accommodation:
Best-reviewed 3 to 4 stars hotels
Highlights:
View Mt. Fuji at its best from three carefully-selected positions.
Stroll the beautiful gardens around Japanese emperors' residence in Tokyo.
Experience Japanese food culture in bustling local neighborhoods.
Visit Kyoto, the ancient capital of Japan, and immerse in its Geisha culture.
Interact with deer in Nara Park.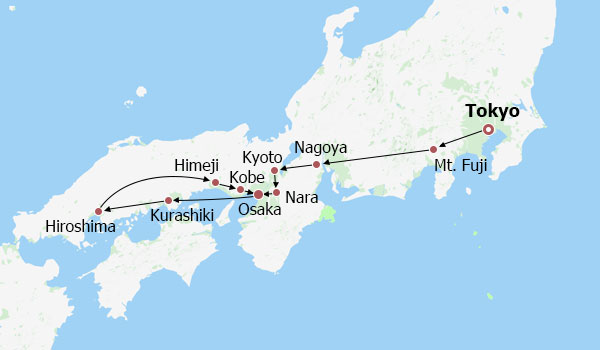 Itinerary
Dates & Prices
Reviews
A local English-speaking guide will warmly greet you at the airport arrival hall and assist you in boarding an air-conditioned airport shuttle, which takes you to hotel.

Afternoon Activity Suggestions:
If you arrive earlier on the day, you can spend the rest of the afternoon first visiting Tsukiji Outer Market to experience local life and Japanese food, and then taking a walk in the Ueno Park. If you come in spring, the park offers pink clouds of cherry blossoms for you to appreciate.

Accommodation: Tokyo Dome Hotel or similar
Day 2
Tokyo Sightseeing to Imperial Palace and Senso-ji Temple; Transfer to Mt. Fuji
Our expert guide will pick you up from your hotel and accompany you on our comfortable vehicle with an experience driver. First, let's visit the very center of Tokyo, the grounds of the
Imperial Palace
- the primary residence of Japanese emperors since the Edo era (1603 – 1867 AD), which witnessed Japan's ultimate transition from traditional to modern. From the plaza in front of the palace, you will have photo ops of the Nijubashi Bridge, meaning "double bridge", to record the moment of standing before the most significant bridge in Tokyo.
Then enter the sacred area of
Senso-ji Temple
. You will stroll along the
Nakamise-dori Street
behind its grand first gate, where you can taste authentic local snacks and soak in Japanese fortune-telling culture; then go on to tour around its main hall to pray for good luck before the enshrined statue of Kannon, Japanese goddess of mercy. On the temple grounds, you can also have a good view of
Tokyo Skytree
, the world's second tallest tower.
Then we will head southwest until we reach a local hotel near Mount Fuji. It must be invigorating to try Japanese-style hot spring and taste local cuisine after once day's sightseeing. Our guide will make proper arrangements for you.
►
Tip: If you visit Japan during Mar. 18 to Apr 22, we will also take you to Chidorigafuchi Park and Shinjuku Gyoen Garden to join locals to celebrate Japan's cherry blossom viewing festival. If you come during Oct. 21 to Nov. 18, two spots of Yoyogi Park and Rikugien Garden will be added to enjoy the autumn color of fiery maple leaves.
Meals:
Breakfast, Lunch, Dinner
Accommodation:
Fujisan Garden Hotel or similar
Senso-ji Temple
Nakamise-dori Street
Day 3
Magnificent Mt. Fuji & Stay Overnight in Nagoya
Today's theme is
Mt. Fuji
. Being Japan's highest mountain with an altitude of 3,776 meters (12,388 feet), it is a magnificent symbol of Japan. As an active volcano, Mt. Fuji is associated with many mythologies. In some indigenous beliefs, it is home to a deity that controls fire and water, which definitely adds mystical vibe to your tour.
To view Mt. Fuji at its best, we will drive to three most famous viewpoints. First, follow a trail up the mountain to the
Mt. Fuji 5th Station
, the best developed among other stations to savor the beauty of Mt. Fuji. (This will be replaced by Mt. Fuji World Heritage Center if the weather is not good). Another viewpoint is
Oshino Hakkai
, literally Eight Seas of Oshino, a 1,200-year-old pond complex in a Japanese village with thatched houses. The last viewpoint is
Bussharito Heiwa Park
. Because of the verdant plants, traditional pavilions, and a holy white pagoda, it offers some greatest photogenic views, as well as a quiet, solemn atmosphere for you to wander around. If you visit here on a sunny day, you can see Mt. Fuji clearly.
Then head west to Nagoya and have some free time in
Osu Shopping District
. Studded with 1,200 various street shops, here you can try Nagoya specialties, and experience Japanese secondhand market selling clothes and items in styles from the late 1900s.
►
Suggestion for Dinner:
The Japanese-style pub "Izakaya" is quite popular among locals. A restaurant in a nearby Izakaya street called Sekai-no-yamachan is famous for its specially cooked chicken wings. Besides, teppanyaki (food grilled on iron plate), udon noodles, fried food are available, too. You may ask your guide or the hotel staff for more details.
Meals:
Breakfast, Lunch
Accommodation:
Keihan Nagoya or similar
Mount Fuji
Nagoya Castle
Day 4
Nagoya to Kyoto: Visit Pure Water Temple & Gion Geisha District
As the center which the city of Nagoya expanded around,
Nagoya Castle
cannot be missed. The castle was constructed as a military project in 1617 AD to guard the office (in what is now Tokyo) of Tokugawa Ieyasu, the military commander at that time and the country's de facto ruling power, against his enemies to the west. A major participant in the ultimate unification of Japan under Ieyasu's leadership, it invites you to witness its magnificence.
Next, go on a 1.5-hour journey west toward Kyoto, 130 km (81 mile) away from Nagoya. Being the ancient capital in Japan, Kyoto best preserves traditional cultures and architecture of Japan. Today we will show you around the
Pure Water Temple (Kiyomizu-dera Temple)
, where you can pray for health, academic success, or happy love life by drinking the Otowa Waterfall at the base of its main hall. With blessings from gods in the temple, head northwest to the old streets of
Ninenzaka and Sannezaka
, where you can get some souvenirs such as Japanese-style fans and tableware. Then go further north to
Yasaka Shrine
, aka Gion Shine, best known for holding Japan's most celebrated summer festival, the Gion Matsuri. Our last stop is
Hanamachi Road in Gion District
, where geishas and their apprentices, maikos, gather - your No.1 destination to be steeped in geisha culture.
►
Tip: For groups coming during spring and autumn, we offer extra scenic spots for you to enjoy Japan's iconic seasonal colors. We will additionally stroll the Philosopher's Path today during Mar. 18 to Apr. 22, the cherry blossom season at its peak, and Togetsukyo Bridge of Arashiyama from Oct. 21 to Nov. 18, when you get to enjoy seas of fiery autumn maple leaves.
►
Suggestion for Dinner:
As Gion boasts some of the best restaurants in Kyoto, you can stay for a while and stop by one to have dinner. Perhaps you'd like to try ramen in Mushoshin and sushi in Izuju.
Meals:
Breakfast, Lunch
Accommodation:
Gracery Kyoto Sanjo or similar
Pure Water Temple
Ninenzaka and Sannenzaka
Day 5
Fushimi Inari Shrine in Kyoto – Nara Park – Drive to Osaka
Fushimi Inari Shrine
with its ten thousand red gates, or Senbon Torii, enjoys high reputation all over the world. You will join your guide to pass some of these torri gates, the boundaries between the profane and the realm of Shinto deities, to be led to another dimension. The inscriptions on the gates may also interest you. Your guide will explain that they mean on which day and from whom a gate was donated.
Then our guide and driver will drive you south to Nara to visit the
Nara Park
, a 500-hectare land roamed by over 1,000 deer. You can buy biscuits at the entrance and feed them to show your love, which they are happy to take! Further, if you've learnt that deer are sacred animals in Japanese Shinto beliefs, you won't wonder why there are also important shrines inside the park. Following the lantern-flanked path, we will be led to one of them, the
Kasuga Taisha Shrine
, which enshrines a deity who usually appears riding a deer.
Continue to drive west for about 30 minutes to get to Osaka.
Shinsaibashi
is the most famous street in Osaka, full of department stores, chain drugstores, classic brand stores, and independent shops. There is something for everyone. The tour ends at nearby
Dotonbori
, Osaka's paradise for foodies and a symbol of Japanese food culture. Just find your favorite for dinner, and later get back to your hotel by yourself.
Meals:
Breakfast, Lunch
Accommodation:
Sheraton Miyako Hotel or Star Gate Hotel Kansai Airport or similar
Fushimi Inari Shrine
A Shrine in Nara
Day 6
Osaka – Okayama – Kurashiki: Meet Japanese Water Town
After breakfast, we will drive from Osaka for about 2.5 hours to stop by
Okayama Korakuen Garden
. Renowned as one of the three great gardens of Japan, this is where you'll grasp Japanese traditional garden aesthetics. Luckily, 300 years of historical vicissitudes didn't reduce its charm. Ponds with carps, quaint tea houses, bridges, cherry trees etc., are just what make it the most immersive place to stroll and relax.
Then we'll continue west to Kurashiki City. As the rice distribution center directly controlled by the supreme power of Japan during the Edo period, it is as historically significant as Nara and Kyoto. Even though centuries have past, its beautifully white-walled storehouses still remain. After a little driving tour, visit
Ohashi House
, a typical Japanese machiya, or town house, housing the richest merchant family in Kurashiki. It's special because the designs obviously follow those for the aristocratic class, while merchants are the lowest class in the Edo era. Then head forward to
Kurashiki Bikan Historical Area
, which includes the central part of the canal system used for transporting rice or other commodities in the past. You get to visit the white-walled old houses lining the canal, which now serve as cafes, boutiques, souvenir shops, or even art museums. Enjoy some free time to explore around this water town and have dinner on your own.
►
Suggestion for Dinner:
There is a Japanese Izakaya called Kurashiki Takadaya, only a 3-minute walk from the Kurashiki Bikan Historical Area. You can try their Teriyaki Chicken and fried vegetables, all highly recommended by visitors. This restaurant offers menu in both Japanese and English. You will get back to hotel by yourself after dinner.
Meals:
Breakfast, Lunch
Accommodation:
Royal Park Hotel Kurashiki or similar
Day 7
Kurashiki – Hiroshima: Visit Atomic Bomb Dome & Itsukushima Shrine
To understand the nature of war and the true value of peace, we will embark on the road to Hiroshima today. We will go visit the
Hiroshima Peace Memorial Museum
, built after World War II when Hiroshima was razed by an atomic bomb, to call for peace and abolition of nuclear weapons. Witness evocative belongings of victims bombed to death, photographs recording the moment, and disturbing drawings of survivors exposed to radiation, to learn about the inhumane nature of nuclear bombs. Then, continue to visit the nearby
Atomic Bomb Dome
site, one of the several buildings that survived the direct blast of the atomic bomb. This is surely a trip not for pleasure, but for enlightenment.
After lunch, drive about one hour and have a 10-minute ferry trip to reach
Miyajima Island
. Ranked among top scenic sites in Japan, it is especially famous for a giant torri gate, which, while the tide is high, "floats" on water. The gate leads to our next stop
Itsukushima Shrine
, the world of goddesses of seas and storms. The entire shrine complex is built on water, with pillars supporting it from below. Given their sacred nature, you will easily be charmed by the otherworldly grace of these floating buildings.
Let's call it a day now. We will drive you to your hotel in Hiroshima, where you will dine and have a good rest.
Meals:
Breakfast, Lunch, Dinner
Accommodation:
Rihga Royal Hotel Hiroshima or similar
Atomic Bomb Dome
Itsukushima Shrine
Hiroshima is the most western end that this tour reaches. Today a three-hour ride will take you back to Kansai area, Japan's most historic region, home to Kyoto, Nara, Osaka, as well as Himeji, our next destination. We will treat you to some authentic local food once we arrive in Himeji.

In the afternoon, appreciate the Himeji Castle, an original feudal lord's residence surviving over 300 years intact and now a UNESCO-recognized heritage site. Buildings on the grounds are just like dignified beauties that even wars or earthquakes showed their respect. You will be mesmerized as well, by their iconic white walls and elegant poise. Out from the bailey, continue deeply immersing yourself in the fascinating views of the nearby Koko-en Garden, one of which is an emerald pond, with carp swimming in it and a lovely waterfall as its backdrop.

Meals: Breakfast, Lunch, Dinner
Accommodation: Hotel Monterey Himeji or similar
Day 9
Stopover in Kobe before Driving to Osaka
The morning will see us driving to Kobe to visit
Kobe Port
, one of the first ports open to foreign trade in the late 1800s, when Japan decided to be modernized. Then we'll take a stroll at
Kobe Chinatown
, or Nankinmachi, a commercial district developed by Chinese merchants during that time. These sites are among the best witnesses to Japan's change from a secluded feudal country to an inclusive economic power. Then we'll drive to our last destination, Osaka. After settling in at a local hotel, you will explore around by yourself the rest of the day.
►
Afternoon Suggestion:
You can visit Osaka Aquarium Kaiyukan and then let the 112-meter-tall (367-feet-tall) Tempozan Giant Ferris Wheel take you to overlook Osaka Bay and the city of Osaka. This is particularly recommended if you are travelling with kids.
If you'd like to taste more Japanese food, visit Kuromon Market, 8 metro stations away from your hotel, starting from Osakako Station on Chuo Line to Nippombashi Station on Sennichimae Line. It is a food market famous particularly for its sea food.
Meals:
Breakfast
Accommodation:
Sheraton Miyako Hotel Osaka or Star Gate Hotel Kansai Airport or similar
On the last day of your 10 days Japan group tour, please check out from hotel in time. If you need to catch a flight, give your flight details in advance to our guide, who can help you board an airport shuttle or train to the airport. If you leave for other planned destinations, you can also consult our guide for the best way to get there.

Meals: Breakfast
Prices are per person on twin sharing basis.
Christmas & 2024 Special:
12% off
- Book before Dec 31, 2023
Arrival Date
Departure Date
Double Occupancy
Single Room Supplement
Sep 25(Mon)
Oct 04(Wed)
USD2989
USD1119
Oct 02(Mon)
Oct 11(Wed)
USD2989
USD1119
Oct 09(Mon)
Oct 18(Wed)
USD2989
USD1119
Oct 16(Mon)
Oct 25(Wed)
USD2989
USD1119
Oct 22(Sun)
Oct 31(Tue)
USD2989
USD1119
Oct 30(Mon)
Nov 08(Wed)
USD2989
USD1119
Nov 06(Mon)
Nov 15(Wed)
USD2989
USD1119
Nov 13(Mon)
Nov 22(Wed)
USD2989
USD1119
Nov 20(Mon)
Nov 29(Wed)
USD2989
USD1119
Nov 27(Mon)
Dec 06(Wed)
USD2989
USD1119
Dec 11(Mon)
Dec 20(Wed)

USD2989

USD2630

USD1119
Remark: The prices in red reflect the current discount.
Prices are per person on twin sharing basis.
Christmas & 2024 Special:
12% off
- Book before Dec 31, 2023
Arrival Date
Departure Date
Double Occupancy
Single Room Supplement
Mar 11(Mon)
Mar 20(Wed)

USD3129

USD2753

USD1119
Mar 18(Mon)
Mar 27(Wed)

USD3129

USD2753

USD1119
Mar 23(Sat)
Apr 01(Mon)

USD3129

USD2753

USD1119
Mar 25(Mon)
Apr 03(Wed)

USD3129

USD2753

USD1119
Mar 30(Sat)
Apr 08(Mon)

USD3129

USD2753

USD1119
Apr 01(Mon)
Apr 10(Wed)

USD3129

USD2753

USD1119
Apr 02(Tue)
Apr 11(Thu)

USD3129

USD2753

USD1119
Apr 03(Wed)
Apr 12(Fri)

USD3129

USD2753

USD1119
Apr 06(Sat)
Apr 15(Mon)

USD3129

USD2753

USD1119
Apr 08(Mon)
Apr 17(Wed)

USD3129

USD2753

USD1119
Apr 15(Mon)
Apr 24(Wed)

USD3129

USD2753

USD1119
May 13(Mon)
May 22(Wed)

USD3129

USD2753

USD1119
May 20(Mon)
May 29(Wed)

USD3129

USD2753

USD1119
May 27(Mon)
Jun 05(Wed)

USD3129

USD2753

USD1119
Jun 03(Mon)
Jun 12(Wed)

USD3129

USD2753

USD1119
Jun 10(Mon)
Jun 19(Wed)

USD3129

USD2753

USD1119
Jun 17(Mon)
Jun 26(Wed)

USD3129

USD2753

USD1119
Jun 24(Mon)
Jul 03(Wed)

USD3129

USD2753

USD1119
Jul 01(Mon)
Jul 10(Wed)

USD3129

USD2753

USD1119
Jul 08(Mon)
Jul 17(Wed)

USD3129

USD2753

USD1119
Jul 15(Mon)
Jul 24(Wed)

USD3129

USD2753

USD1119
Jul 22(Mon)
Jul 31(Wed)

USD3129

USD2753

USD1119
Jul 29(Mon)
Aug 07(Wed)

USD3129

USD2753

USD1119
Aug 19(Mon)
Aug 28(Wed)

USD3129

USD2753

USD1119
Aug 26(Mon)
Sep 04(Wed)

USD3129

USD2753

USD1119
Sep 09(Mon)
Sep 18(Wed)

USD3129

USD2753

USD1119
Sep 16(Mon)
Sep 25(Wed)

USD3129

USD2753

USD1119
Sep 23(Mon)
Oct 02(Wed)

USD3129

USD2753

USD1119
Sep 30(Mon)
Oct 09(Wed)

USD3129

USD2753

USD1119
Oct 07(Mon)
Oct 16(Wed)

USD3129

USD2753

USD1119
Oct 14(Mon)
Oct 23(Wed)

USD3129

USD2753

USD1119
Oct 21(Mon)
Oct 30(Wed)

USD3129

USD2753

USD1119
Oct 26(Sat)
Nov 04(Mon)

USD3129

USD2753

USD1119
Oct 28(Mon)
Nov 06(Wed)

USD3129

USD2753

USD1119
Nov 02(Sat)
Nov 11(Mon)

USD3129

USD2753

USD1119
Nov 04(Mon)
Nov 13(Wed)

USD3129

USD2753

USD1119
Nov 09(Sat)
Nov 18(Mon)

USD3129

USD2753

USD1119
Nov 11(Mon)
Nov 20(Wed)

USD3129

USD2753

USD1119
Nov 18(Mon)
Nov 27(Wed)

USD3129

USD2753

USD1119
Nov 25(Mon)
Dec 04(Wed)

USD3129

USD2753

USD1119
Dec 09(Mon)
Dec 18(Wed)

USD3129

USD2753

USD1119
Dec 16(Mon)
Dec 25(Wed)

USD3129

USD2753

USD1119
Price Includes
Service of English-speaking guide
Shared van or bus with a group of 10-20 pax
Accommodation with daily breakfast at selected hotels
Lunch and dinner as specified in the itinerary
Entrance fees for the sights visited
Price Excludes
International flight into Tokyo and out of Osaka
Meals not mentioned in the itinerary
Osaka airport see-off
Personal expenses
Japan visa fee
Itineraries you may also like: