Essence of Japan
TJP11: 6 Days Group Tour of Tokyo - Mt. Fuji - Nagoya - Kyoto - Nara - Osaka
Tour Type:
Escorted group tour of 10 to 20 pax, with experienced local guide
Transportation:
Comfortable air-conditioned vehicle
Accommodation:
Handpicked 3 to 4 stars hotels
Highlights:
Get to the best view points to appreciate Mt. Fuji, the symbol of Japan.
Pass majestic torri gates to step into the shrines housing Japanese gods.
Stroll through typical Japanese-style streets to experience local food culture.
Feed heart-melting deer and stroke them at Nara Park.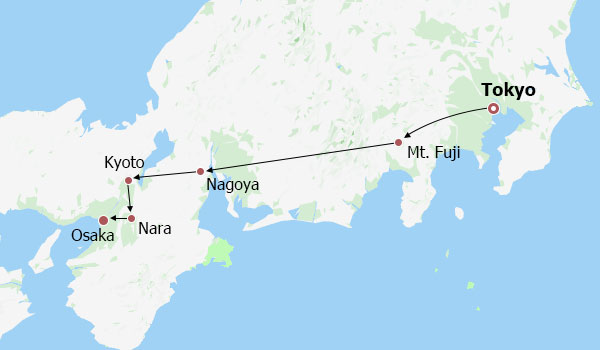 Itinerary
Dates & Prices
Reviews
After your landing in Tokyo, either at Narita or Haneda Airport, our English-speaking guide will greet you and help you get on an airport shuttle to your hotel. The bus fare is included. On arrival, check into your hotel.
Suggested Activities:
►
To know the modern Japan, after settling in your hotel, you can take the JR train or metro to visit Tokyo Tower and go up to the observation deck for a panoramic view of Tokyo.
►
To experience a traditional Japan, you can explore bustling neighborhoods such as Shinjuku Omoide Yokocho (meaning Memory Lane) and Nonbei Yokocho (aka Drunkard's Alley), to feel the energy of Tokyo's past. You can try yakitori (grilled chicken), in Japanese-style pubs called "izakayas" lining the narrow alleys.
Accommodation:
Tokyo Dome Hotel or similar
Day 2
Tokyo Highlights & Drive to Mt. Fuji
The tour will start after your hearty breakfast. Our guide will meet you at the hotel at about 09:00 and first show you around the
Imperial Palace
in central Tokyo, the residence of Japanese emperors and their family since 1868, when the capital was moved from Kyoto to Tokyo and Japan begun its westernization. Surrounded by a moat and tucked away among greens, it's like a tranquil oasis in the busy metropolis. Today, our knowledgeable guide will take you to stroll its outer perimeter, where you'll see many iconic sites, like the Niju-bashi Bridge, which leads to the inner palace.
Next, we'll visit the
Senso-ji Temple
, the oldest temple in Tokyo that dates back to 7th century, built to worship Kannon, the bodhisattva of mercy. Stroll through
Nakamise-dori Street
to reach the temple. Lined with various food stalls and shops for souvenirs, it's an over-200-meter-long lively ancient street before the holy grounds. Besides showing respect to the Buddha, visitors also come here from everywhere to have their fortune told by drawing paper slip of Omikuji, or "god's messages". Here, you will also have the greatest view of the
Tokyo Skytree
– the tallest tower in Japan- to the east.
►
Add-on Scenic Spots for Guests Coming in Spring and Autumn
If you visit during Mar. 18 to Apr. 22, that is, the cherry blossom season for Japan, two spots of Chidorigafuchi Park and Shinjuku Gyoen Garden will be added for you to appreciate the national flowers in full bloom. If you'd like to appreciate Japan's fiery maple leaves in autumn, come during Oct. 21 to Nov. 18. We will take you to Yoyogi Park and Rikugien Garden.
After a day's trip, the guide will escort you to a hotel at the foot of Mt. Fuji. There will be Japanese-flavor dinner and hot spring for you to get refreshed.
Meals:
Breakfast, Lunch, Dinner
Accommodation:
Fujisan Garden Hotel or similar
Nijubashi Bridge in Imperial Palace
Senso-ji Temple
Day 3
Mt. Fuji 5th Station & Drive to Nagoya
Today would be the biggest highlight of your 6 days Japan group tour: we'll take you to visit the
Mt. Fuji
. As the highest and most sacred mountain in Japan, it is revered by the whole nation. Now it has become a popular destination ascended by sightseers, mountaineers, and those hoping for a spiritual uplift.
First, drive halfway up the mountain to the
Mt. Fuji 5th Station
. However magnificent the mountain is, she is very shy, and only clearly shows up on sunny days. If we have bad weather, we'll stop at Mount Fuji World Heritage Center instead to see Mt. Fuji from exhibitions telling its history. Then have some free time to get your best pictures. Next, we'll drive to
Oshino Hakkai
, a group of eight ponds in Oshino Village with melted snow from Mt. Fuji, originated from more than 1,200 years ago. Before leaving, have a last chance to view Mt. Fuji at
Bussharito Heiwa Park
, a less crowded and yet another perfect place to admire Mt. Fuji.
After lunch, we'll drive to Nagoya in 3 hours. Take a leisurely stroll along its
Osu Shopping District
, a lively street loved by tourists and locals alike for selling food, flea market items, and crafts, before checking in at the hotel.
Meals:
Breakfast, Lunch
Accommodation:
Keihan Nagoya or similar
Mount Fuji
Taste Authentic Japanese Food
Day 4
From Nagoya to Japan's Ancient Capital Kyoto
Nagoya Castle
cannot be missed while in Nagoya, a city that developed around the castle. It's the most important defensive project first built in 1612 on the orders of Tokugawa Ieyasu, one of the most prominent historical figures who completely unified Japan in the early 1600s. Ruined during the World War II, it was rebuilt in 1959 to its original appearance and has become a landmark of Nagoya.
Then continue our journey to Kyoto. As the ancient capital of Japan before 1869, it is home to Japan's most famous historical sites and traditional cultures. We will show you around the
Pure Water Temple (Kiyomizu-dera Temple)
, the oldest, grandest Buddhist temple in Kyoto. Then wander amid the traditional vibe of
Ninenzaka & Sannezaka Streets
, which feature eateries, cafes, and craft shops in quaint wooden houses lining both sides. In half an hour, we will stop by
Yasaka Shrine
to learn about the Japanese God of Storm enshrined within, and then go on a walk through
Gion district
, the ideal place to experience geisha culture. If lucky enough, you may glimpse dressed-up geishas on their way to antique teahouses to entertain. Originating from the Edo Period (1603–1867), the Gion district, with its well-preserved ancient buildings, will take you back in time. The tour will end at Hanamachi Street in the district. Explore the area for dinner and return to your hotel on your own. For any recommendations or help, feel free to ask our guide.
►
Add-on Scenic Spots for Guests Coming in Spring and Autumn
For groups visiting during Mar. 18 to Apr. 22, we will also take you to stroll the Philosopher's Path (Tetsugaku no michi), a 2-kilometer-long (1.2-mile-long) pathway, to view the explosion of cherry blossoms. For groups coming during Oct. 21 to Nov. 18, we will add Arashiyama for you to appreciate the charming autumn colors.
Meals:
Breakfast, Lunch
Accommodation:
Gracery Kyoto Sanjo or similar
Pure Water Temple
Sannezaka
Day 5
Kyoto Visit – Feed Deer in Nara – Transfer to Osaka
Visit
Fushimi Inari Shrine
in the early morning when it is less crowded. A Shinto – a native religion - shrine complex that extends from the base of Mt. Inari up into its dense woods, it is especially famous for the ten thousand vermillion gates covering the walking trails. Such gate, called torri gate, marks the entryway into a sacred world where Shinto gods live. It's believed anyone passing the boundary will receive blessings from the divine power. At Fushimi Inari Shrine, you will pass those majestic gates and be blessed by Inari, the god of rice and prosperity.
Then head southward to visit the old
Nara Park
, where people are drawn to interact with deer, over 1,000 in total, sacred animals for Japanese associated with Shinto religion. Have fun feeding these friendly animals with biscuit. The park is also known for ancient buildings scattered within, like
Kasuga Taisha Shrine
in the east, the history of which can be traced back to the year 768 AD. As the most celebrated shrine in Nara, it features 3,000 stone lanterns flanking the approach to it.
Out from the park, a 30-minute drive will take you to Osaka to visit
Shinsaibashi
and
Dotonbori
, the most prosperous areas of the city for shopping and dining. This is where to find the liveliest side of Osaka or even of Japan. Dotonbori, a food street following a canal, is regarded as the iconic symbol of Japan's food culture. Be guided around the area for a while before enjoying a free exploration around. You can sample local snacks for dinner, stroll under the neon lights, and then go back to your hotel on your own.
Meals:
Breakfast, Lunch
Accommodation:
Sheraton Miyako Hotel or Star Gate Hotel Kansai Airport or similar
Fushimi Inari Shrine
A Shrine in Nara
Day 6
Departure from Osaka
Today is the time for us to bid farewell. Our guide is still available this morning at the hotel lobby, whom you can ask for advice on which vehicle saves most time and energy to the airport. We wish you a nice journey home.

Meals: Breakfast
Prices are per person on twin sharing basis.
| Arrival Date | Departure Date | Double Occupancy | Single Room Supplement | |
| --- | --- | --- | --- | --- |
| Jan 15(Mon) | Jan 20(Sat) | USD1509 | USD659 | |
| Feb 19(Mon) | Feb 24(Sat) | USD1509 | USD659 | |
| Mar 11(Mon) | Mar 16(Sat) | USD1509 | USD659 | |
| Mar 18(Mon) | Mar 23(Sat) | USD1509 | USD659 | |
| Mar 23(Sat) | Mar 28(Thu) | USD1509 | USD659 | |
| Mar 25(Mon) | Mar 30(Sat) | USD1509 | USD659 | |
| Mar 30(Sat) | Apr 04(Thu) | USD1509 | USD659 | |
| Apr 01(Mon) | Apr 06(Sat) | USD1509 | USD659 | |
| Apr 02(Tue) | Apr 07(Sun) | USD1509 | USD659 | |
| Apr 03(Wed) | Apr 08(Mon) | USD1509 | USD659 | |
| Apr 06(Sat) | Apr 11(Thu) | USD1509 | USD659 | |
| Apr 08(Mon) | Apr 13(Sat) | USD1509 | USD659 | |
| Apr 15(Mon) | Apr 20(Sat) | USD1509 | USD659 | |
| Apr 22(Mon) | Apr 27(Sat) | USD1509 | USD659 | |
| May 13(Mon) | May 18(Sat) | USD1509 | USD659 | |
| May 20(Mon) | May 25(Sat) | USD1509 | USD659 | |
| May 27(Mon) | Jun 01(Sat) | USD1509 | USD659 | |
| Jun 03(Mon) | Jun 08(Sat) | USD1509 | USD659 | |
| Jun 10(Mon) | Jun 15(Sat) | USD1509 | USD659 | |
| Jun 17(Mon) | Jun 22(Sat) | USD1509 | USD659 | |
| Jun 24(Mon) | Jun 29(Sat) | USD1509 | USD659 | |
| Jul 01(Mon) | Jul 06(Sat) | USD1509 | USD659 | |
| Jul 08(Mon) | Jul 13(Sat) | USD1509 | USD659 | |
| Jul 15(Mon) | Jul 20(Sat) | USD1509 | USD659 | |
| Jul 22(Mon) | Jul 27(Sat) | USD1509 | USD659 | |
| Jul 29(Mon) | Aug 03(Sat) | USD1509 | USD659 | |
| Aug 19(Mon) | Aug 24(Sat) | USD1509 | USD659 | |
| Aug 26(Mon) | Aug 31(Sat) | USD1509 | USD659 | |
| Sep 09(Mon) | Sep 14(Sat) | USD1509 | USD659 | |
| Sep 16(Mon) | Sep 21(Sat) | USD1509 | USD659 | |
| Sep 23(Mon) | Sep 28(Sat) | USD1509 | USD659 | |
| Sep 30(Mon) | Oct 05(Sat) | USD1509 | USD659 | |
| Oct 07(Mon) | Oct 12(Sat) | USD1509 | USD659 | |
| Oct 14(Mon) | Oct 19(Sat) | USD1509 | USD659 | |
| Oct 21(Mon) | Oct 26(Sat) | USD1509 | USD659 | |
| Oct 26(Sat) | Oct 31(Thu) | USD1509 | USD659 | |
| Oct 28(Mon) | Nov 02(Sat) | USD1509 | USD659 | |
| Nov 02(Sat) | Nov 07(Thu) | USD1509 | USD659 | |
| Nov 04(Mon) | Nov 09(Sat) | USD1509 | USD659 | |
| Nov 09(Sat) | Nov 14(Thu) | USD1509 | USD659 | |
| Nov 11(Mon) | Nov 16(Sat) | USD1509 | USD659 | |
| Nov 18(Mon) | Nov 23(Sat) | USD1509 | USD659 | |
| Nov 25(Mon) | Nov 30(Sat) | USD1509 | USD659 | |
| Dec 09(Mon) | Dec 14(Sat) | USD1509 | USD659 | |
| Dec 16(Mon) | Dec 21(Sat) | USD1509 | USD659 | |
| Dec 23(Mon) | Dec 28(Sat) | USD1509 | USD659 | |
Price Includes
Service of English-speaking guide
Shared van or bus with a group of 10-20 pax
Accommodation with daily breakfast at selected hotels
Lunch and dinner as specified in the itinerary
Entrance fees for the sights visited
Price Excludes
International flight into Tokyo and out of Osaka
Meals not mentioned in the itinerary
Osaka airport see-off
Personal expenses
Japan visa fee
Itineraries you many also like: