Beijing Hutong
People say that the real culture of Beijing lies in the culture of Hutong and Siheyuan (courtyards). How true it is! They give an insight to the old lifestyle of ordinary Beijingers and have special appeal to tourists. As one of the most representative icons in local culture, Hutong Beijing is usually included in a classical tour itinerary there.

What is a Hutong in China?
Hutong is the name given to a narrow lane, alley, or small street between rows of single-storey Siheyuan dwelled by Beijingers in the past. When viewed from the air the interlaced lanes resemble a maze or a chessboard with delicate gardens, fine rockeries and ancient ruins which makes them a wonder in the world.

In the past, Beijing has hundreds of courtyards around the Forbidden City, and the lanes between courtyards stretched out in all four directions, connecting the different kinds of courtyards in the city. Originally formed in the Yuan Dynasty (1271 - 1368), Hutongs welcomed their heyday during the Ming and Qing Dynasties (1368 - 1911), when the number significantly increased to 2,076. It is said that by 1949 there were as many as 3,250 Hutongs. But with the passage of time, and the requirement for city construction, the number of them has fallen dramatically. In 2003, only 1,500 were left, and now no more than 1,000 remain and a majority of the existing ones have been transformed into tourist attractions associated with street food, shopping, and bars. Thus, Hutong protection becomes an urgent issue for modern people.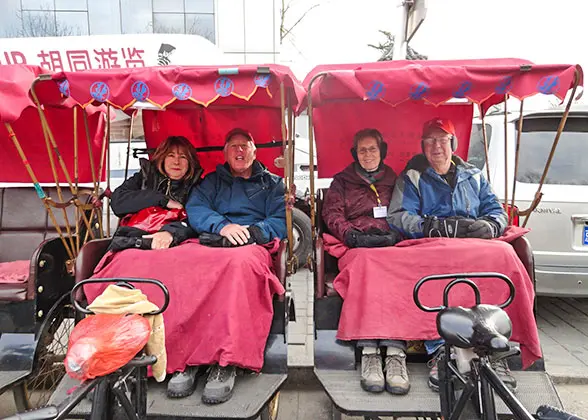 Because of the interlacement of the lanes, every house is connected to the other, making it easy for local people to keep in touch with their neighbors. Therefore, once one enters any of the lanes, one can feel the deep and warm relationships among people, which is rarely found in this modern world.

In the twisted lanes one can experience the life of the locals. The public bathrooms and toilets can be found. Shops sell all kinds of goods that satisfy the local people's daily needs. It is just like a community. Gossiping in these lanes is a common scene as it is the main way for people to strengthen their relationship. These lanes have witnessed the development of Beijing. Where there is such a lane, there is a story. If one wants to explore the culture and experience Beijing Hutong food and Hutong shopping, a Hutong tour should not be missed.

How Does a Hutong Get Its Name?
The naming of Chinese Hutongs is very interesting. In ancient times the names were passed by word of mouth among people; there were no signposts. It was not until the Ming and Qing Dynasties that the names were written down gradually. Some Hutongs were named after the symbol construction in a lane, the local dialect, a person's name and the location. For instance, Wangpi Hutong was named after the man Wang Pi. Guozijian Street was named so because Guozijian, the Imperial Academy is in the lane. In later years the government changed their original names into more formal ones, which sound more refined.

Of the more than 1,000 alleys left, there are ten most distinctive ones. Some of them are famous for the old-style buildings, while some house many traditional and time-honored workshops. Walking along the crisscrossing lanes, you will definitely immerse in the peaceful atmosphere.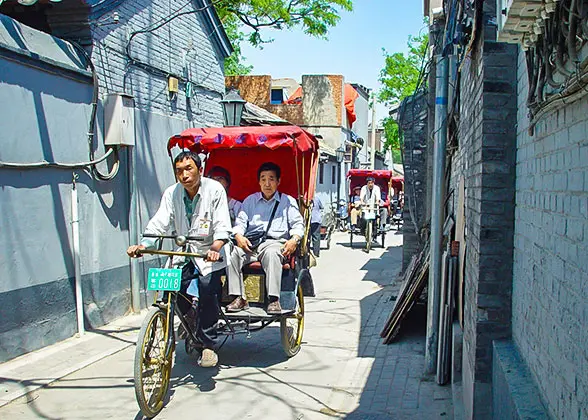 Nanluoguxiang (South Gong and Drum Lane)

Yandaixie Street (Yandai Xiejie)

Mao'er Hutong

Guozijian Street

Liulichang Cultural Street

Jinyu Hutong

Dongjiaomin Lane (Dongjiaomin Xiang)

Xijiaomin Lane (Xijiaomin Xiang)

Ju'er Hutong

Bada Hutong

Besides, there are still many less famous ones also worth a visit, such as Yichi Street - the shortest one, Jiuwan Hutong, with over 13 turnings, and Lingjing Hutong - the widest one.

How to get to Hutong Beijing
Shichahai and Dashilar are two areas where Hutongs abound. Visitors can take subway line 8 to Shichahai or subway line 2 or line 7 to Dashilar. Then you can hire a rickshaw to guide you to tour around nearby Hutongs.
- Last modified on Jul. 23, 2019 -
Questions & Answers on Beijing Hutong
Asked by Laura Mairs from NORTHERN IRELAND | Jul. 20, 2019 15:17

Reply
Roughly what time do the Beijing Hutong shops close at?
What time of day is best to visit the Hutongs? Is after 5/6pm too late?
Answers (1)
Answered by Tomas from USA | Jul. 22, 2019 19:34

0

0

Reply
There is no fixed time for shops closing. You can visit Hutong at any time and I think you can appreciate the unique beauty after 5/6 pm.
Asked by MSNN from USA | Jul. 15, 2019 22:44

Reply
Please suggest a Best Hutong from Beijing Ascott Riverside Garden
Answers (1)
Answered by Frank from USA | Jul. 17, 2019 02:18

0

0

Reply
You can go to Bada Hutong. Take metro Line 14 from West BJ Gongda Station to Jiulongshan Station, then transfer to metro Line 7 to Zhushikou Station (Exit A), and walk west of 800m to it. It takes around 1 hour with CNY4.
Asked by mamie from CANANDA | Jun. 15, 2019 19:52

Reply
Is there a Hutong near JW Marriott Beijing Central, 18 Xuanwai Street Xicheng District, Beijing?
Answers (1)
Answered by James from AUSTRALIA | Jun. 16, 2019 22:48

0

0

Reply
Yes, there are several old Hutongs like Qianqingchang Hutong and Dongchunshu Hutong. Those famous hutongs like Nanluoguxiang are about 5-7km from your hotel and it is to get by metro.
Asked by Lisa A Green from UNITED STATES | May. 14, 2019 17:28

Reply
Peking Duck restaraunt in a Beijing Hutong
Many years ago I was in Beijing and was taken to a Peking Duck restaurant in a hutong. I can not recall the name but there were yellow ducks painted on the walls of the hutong that we followed to get there. I will be returning and I would love to find this restaurant. Do you by chance know of this?
Answers (1)
Answered by Anna from CANADA | May. 14, 2019 23:12

0

0

Reply
I'm not sure. Is it the Liqun Roast Dark in Beixiangfeng Hutong?