Dashilar Street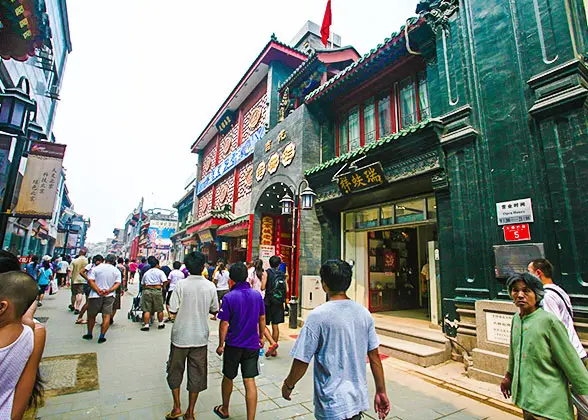 Dashilar, an old commercial street


Pictures
Pronounced as 'da shi la r' by the local people, Dashilar Street should be the most ancient, famous and distinctive commercial street in hutongs of Beijing. Located outside the Qianmen, it takes dozens of steps to walk from southwest of Tiananmen Square to its east end. The prosperous classes of the ancient Beijing nurtured its business. Now, Dashilar Street is famous for all kinds of stores with an antique flavor. Many people come here to experience the relics of historic wealth. Every day there are 150,000-160,000 visitors. On weekends and public holidays, this increases to more than 200,000.

Dashilar Street originated in the Yuan Dynasty (1271-1368) and was finally completed in the Ming Dynasty (1368-1644) by local people, who put wooden fences at both ends. In the Qing Dynasty (1644-1911) and beyond, it was enlarged and grew in prosperity day by day. Since then the hutong acquired its name: Dashilar.

History favored it, but wounded it at the same time. The lane was burned down and repaired several times. In 1900, the fences suffered two fires. In the 1960s, it was upgraded for the first time, with the first asphalt road in the city. It became more convenient to development businesses there. In the 1990s, in order to win the title 'First Pedestrian Street of Beijing', the fences were repaired once again. In 2000, iron fences were added by the local municipal government. Little by little it became a bustling attraction.

Although Dashilar Street has a history of more than 500 years, most of the ancient architecture is well preserved. Many famous old shops and time-honored brands in old Beijing still provide good products. There is a widespread saying among the folk that if you want to watch sideshows, go on the overbridge; if you want to go shopping, it is the place. Wearing the hats of Ma Ju Yuan, putting on the shoes of Nei Lian Sheng, owning the silk fabric of Rui Fu Xiang - these all make you part of the prosperous scene of it in ancient times.
| | | |
| --- | --- | --- |
| Entrance | Rui Fu Xiang Silk Shop | Nei Lian Sheng Shoe Shop |

Ma Ju Yuan: Ma Ju Yuan is in fact the name of the shop owner. This hat shop has a history of more than 185 years. In the Qing Dynasty, this shop made hats for government officials, with good materials and exquisite workmanship. Common people like to show off their wealth by wearing Ma Ju Yuan hats. Ma Ju Yuan offers hats to meet the needs of people in all walks of life. You can see the hats of China's different minorities here too. Even leaders of some western countries once had their hats made in this shop.



Nei Lian Sheng: This shoe store was put on the list of State-Level Intangible Cultural Heritage in 2008. Nei means work in the royal court; Lian Sheng means to be promoted. The headquarters is at No. 34 Dashilar Street. At first, this store made only court boots. Shoes here are still popular today not only because they are made by hand, but also because they are comfortable and healthy to wear. Shoes for children, adults, men and women are all available. Some visitors buy them as a souvenir.

There are many other old and famous stores still open and many of them have been renewed. Rui Fu Xiang is a silk store. There were all together eight old-fashioned silk stores with 'Xiang' (which means auspicious) in their names but now only Rui Fu Xiang still remains. Liu Bi Ju is a pickle shop which was first opened in the Ming Dynasty. It offers all kinds of delicious pickles. In its name 'Liu Bi' refers to the six basic daily necessities in life: fuel, rice, oil, salt, soy sauce and vinegar. In addition to these shops, visitors can also drink tea in Zhang Yi Yuan, buy traditional herbal medicines in Tong Ren Tang and try local snacks in Qing Yun Ge.
| | |
| --- | --- |
| Goubuli Steamed Bun Shop & Roast Duck Shop | Old shops |
Dashilan Hutong was not only the commercial center of old the old city, but also the center of entertainment. During the most prosperous time, there were five Opera theaters. In addition, the first cinema of the city, Da Guan Lou Cinema, is not far from the west entrance. The first film in China was shown in this cinema. It is an important witness to the development of China's movie industry.

Transportation:

By Subway:
1. Take
Subway Line 2
and get off at Qianmen Station. Get out from Exit C and then walk south for about five minutes.
2. Take
Subway Line 7
and get off at Zhushikou Station. Get out from Exit A and then walk north for about seven minutes.

By Bus:
1. Take bus 2, 5, 48, 141,or 622 and get off at Qianmen Station, then walk southward to the west end of the street.
2. Take bus 2, 5, 20, 48, 59, 66, 93, 120, 141 or Sightseeing Line 1 and get off at Dashilar Station, then walk northward to the west end of the street.
Beijing Bus / Subway Search
Tips:

The street is open all day long for free. Shops are usually open from 8:00 to 22:00.

There is no public toilet in it. The nearest free public toilet is on the north of the street's west end.

No motor vehicles or bicycles are allowed here.

Attractions around Dashilar Street:


Lao She Teahouse


Qianmen Food Streets



See more: 8 Interesting Places in Beijing You May Not Know
- Last updated on Jul. 14, 2023 by Gabby Li -