Sanlitun Bar Street
As the first and largest bar community in Beijing, Sanlitun Bar Street is a good place to spend night time. It is 260 meters (850 feet) long and covers an area of 1,648 square meters (18,000 square feet). Situated in the east side of Sanlitun North Street, Chaoyang District, and adjacent to 79 embassies and 7 other foreign offices, Sanlitun Bar Street attracts thousands of foreigners every day as well as locals. Some bars are open from afternoon to the next morning, while others are open 24 hours. But actually, it is cheerless at day time, and comes alive and busy after 9 pm. You can enjoy various wines and interesting activities there, such as bands, magicians, cocktail shows, dance shows, and themed events.
How did Sanlitun Bar Street come into being?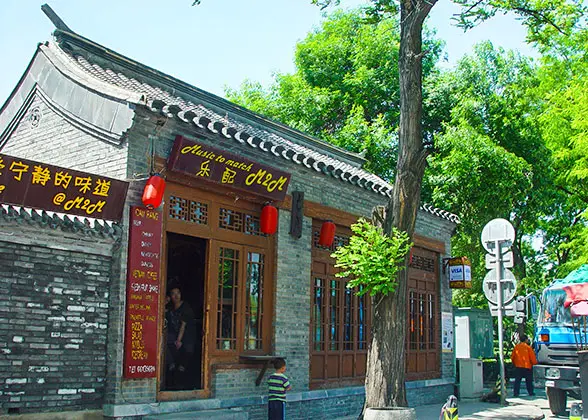 Sanlitun Bar Street, Beijing
In the early 1960s, the area was established as the second embassy zone in capital Beijing, thus quite a lot of foreigners began to gather here. In 1989, the first bar in Beijing was open at Sanlitun South Street to meet the needs of more and more foreigners; and in 1995, the first bar at Sanlitun North Street opened. Since then, more and more bars clustered here, especially at Sanlitun North Street for it is closer to the embassy area, the largest customer source of these bars. After the development of over thirty years, more than 80 bars lie on Sanlitun Bar Street and more than 60 percent of Beijing's bars are located within a kilometer of there.

Best Bars at Sanlitun Bar Street
The most famous Sanlitun bars are Boys & Girls, Red Moon Club, Easy Day, Swing 58, Lan Kwai Fong, Butterfly, No. 52, and Day Off.

Boys & Girls
Among those Sanlitun bars, Boys & Girls can be said to be the leading one. Many young people come there to relieve themselves from stress after work. The noisy environment makes them feel relaxed, instead.


Opening Time: 17:00-02:30


Average Cost: CNY 200 per person

Migas Restaurant and Lounge
Migas is a Sanlitun rooftop bar in a Spanish restaurant, where you can see the Sanlitun night view while drinking wines.


Opening Time: 17:00-03:00


Average Cost: CNY 240 per person

Lan Kwai Fong
It is decorated with a nostalgic style. The music show inside the bar is good.


Opening Time: 18:00-02:00


Average Cost: CNY 150 per person

Swing 58
Swing 58 has a wonderful Philippine band with an outstanding female lead singer.


Opening Time: 19:00-04:00


Average Cost: CNY 170 per person

Red Moon Club
You can watch the hot dance performances here.


Opening Time: 18:00-04:00


Average Cost: CNY 280 per person

Day Off

Opening Time: 18:00-03:00


Average Cost: CNY 350 per person

Easy Day

Opening Time: 11:00-05:00


Average Cost: CNY 170 per person

How to get to Sanlitun Bar Street
Subway:
Take Subway Line 10 to Tuanjiehu Station, come out from Exit A. Then walk westward until you come across Sanlitun Taikoo Li, the Sanlitun Bar Street is on your right.

Bus:
1. Take bus 113, 115, 431, 701, Te 16, Night Line 3, Night Line 34 and get off at Sanlitun Stop. Sanlitun Bar Street is just on the east side of road.
2. Take bus 117 and get off at West Changhongqiao Stop, then walk west to the first crossroad, Sanlitun Bar Street is on the right side.
3. Take bus 3, 110, 118, 120, 403, Night Line 6, Night Line 24 and get off at Workers' Stadium Stop. Walk east to Sanlitun Taikoo Li, Sanlitun Bar Street is on the east side of the road.

Taxi:
It is a paradise at night, so a taxi would be a wise choice after you enjoy the parties in the bars. If there are no traffic jams, a taxi costs about CNY 30 to Sanlitun Bar Street around the cneter of Beijing city, such as Tiananmen Square and Wangfujing Avenue; and about CNY 80 from the Beijing Capital Airport.



Recommended Nearby Attractions:


Sanlitun


Chaoyang Park (Sun Park)


Dongyue Temple


Yonghe Temple (Harmony and Peace Palace Lamasery)


Temple of the Sun (Ritan Park)


Workers' Stadium


Taikoo Li Sanlitun



Top 10 Places to Visit in Beijing


Top 10 Cool Things to Do in Beijing for Youngsters


Beijing Night Tours – Top 8 Night Activities
- Last updated on Apr. 14, 2020 -