Beijing Nightlife
Beijing will not only ensure that you have a full and interesting day but will also present you with colorful choices for the nightlife.

Beijing Nightlife Things to Do
Traditional performances such as the
Beijing Opera
, acrobatic shows and dramatic performances in the teahouses are popular with the more mature visitors to the city, while the younger generation seems to favor the snack markets, pubs, clubs and cafes. For the stranger who wishes to become acquainted with the city, a stroll along Chang'an Street to Tian'anmen Square is highly recommended.
Tianqiao (Overbridge) Area
For foreigners to experience Beijing nightlife, Tianqiao is a great choice! It's a place that cannot be omitted when considering the nightlife options for the old local people is the Tianqiao (Overbridge) Area. In actual fact it is not a bridge but a location popular for gathering to eat, drink and to enjoy the entertainments and amusements on offer there. Tianqiao has been a favorite venue for ordinary folk since the Yuan Dynasty (1271-1368). This area was also the cradle of Chinese folk culture and art where many original folk performances such as acrobatics and music were devised. The area has changed somewhat over the centuries but the quality of the entertainment here continues to be of a high standard. Two of the most famous venues are the Tianqiao Theater and Tianqiaole Tea House (the name means Happy Overbridge) and it can be found at No.30 in Beiwei Rd, Xicheng District). The theatre specializes in modern song and dance performances while by contrast the teahouse offers the more traditional arts of Beijing Opera, Acrobatics, Martial Arts as well as folk songs. Visitors to China may be a little apprehensive about going to the opera but it is an experience not to be missed as the performances are really quite spectacular, including as they do music, dance, acrobatics and spectacular costumes.
Lao She Teahouse
Other places to explore Chinese folk culture include the
Lao She Teahouse
(3F, building 3, Xi Da Jie, Qianmen), where you can experience the famous Chinese tea culture and find a quiet place to relax and maybe do some reading. There is also the Liyuan Theater (inside Jianguo Hotel, Qianmen, at No. 175 in Yongan Lu) here there are nightly performances at 19:30 pm of genuine Beijing Opera and other folk performances. One need not be concerned about language difficulties with Chinese opera and drama as both make considerable use of mime. The opera often has subtitle boards displaying a translation. As a result they are quite easy to understand.
Acrobatic Shows
Chinese acrobatics have a long history and is one of the most popular art forms among Chinese people. Performers have achieved worldwide fame for their wonderful skills and marvelous acts. Acrobatic Shows can be seen at the Wansheng Theatre, 95, Tianqiao Market, Xicheng District beginning at 19:15pm every evening.
Other Traditional Chinese Performance
The puppet shows, exotic ballet, opera, concert and modern drama are put on every day in this city. Full details are published in the daily newspapers and information is usually available at your hotel's reception desk.
Theatres & Concerts
Understandably, as the nation's capital, this city is also its cultural center and the Capital Theatre, the Concert Hall, the China Folk Culture Palace each offer the very best of entertainment adding greatly to the wide choice of nightlife pastimes in Beijing. Program details and ticket prices as well as addresses of the various venues can usually be found in the current 'Beijing Daily'.
Night Markets
Every city has its night market and this one is no exception. When the curtain of darkness falls, the snack handcarts come alive. Dongdan Street, Xidan Street, Donghuamen Gate and Longfusi Temple area are the main four night market areas. Snacks include local specialities as well as many that are traditional in other parts of the country, some of which are from minority districts.
Walking along Chang'an Street
We would highly recommend a leisurely stroll along the Chang'an Street to observe the scene as one of your nightlife choices. Maybe you would like to do this in style by hiring a rickshaw, what could be more in keeping with the ambiance than that? The street extends all the way to the Forbidden City and Tian'anmen Square. The palace complex in shadow has an ethereal beauty that is all its own and that is certain to evoke sentiments of the past glory, mystery and intrigue that was once Imperial China.
Guide for Foreigners: Top Clubs & Bars
For your Beijing nightlife guide, we recommended some popular bars and best nightclubs in Beijing for such performances here:
Huguang Huiguan Ancient Opera Building
Address: 3, Hufang Rd, Xicheng District
Beijing Concert Hall
Address: 1, North Xinhua Street, Xicheng District
Beijing People's Art Theater
Address: 22, Wangfujing Street, Dongcheng District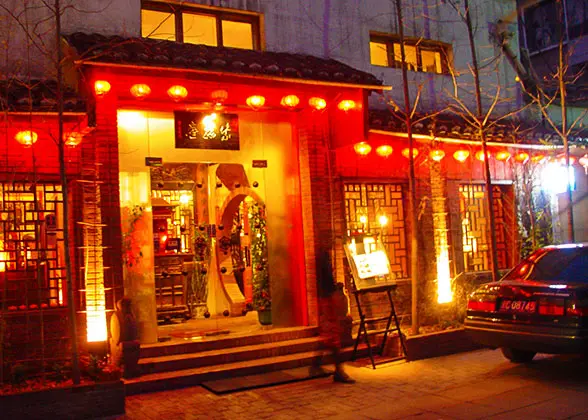 Sanlitun Bar Street
Sanlitun Bar Street
and the surrounding Embassy Area in Chaoyang District is also a must for many foreign visitors and young people. Here you can find many Beijing clubs and bars. The various bars attract the staff from the Embassies and white-collar workers alike. Here you will find rock-and-roll, hip-hop and Jazz among the many activities. This is a good place to see first-hand something of modern China after a day of exploring its historical past.
VICS
Location: in the east inside of the North Entrance of
Workers' Stadium
, Chaoyang District
Opening hours: 20:00 - 03:00
Cost for ticket: 30 Yuan at weekend, 20 Yuan on Wednesday (Lady's night) and women can enjoy cocktail for free at that night (excluding special activities)
Music: Hip-hop, R&B
JJ Bar
Address: A2, Chaibang Hutong, Andingmennei Da Jie, Dongcheng District
Opening hours: for 24 hours
Average cost per person: 20 Yuan - 30 Yuan
Beijing Hugo Club
Address: B143, Xiwai Da Jie, Haidian District
Opening hours: from 09:00 until late
Banana
Address: 22, Jianguomenwai Street, Chaoyang Distrcit
Opening hours: 20:30 - 04:00 from Sunday to Thursday and 20:30 - 05:00 on Friday and Saturday
Cost for ticket: 20 Yuan from Sunday to Thursday and 30 Yuan on Friday and Saturday
- Last modified on Sep. 17, 2018 -