Beijing Dining
Cuisines from many different cultures and places assemble in Beijing, thus, thousands of restaurants with various dining choices are available in the capital city. And the best part is that you can splurge at a fancy restaurant or dine supremely well (any much more cheaply) at any of the smaller family-run operations located all over the city.

Although there are various cuisines in Beijing, the must-try food should be the Roast Duck, Imperial Cuisine Food and local street food.
Quanjude Restaurant
Top 10 Peking Duck Restaurants
top 15 snacks restaurants
in the city, or in any of the
10 best night markets and snack streets
, among which the
Guijie Street
is the most represetative.
In Beijing, visitors can go to Quanjude and Bianyifang to taste Peking Roast Duck and wander along the snack streets to try mouth-watering street food. Besides, they can also find a large number of great restaurants serving other Chinese cuisines and even foreign food.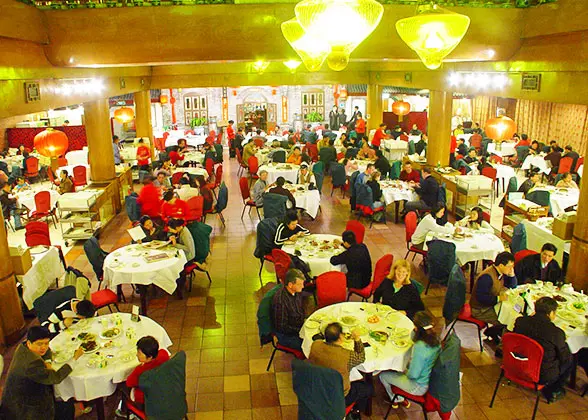 Chinese Cuisines & Restaurants
Besides of the eight cuisines, most of regions and minorities in China also have their own particular cuisines that supply customers with more choices. Here is a
bilingual menu
which can help ordering dishes in restaurants.
Asian Restaurants
Are you still looking for the special food which could suprise you by totally different flavors? Why not try an Asian restaurant?
Western Restaurants
In addition to the thousands of Chinese restaurants, there are also lots of places serving foods from all over the world. You can basically get any type of food you want here, if you know where to find it.

10 Michelin Restaurants in Beijing
To enjoy the food and service of Michelin Restaurants, you can go to some branches of the Michelin Guide Restaurants in the city.

Vegetarian Restaurants
Like fastfood is for people in a hurry, the increasingly fashionable vegetarian dishes are for vegetarians or persons who love this healthy dining style, but not only for those vegetarians for the religion's sake. Merits and Virtues Vegetarian House is a time honored brand that was first founded in Shanghai. Absolutely, there are more vegetarian restaurants listed on page for references.

Halal Food
Feature food from Chinese ethnic minorities contributes a lot to Beijing's colorful dining culture. Characterized by its fresh yet dense flavor, Muslim Cuisine is also known as Islamic cai and Hui cai, the best dish of which is Whole Sheep Banquet which has won wide praise.

Seafood Restaurants
Seafood is a special dish in east and south part of China. It is well liked around the country with its fresh and special flavor.

Hot Pot Restaurants
You will never be disappointed to look for various kinds of food. For the cold weather, Hot Pot is a good choice to try. It is no wonder that some love to have in summer too. Hot pot is so popular nationwide.

Buffets
Helping oneself in buffets restaurants is a popular and free dining style favored by multitudes of people. Many BBQ restaurants and cafes are of this kind. Here are many excellent cafeterias getting well spoken. For specialty cafeterias, Golden Jafuar, Amazon and Max's Cafeteria are all sound ones.

Fast Food
Apart from KFC, McDonald's and other well-known western fastfood shops, there is no lack of Chinese, Japanese and special flavor (such as curry) fastfood restaurants in this city, some of which are chain shops.
Desserts & Drinks
If tired of big dishes all the time, small restaurants offering desserts, milk tea, ice cream, takeaway coffee, and Chinese tea are comfortable places to spend an afternoon. One can sit and enjoy in the small but delicately decorated shops or buy some drinks and candies by the way while roaming about.