Guijie Street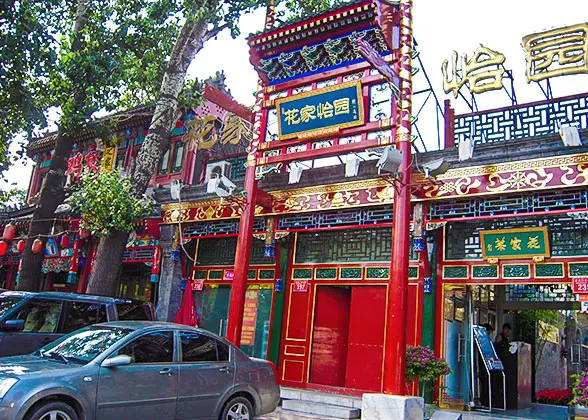 Tucked behind Dongzhimen Gate, Guijie Street stretches from Dongzhimen Overpass in the east to East Jiaodaokou Street in the west. More than 150 storefronts are scattered along this street, 90% of which are restaurants, making it one of the most prosperous
snack streets in Beijing
, and often leading the food trend of the city. The layout of Guijie Street is like a dumbbell, wider in the two ends and narrower in the middle. Thanks to the advantageous location, restaurants in both ends are more popular and flourishing.
As to the name origin of this street, there is an interesting anecdote. In the
Qing Dynasty
(1644-1911), vendors selling groceries, vegetables, and fruits around Dongzhimen Gate often started trading at midnight and ended by early dawn. The dim light emitted by their oil lamps looked very ghostly in the darkness. Therefore, this place was called "Ghost Street (鬼街, guǐ jiē)" by locals. In the late 1980s, lots of food shops opened here, gradually turning the street from a trading market to a food street. Later on, with the purpose of weakening the mysterious ghost overtones and enhancing food culture of the street, the Commerce Commission decided to change the name to Guijie Street (簋街, which is pronounced the same as Ghost Street in Chinese). Instead of the character Gui (鬼), which refers to ghost or evil spirits, the character Gui (簋) means a bronze vessel with a round mouth and two or four handles, mostly used to contain food in ancient times. Therefore, the modified name is more related to food.
Today, Guijie Street is booming more than ever and takes on a new appearance. Decorated with red lanterns on both sides, it is ablaze with lights in the evening. When night falls, the street throngs with people sitting around outdoor tables enjoying big meals or snacks. Whichever restaurant you enter, you will be struck by the bustling atmosphere. Since the street is surrounded by many embassies, it is favored by a large number of foreigners wanting to taste traditional Chinese food and learn about Chinese food culture.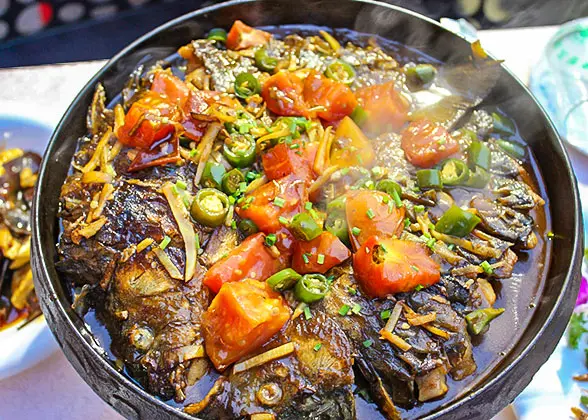 Renowned as the most unique food street in Beijing, Guijie Street stands out in many aspects.

1. 24-hour service:
Almost all the eateries on the street are open throughout day and night, providing quite good services. Though diners can go to the street at anytime of the day, the best time would be evening, when the street unfolds its charms to the largest degree.

2. Inexpensive price:
The food price is fair and customer-friendly. The average cost is between CNY 50 to 100 per person.

3. Recommended specialties:
Hot and spicy crayfishes, crabs, bullfrogs, and Wanzhou roast fish, cooked with Sichuan cuisine methods, are essential specialties for people in favor of spicy food. The tender meat cooked with abundant condiments indeed excites your taste buds.
In addition, conventional Beijing snacks, like Bao Du (cooked tripe of lamb or pig),
Peking roast duck
, and Yang Xie Zi (lamb spine hotpot), appeal to many foodies.

4. Top Restaurants on Ghost Street:
Xiaolin Hotpot, Spice Spirit Crayfishes (Ma La You Huo), Wawajiao Bullfrogs, Hi Spicy Hotpot
Nowadays, Guijie Street is famed for not only its inexpensive and delicious food, but also its night life culture. Young people often celebrate important events by spending evening here. For example, during the Olympic Games, World Cup, and important personal anniversaries, they will relax with a rich meal and drinking the local Yan Jing Beer here. When you hang out at night, busy Guijie Street is sure to present another version of Beijing before your eyes.
How to Get to Guijie Street:

By Subway:
1. Take
subway line 5
and get off at Beixinqiao station.
2. Take
subway line 2
or
line 13
and get off at Dongzhimen station.

By Bus:
1. Take bus 24, 106, 107, 117, 635 or Night Line 6 or 10, and get off at Dongneixiaojie or Dongzhimennei Station.
2. Take bus 24, 117, 131, 413, 635, 850, 850 Express, 916, 935, 966, Fast Transit Line 72, or Night Line 6, 10, or 32 and get off at Dongzhimen Station.
3. Take bus 107, 612, 635 or Night Line 10 and get off at Beixinqiao Lukou Xi Station.
Beijing Bus / Subway Search
Nearby Attractions:
Yonghe Temple
Temple of Confucius
Guozijian
(Imperial Academy)
Tongjiao Temple
Top 10 Cool Things to Do in Beijing for Youngsters
- Last updated on Apr. 14, 2020 -
Questions & Answers on Guijie Street
Asked by Cindy from MALAYSIA | Dec. 19, 2017 21:59

Reply
May i know how can i go to guijie street from beijing hyde courtyard hotel?
Answers (1)
Answered by Liela from USA | Dec. 20, 2017 18:41

0

0

Reply
You can walk north for about 1km to Qianmen Subway Station and then take line 2 to Dongzhimen. Leave from Exit D and walk north for 1 minute, you will get there.