Snack Streets in Beijing
Local snacks are a special feature of Beijing. Tourists can taste not only the local flavors, but those of other regions as well. Snack-stalls in the night markets are always popular and busy destinations.


Donghuamen Snack Night Market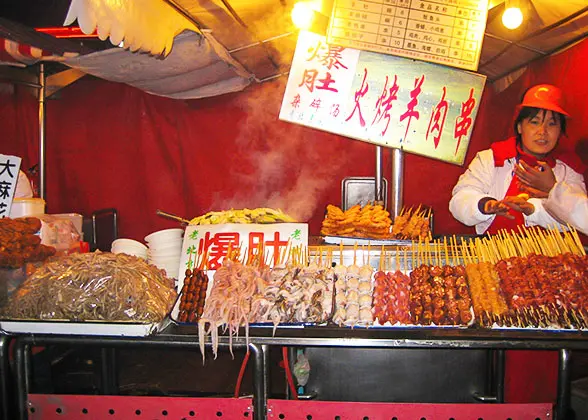 By following the wafting aroma of cooking, tourists can find the most natural and simple flavors of Old Beijing in the street. Located at the northern entrance of Wangfujing Street, Donghuamen Night Market is the most famous street in this city, popular with both locals and tourists as well. After its pedestrianization, Donghuamen Snack Night Market became the No. 1 snack area in this city. When the night falls, the assortment of tasty treats from both northern and southern China, plus the bustling crowds and the rhythmical huckstering is another attraction you shouldn't miss.
Location: north of Donganmen Street, Dongcheng District
Bus Route: 10, 20, 37, 41, 59, 103, 104, 120, 201, 203, 205, 803
Location: Dongzhimennei Dajie, Dongcheng District
Bus Route: 106, 116, 807 (get off at Xinqiao (North) Stop), 606, 713 (get off at Dongzhimennei Xiaojie Stop)
Wangfujing Snack Street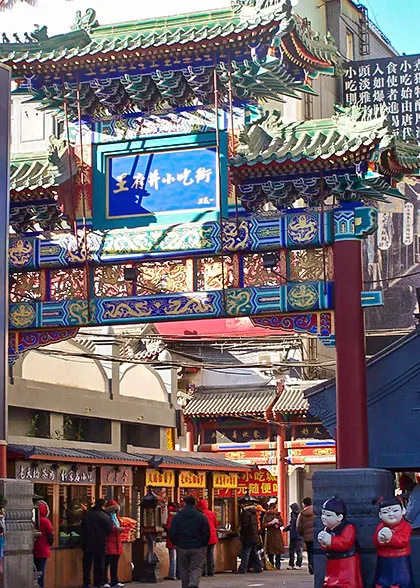 A dazzling array of snacks from all corners of China can be found here. The majority of diners here are foreign, and the cost is not low. However, for a comfortable and relaxing meal, Xin Dong An Restaurant comes highly recommended.
Location: south of Haoyou Department Store, Wangfujing Business Street, Dongcheng District
Bus Route: 20, 37, 41, 59, 103, 104, 120, 420, 802 (get off at Wangfujing Stop)
Longfusi Snack Street
This street is also famed for its local snacks. Bai Kui Lao Hao, a Muslim restaurant, is recommended for its authentic local fare.
Location: north of Dongsi Longfu Mansion, Dongcheng District
Bus Route: 104, 108, 210, 803 (get off at Art Gallery (North) Stop)
Niu Jie Muslim Snack Street
Niu Jie Muslim Street occupies an area about 35.9 hectares (88.7 acres). There are people from over 20 minority groups living in the street. Hui make up the greater part of that. The largest and oldest mosque — Niu Jie Mosque is located here. Everything is heavy with the exotic flavor of our minority groups. So is the food. The famous Turpan Restaurant offers visitors genuine Uygur food.
Location: Guanganmen, Xuanwu District
Bus Route: 53, 61, 109, 822 (get off at Niu Jie Stop)
Qianmen Snack Street
There are a number of time-honored restaurants in Qianmen Street, including Quanjude Roast Duck, Duyichu Shaomai and Yitiaolong Restaurant.
Bus Route: 2, 5, 17, 22, 44, 110, 120, 201, 826 (get off at Qianmen Stop)
Guanganmen Snack Street
Starting from Liuliqiao in west to Hufangqiao in east, Guanganmen Snack Street is the only one in the southern part of the city. Known for its hot and spicy flavor, Sichuan cuisine is a specialty of this street. Li Lao Die Xiang La Xie (Father Li Hot Crab) and Tan Yu Tou (Fish Head Tan) are special favorites with customers.
Bus Route: 5, 6, 19, 109, 201, 816 (get off at Baiguang Road Stop)
Shichahai Snack Street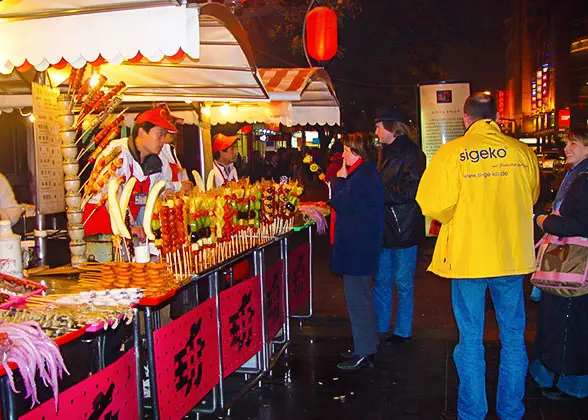 The most popular one, day or night it is filled with throngs people busily coming and going and partaking of the fare. In addition to the traditional local snack shops, there are many famous chain restaurants such as Starbucks here.
Bus Route: 5, 819, 839 (get off at Guozishi Stop)
Hao Yun Jie
(Good Luck Entertainment Street)

Lying in the Yansha Business Circle, Chaoyang District, Hao Yun Jie is a special entertainment street fulfilled with the exotic. The street combines 'fast food' snack outlets as well as restaurant-style delicacies, bars and art all together, perfectly forming an 'international dining mall' worthy of the name. There are over 20 international chain restaurants gathered here, offering diners genuine foreign cuisine. After dinner, the art galleries are just a stroll away.

Bus Route: 420, 701, 419 (get off at Anjialou Stop)
Suzhou Jie Entertainment Street
Situated between Suzhouqiao and Haidianqiao, Suzhou Jie Entertainment Street is a recent development and has risen rapidly in popularity. Now, it can be mentioned in the same breath with Gui Jie. It gains its high reputation from deep culture deposits. The traditional garden style restaurant predominates here.
Bus Route: 944, 809, 651, 968 (get off at Wanquanzhuang Stop)
Beijing Specialties:
Recommended Restaurants: