10 Best Beijing Night Markets & Snack Streets
Beijing night markets and snack streets are the best places for tourists to taste delicious local snacks. The famous ones inlcude Wangfujing Snack Street, Qianmen Snack Street and Niu Jie Muslim Snack Street. The following are the 10 best Beijing night markets and snack streets recommended by TravelChinaGuide: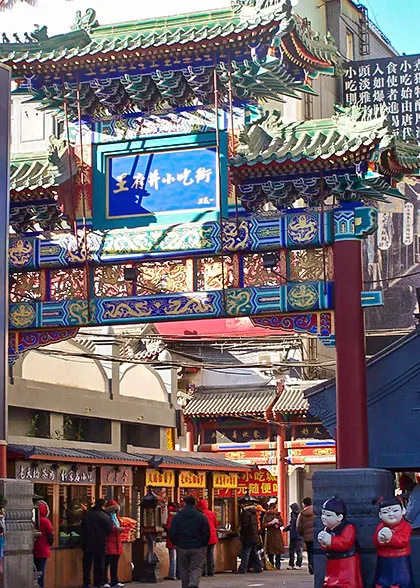 A dazzling array of snacks from all corners of China can be found in this Beijing night market. The majority of diners here are foreign, and the cost is not low. However, for a comfortable and relaxing meal, Xin Dong An Restaurant comes highly recommended. After Donghuamen Night Market was closed, Wangfujing Snack Street has become the most popular one which attracts more and more tourists every year.
Location: south of Haoyou Department Store, Wangfujing Business Street, Dongcheng District
Bus Route: 20, 37, 41, 59, 103, 104, 120, 420, 802 (get off at Wangfujing Stop)
Bus Route: 2, 5, 17, 22, 44, 110, 120, 201, 826 (get off at Qianmen Stop)
3. Nanluoguxiang Night Market
Situated in Beijing Dongcheng District, Nanluoguxiang is a recent development one and has risen rapidly in popularity. It gains its high reputation from deep culture deposits.
Bus Route: 3, 13, 42, 60, 118, 612 (get off at Luoguxiang Stop)
4. Niu Jie Muslim Snack Street
Niu Jie Muslim Street occupies an area about 35.9 hectares (88.7 acres). There are people from over 20 minority groups living in this night market. Hui make up the greater part of that. The largest and oldest mosque — Niu Jie Mosque is located here. Everything is heavy with the exotic flavor of our minority groups. So is the food. The famous Turpan Restaurant offers visitors genuine Uygur food.
Location: Guang'anmen, Xuanwu District
Bus Route: 53, 61, 109, 822 (get off at Niu Jie Stop)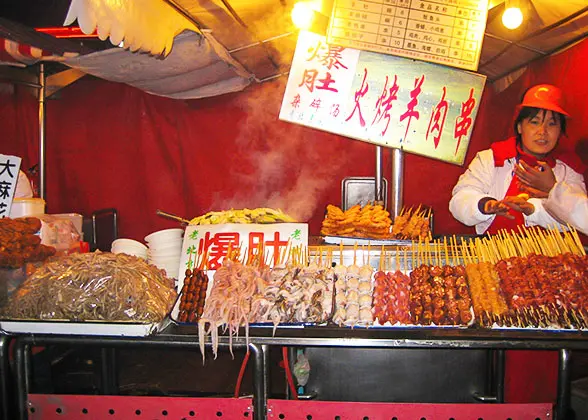 Most restaurants in the street are open around the clock. If you are a night owl, Guijie Street Night Market is a good place to spend until the wee hours of the morning. The late hours of the night are usually the busiest times on this street, whose specialty is Spicy Lobster. Picture yourself sitting in an old chair inside an ancient courtyard house under the grapevines appreciating photos from long-ago but most important savor the aroma and taste of the succulent dishes.
Location: Dongzhimennei Dajie, Dongcheng District
Bus Route: 106, 116, 807 (get off at Xinqiao (North) Stop), 606, 713 (get off at Dongzhimennei Xiaojie Stop)
Bus Route: 5, 6, 19, 109, 201, 816 (get off at Baiguang Road Stop)
Bus Route: 3, 13, 38, 42, 55, 68, 107, 111, 118, 612, 701
8. Jiumen Snack Street (Shichahai Snack Street)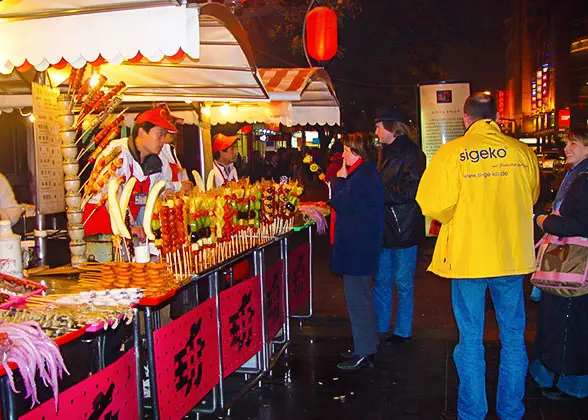 The most popular one, day or night Jiumen Snack Street is filled with throngs people busily coming and going and partaking of the fare. Some shops moved from Longfusi Snack Street to here and restart to sell delicious snacks. In addition to the traditional local foods, there are many famous chain restaurants such as Starbucks here.
Bus Route: 5, 819, 839 (get off at Guozishi Stop)
9. Hao Yun Jie
(Good Luck Entertainment Street)

Lying in the Yansha Business Circle, Chaoyang District, Hao Yun Jie is a night market fulfilled with the exotic. The street combines 'fast food' snack outlets as well as restaurant-style delicacies, bars and art all together, perfectly forming an 'international dining mall' worthy of the name. There are over 20 international chain restaurants gathered here, offering diners genuine foreign cuisine. After dinner, the art galleries are just a stroll away.

Bus Route: 420, 701, 419 (get off at Anjialou Stop)
10. Shuang'an Night Market
Shuang'an night market is easily accessed by public transportation. This night market can meet all demands for Beijing local snacks, such as Fried-pouch Roll, Glutinous Rice Roll with Sweet Bean Flour, Cooked Beef or Sheep Tripe, Yellow Pea Cake, Steamed Pork Dumplings and Seasoned Millet Porridge.
Bus Route: 79, 302, 323, 361, 425, 549, 658, 660, 695
Traditional Beijing Food:
Best Restaurants in Beijing:
- Last updated on Apr. 25, 2023 -
Questions & Answers on 10 Best Beijing Night Markets & Snack Streets
Asked by Martin Krischanitz from ÖSTERREICH | Aug. 02, 2019 20:41

Reply
Is this still up to date?
We're in Beijing till Monday and we haven't found any night markets yet. So I found this thread and wondered if it's still up to date?

Thanks
Answers (2)
Answered by Kendall from CANADA | Aug. 07, 2019 01:34

0

0

Reply
Yes, as I know, the information on this page is updated. You can go and see. :)
Answered by Mary from UNITED KINGDOM | Aug. 10, 2019 02:16

0

0

Reply
Wangfujing night market is closed down for redevelopment, and so is snack street.
Let me know if you find anywhere else good!
Asked by Omer Khawaja from CANADA | Dec. 18, 2017 02:15

Reply
Wangfujing night market timings
I will be in beijing for one day and I would like to visit Wangfujing night market, so what time the market closes at night?? I will be there on wednesday 20th Dec 2017, will the market open that day?
Answers (1)
Answered by Reina from GERMANY | Dec. 18, 2017 18:46

1

0

Reply
Don't worry, it opens every day, and generally, the stores in the market would open till 22:00-23:00.
Asked by Jane from SINGAPORE | Feb. 22, 2017 21:19

Reply
Hi, wondering if there is any night market now in Beijing?
Answers (1)
Answered by Leah from POLAND | Feb. 23, 2017 03:27

0

0

Reply
Jane, Guijie, Wangfujing, and Houhai Bar Street are usually bustling at night. Hope you have fun.