Asian Restaurants in Beijing - Japanese Restaurants
Delicacies of Japanese, Korean, Indian and Thai cuisines are popular in China. In Beijing, dwellings of these Asian restaurants are not difficult to be discovered. And, the delicious food of Malaysia and Vietnam are also available in the cosmopolitan city. Curry food, sushi or cabbage kimchi? Please don't hesitate to made your decision. There are more delicacies of Asian countries.



Asian Restaurants in Beijing:

Restaurants of Japanese Cuisine
Nishimura
Chinese name: 西村日式餐厅(xi cun rì shì can ting)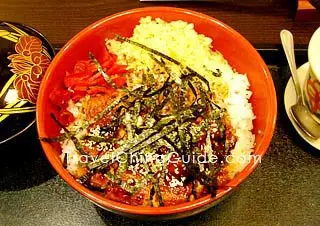 The best restaurant serving Japanese food in Beijing.
Average Cost per Person: CNY364
Recommended Dishes: Sashimi, Broiled Codfish, Grilled head of Salmon, Vanilla Ice Cream
Location: 2/F, Shangri-La Hotel, No.29, Zizhuyuan Road, Haidian District
Nadaman
Chinese name: 滩万日本料理(tan wàn rì ben liào li)
Average Cost per Person: CNY562
Recommended Dishes: Sashimi, Sushi
Location: 4/F, China World Hotel, No.1, Jianguomenwai Avenue, Chaoyang District
Baweifang Japanese Restaurant
Chinese name: 八味坊(ba wèi fang)
Average Cost per Person: CNY350
Recommended Dishes: Fried Beef Short-Ribs, Sushi
Location: No.8, Chaoyang Park West Road, Chaoyang District
Matsuko Japanese Restaurant
Chinese name: 松子日本料理(song zi rì ben liào li)
Average Cost per Person: CNY118
Recommended Dishes: Roast Eel, Sashimi, Sushi, Salmon, Tempura
Matsuko Japanese Restaurant (Liangmaqiao Branch)
Location: 1/F, No.1 Shanghai Center, No.39, Liangmaqiao Road, Chaoyang District
Matsuko Japanese Restaurant (Baijiazhuang Branch)
Location: No.22 B, Baijiazhuang, Dongsanhuan Chaoyang District
Matsuko Japanese Restaurant (West Chaoyang Road Branch)
Location: 2/F, Jinglong Mansion, No.225, West Chaoyang Road, Chaoyang District
Hatsune Japanese Restaurant
Chinese name: 隐泉日本料理(yin quán rì ben liào li)
Average Cost per Person: CNY190
Recommended Dishes: Motorola Rolls, Hatsune Salad, Sushi, Stir-fried Beef on Iron Plate
Hours: 11:30 - 14:00 17:30 - 22:00
Hatsune Japanese Restaurant (Sanlitun Branch)
Location: S8-30, Bldg 8, south section, Taiguli, Sanlitun, No.19, Chaoyang District
Hatsune Japanese Restaurant (Guanghua Road Branch)
Location: 2/F, Bldg C, Heqiao Mansion, No. Jia-8, East Guanghua Road, Chaoyang District
Hado Tepanyaki Cuisine
Chinese name: 花渡铁板烧(hua dù tie ban shao)
Average Cost per Person: CNY215
Recommended Dishes: Shrimp, Scallop, Silverfish, Beef Short-Ribs
Location: 3/F, Kuntai International Mansion, No.12 B, Chaoyangmenwai Avenue, Chaoyang District
Pingting Japanese Restaurant
Chinese name: 坪亭铁板烧(píng ting tie ban shao)
Average Cost per Person: CNY100
Recommended Dishes: Roast Eel, Salmon, Sashimi
Pingting Japanese Restaurant (Zhongguancun Branch)
Location: No.26, South Haidian Road, Haidian District
Pingting Japanese Restaurant (Asian Games Village Branch)
Location: 3/F, Bldg5, Yayuan, North Huizhong Road, Asian Games Village, Chaoyang District
Pingting Japanese Restaurant (Wangjing Branch)
Location: 5/F, Wangjing International Commercial Center, Wangjing Street, Chaoyang District
Red Moon
Chinese name: 东方亮餐吧(dong fang liàng can ba)
Average Cost per Person: CNY270
Recommended Dishes: Sashimi
Location: 1/F, Grand Hyatt Beijing Hotel, Dongfang Square, No.1, East Changan Street, Dongcheng District
Japanese Bridge
Chinese name: 日本桥(rì ben qiáo)
Average Cost per Person: CNY140
Recommended Dishes: Roast Eel, Sashimi, Matsutake Soup, Sushi
Location: No.106, 1/F, Jiali Center Emporium, No.1, Guanghua Road, Chaoyang District
King Yo
Chinese name: 金鱼居酒屋 (jin yú ju jiu wu)
Average Cost per Person: CNY 109
Recommended dishes: Sashimi salad, Matsutake Soup, JFC Fried Chicken
Location: Snack Street, Blue Bay, No.6, Chaoyang Park Road, Chaoyang District
Shota Muni Sushi & Grill
Chinese name: 将太无二 (jiang tài wú èr)
Average Cost per Person: CNY112
Recommended dishes: Salmon, Arctic shellfish, Sushi
Shota Muni Sushi & Grill (Xizhimen Branch)
Location: 6/F, Kaide Mall, No.1, Xizhimenwai Avenue, Xicheng District
Shota Muni Sushi & Grill (Joy City Branch)
Location: 7/F, Joy City, No.101, North Chaoyang Road, Chaoyang District
Shota Muni Sushi & Grill (Swiss Apartment Branch)
Location: B1, West side of Swiss Apartment, No.66, North Gongti Road, Chaoyang District
Aoyuzi Japanese Cuisine
Chinese name: 青柚子日本料理 (qing yòu zi rì ben liào li)
Average Cost per Person: CNY 170
Recommended dishes: Salmon, Grilled Eel
Aoyuzi Japanese Cuisine (Landgent Center Branch)
Location: 3/F, Bldg B, Landgent Center, No.24, Middle Dongsanhuan Road, Chaoyang District
Aoyuzi Japanese Cuisine (Fuchengmen Branch)
Location: 1/F, The Presidental Beijing, No.jia-9, Fuchengmenwai Avenue, Xicheng District
Beijing Specialties:
Recommended Restaurants: