Beijing Quanjude Roast Duck
Quanjude Roast Duck Restaurant is one of the best restaurants serving Beijing Roast Duck. It has a history of nearly 150 years, and today there are many chain restaurants of it around the city. The following branches come highly recommended: the oldest Qianmen Branch as well as the two branches at Wangfujing Street and Hepingmen Gate.
Here are the main branches of Quanjude Roast Duck Restaurant in Beijing:
Qianmen Branch
Chinese name: 全聚德烤鸭前门店(quán jù dé kǎo yā qián mén diàn)
Average Cost per Person: CNY 170
Location: No.32, Qianmen East Street, Dongcheng District
Opening Hours: 11:00 - 13:30, 16:30 - 20:00
West Railway Station Branch
Chinese name: 全聚德烤鸭鸿坤店(quán jù dé kǎo yā hóng kūn diàn)
The new restaurant was opened on the second floor of Hongkun Hotel in April 26, 2007. It can serve meals to up to 500 people at the same time.
Location: No.1, Guangan Street, Fengtai District (southeast to the South Square of Beijing West Railway Station)
Wangfujing Branch
Chinese name: 全聚德烤鸭王府井店(quán jù dé kǎo yā wáng fǔ jǐng diàn)
Location: No.9, Shuaifuyuan Hutong, Wangfujing Street, Dongcheng District
Opening Hours: 11:00 - 14:30, 16:30 - 20:00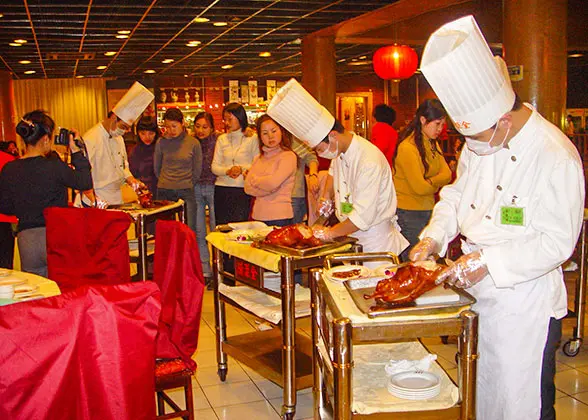 Hepingmen Branch
Chinese name: 全聚德烤鸭和平门店(quán jù dé kǎo yā hé píng mén diàn)
Location: No.14, Qianmen West Street, Xuanwu District
Opening Hours: 11:00 - 14:00, 16:30 - 21:00
Sanyuanqiao Branch
Chinese name: 全聚德烤鸭三元桥店(quán jù dé kǎo yā sān yuán qiáo diàn)
Location: 1st floor, Jingxin Mansion, No.2-A, North Road of East 3rd Ring Road, Chaoyang District
Opening Hours: 10:00 - 22:00
Aoyuncun Branch
Chinese name: 全聚德烤鸭奥运村店(quán jù dé kǎo yā ào yùn cūn diàn)
Average Cost per Person: CNY100
Location: Unit A, No.309, Hui Zhong Bei Li, Chaoyang District
Opening Hours: 9:00 - 23:00
Xicuilu Branch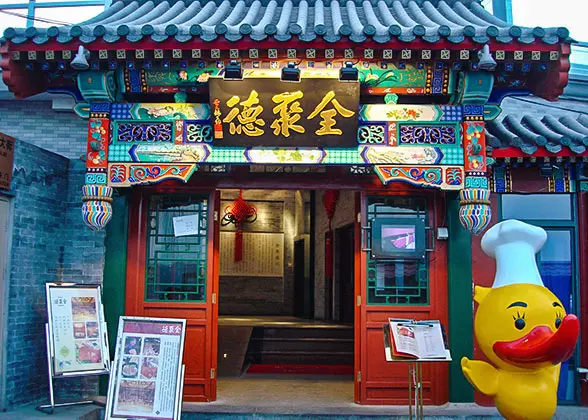 Chinese name: 全聚德烤鸭西翠路店(quán jù dé kǎo yā xī cuì lù diàn)
Average Cost per Person: CNY 120
Location: No.9, Xicui Road, Haidian District
Opening Hours: 11:00 - 13:30, 17:00 - 20:30 (Sunday to Thursday)
11:00 - 14:00, 17:00 - 21:00 (Friday & Saturday)
Shichahai Branch
Chinese name: 全聚德烤鸭什刹海店 (quán jù dé kǎo yā shí chà hǎi diàn)
Location: Lotus Market, No. 57, West Street, Xicheng District
Opening Hours: 11:00 - 14:00, 17:00 - 21:00