Beijing Roast Duck Pictures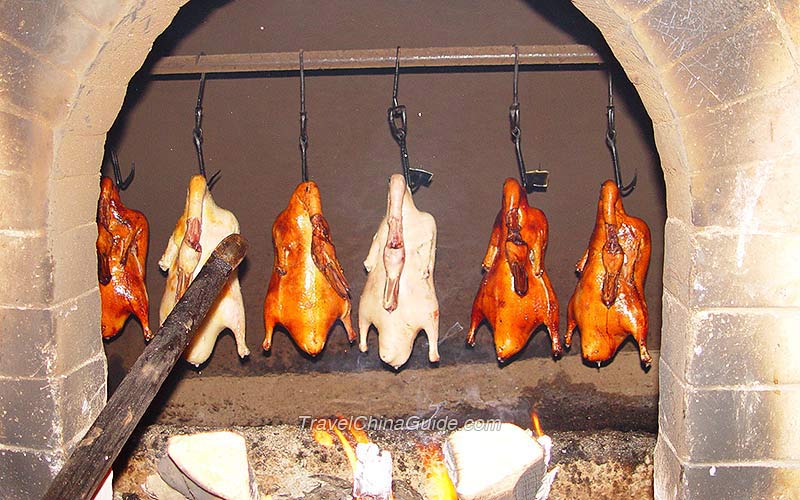 Beijing Roast Duck has the reputation of being the most delicious food of Beijing cuisine. Some find it a bit greasy, but others get hooked after one taste. In any case, it is a must trying dish on any Beijing tour itinerary. In Beijing, the place that offers the best taste duck is the time-honored Quanjude Restaurant, which was established 130 years ago. Related Intro: Beijing Roast Duck



Related Itineraries including Duck Dinner: Best Beijing Tours, Hutong Experience
- Last modified on Sep. 19, 2017 -
Questions & Answers on Beijing Roast Duck Pictures
Asked by jerry from USAJLLBK
COMCAST.NET | May. 11, 2014 11:35

Reply
how are the ducks once grown killed. I see them hanging in windows and they are whole.
Answers (1)
Answered by Sally from CANADA | May. 12, 2014 20:12

1

0

Reply
As I know, they cut the weasand and esophagus of the duck to clear all the blood. Then the duck is dead and they hang them up to roast.
Asked by Mr.Derek | Dec. 15, 2010 04:52

Reply
Where can I buy the roast ducks in Beijing?
Answers (1)
Answered by Mr.Chang | Dec. 15, 2010 21:13

0

0

Reply
I know Beijing Quanjude restaurant is very famous. It has many branches in Beijing, you may buy one at any of its branch. You can also buy one in supermarkets.
Asked by Mr.jones from BRAZIL | Oct. 13, 2009 18:07

Reply
I am planning to visit beijing on the 1st week of december. can u advise me on winter activities and attractions within the city? best budget hotel near the vicinity of the attractions at the same time near the airport... am i allowed to rent a car and drive as a tourist? are cars there on right or left hand drive? thanks
Answers (4)
Answered by Mr.Eric | Oct. 13, 2009 21:09

0

0

Reply
Tiananmen Square, Forbidden City, Temple of Heaven, Beijing Zoo, Yonghe Lamasery are all recommended within the city. As for the hotel, you may choose one in the city center, and take subway to reach the airport.
Answered by Ms.Sarah from BJ | Oct. 13, 2009 21:23

0

0

Reply
Hi,Mr.jones.
In winter, you can go skiing and visit those famous attractions such as Tiananmen Tower, Forbidden City, Jingshan Park, Beihai Park, Great Hall of the People Tiananmen Square, Summer Palace, Badaling Great Wall, Shichahai and ect.
Beijing has a developed transport system. A car may take you everywhere you are going, however, there will be traffic jam on the groud. I sugguset you take subway, bus as well as rickshaw to cover your trip.
Hope this helps and wish you a nice trip :)
Answered by Mr.Brad East from AUSTRALIA | Oct. 20, 2009 07:17

0

0

Reply
Hi Mr.Jones, I went to Haikou (Hainan) in 2008, we stayed in a five star hotel, it was pretty cheap, but trust me, you do not want to go lower than 3 1/2 stars, it is very bad, but the good hotels aren't that pricey in beijing currency
Answered by Mr.Brad East from AUSTRALIA | Oct. 20, 2009 07:20

0

0

Reply
Although, don't get me wrong the five star hotels are extremely nice to stay in :) i went at the age of 13 with a basketball torunament, it was really good to see the culture side of china, try and get a translater and visit a rice paddy with them, it is a great experience to learn what the farmers and translators have to say about their own lives and lifestyles
Asked by Mr.ejaz haider from PAKISTAN | Apr. 28, 2009 07:19

Reply
Can muslims in china could find any HALAL beijing duck restaurant
Answers (1)
Answered by Ms.Cora | Apr. 29, 2009 04:05

0

0

Reply
Xi De Sheng Roast Duck Restaurant at No.109 Xi Si Da Jie, Xicheng District sells halal taste kind, have a try :)