Beijing Hot Pot
For the cold weather, Hotpot is the favorite of Beijing people. From the quantity and quality of Beijing Hotpot Restaurants, we may conclude how Beijing people love it. There are basically two kinds of hotpot restaurants in this city: Mongolian style and Sichuan style. The staple of both types of hotpot is mutton (yáng ròu). The meat is usually sliced frozen so that it curls up into a tube shape. Then you place the meat into the hotpot, which is a copper pot containing a boiling soup base. After a few seconds the meat is cooked and you dip it into a sesame butter sauce. The verb describing the action of cooking the meat this way is called 'shuan'. Other shuan-ables include beef (féi níu), frozen bean curd (dòng dòu fǔ), Chinese cabbage (bái cài), bean sprouts (dòu miáo), and glass noodles (fěn sī). Spicy Sichuan hotpot has a soup base which can be described as either super spicy or mildly radioactive, but the pot is often divided into half spicy, half non-spicy soup pots. The soup base for Mongolian style is not spicy, and usually consists of some vegetables and seafood.

Restaurants of hotpot
Tian Yi Shun
Chinese name: 添一顺(tiān yī shùn)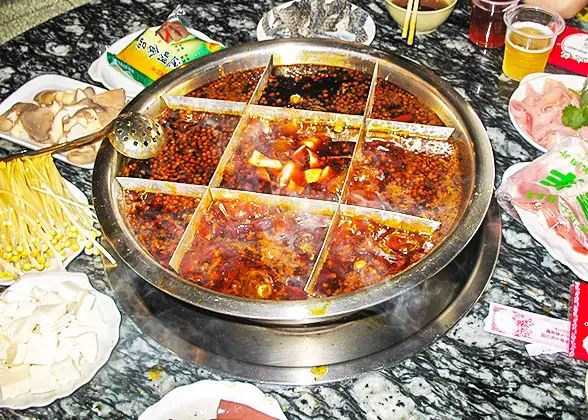 Everyday, the restaurant is crowded with hotpot lovers. The boiling soup is delicious, with tangy hot flavors, and the mutton is fresh. Sheep's backbone stewed in the pot is extremely delicious.
Average Cost per Person: CNY70
Recommended Dishes: Sheep's Backbone
Location: No.1, North Gate of Air Force Command College, 88-17, West Beisihuan Road, Haidian District
Golden Paddy
Chinese name: 金稻谷(jīn dào gǔ)
The hotpot served here is highly praised for its genuine Sichuan flavor. Cold Pot Fish is the recommended dish. The big pot is brought in with a cooked fish which should be eaten first. After that, the waiter will pour some soup into the pot and boiling it. Then, you can put some mutton and vegetables into the boiling soup for a short while and dip them into various sauces.
Average Cost per Person: CNY55
Recommended Dishes: Cold Pot Fish
Location: north of Bldg 713-2, Section 7 of Jinsong, Chaoyang District
Flaming Phoenix
Chinese name: 火凤凰(huǒ fèng huáng)
The restaurant offers the hotpot with bullfrog, braised chicken and rabbit meat. It has lots of hot flavor.
Average Cost per Person: CNY80
Recommended Dishes: Bullfrog, Braised Chicken
Flaming Phoenix (Dongzhimen Branch)
Location: No.15-8, Dongzhimennei Avenue, Dongcheng District
Flaming Phoenix (Gongti Branch)
Location: No.2, No.10 Lane, No.1 Xingfu Village, North Gongti Road, Chaoyang District
Hongyuan Rinse Meat Restaurant
Chinese name: 宏源涮肉城(hóng yuán shuàn ròu chéng)
Average Cost per Person: CNY75
Hongyuan Rinse Meat Restaurant (Tiantan Branch)
Location: Bldg 13, East Yongnei Street Dongli, Dongcheng District
Hongyuan Rinse Meat Restaurant (Andingmen Branch)
Location: Bldg 9, Andingmen Outer Dongheyan, Dongcheng District
Hongyuan Rinse Meat Restaurant (Qianhai Branch)
Location: No.1, Nanguanfang Hutong, Xicheng District
Hai Di Lao
Chinese name: 海底捞(hǎi dǐ lāo)
Average Cost per Person: CNY90
Hai Di Lao (Mudanyuan Branch)
Location: No.2, East Huayuan Road, Haidian District
Hai Di Lao (Jinsong Branch)
Location: No.29, Pingleyuan Nanmofang Road, Chaoyang Disttict
Hai Di Lao (Baizhifang Branch)
Location: Bldg 1-2, No.42, South Guanganmen Street, Xicheng District
Hai Di Lao (Beiao Branch)
Location: 3/F, Beiao Mansion, No.2 A, East Huixin Street, Chaoyang District
Hai Di Lao (Xidan Branch)
Location: 7/F, Hunqing Emporium, No.109, Xidan North Avenue, Xicheng District
Little Sheep
Chinese name: 小肥羊(xiǎo féi yáng)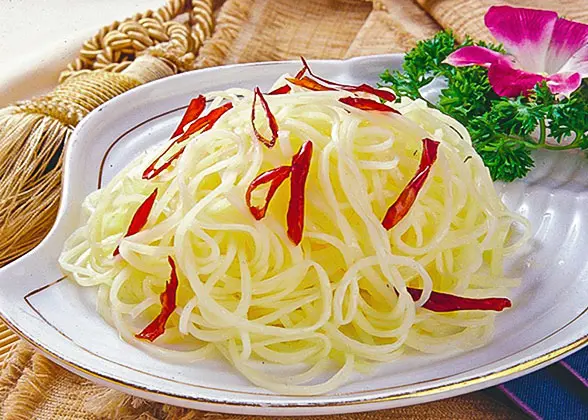 Average Cost per Person: CNY75
Little Sheep (Caishikou South Avenue Branch)
Location: No.58, South Avenue, Caishikou, Xicheng District
Little Sheep (Tiantongyuan Branch)
Location: No.21, Tiantongyuan No.5 Zone, Changping District
Little Sheep (Yayuncun Branch)
Location: Bldg1, Yayuncun Anhuibeili Yayuan, North Huizhong Road, Chaoyang District
Little Sheep (Guomao Branch)
Location: 2/F, Zhongfu Mansion, Jianguo Road, Chaoyang District
Little Sheep (Guozhan Branch)
Location: No.34, Xibahe Zhongli, Chaoyang District
Jing Fu Hua
Chinese name: 京福华(jīng fú huá)
Average Cost per Person: CNY53
Recommended Dishes: Fat Beef
Jingfuhua (Jinsong Branch)
Location: No.907, Jinsong No.9 Zone, Chaoyang District
Jingfuhua (Wangjing Branch)
Location: Bldg 103, Wangjing West Garden, Heyin Middle Road, Chaoyang District
Jingfuhua (Gucheng Branch)
Location: No. Jia 4, North Gucheng Road, Shijingshan District
Mr.8 Rinse Meat Restaurant
Chinese name: 八先生涮肉坊(bā xiān shēng shuàn ròu fǎng)
Average Cost per Person: CNY88Mr.8 Rinse Meat Restaurant (Sanlihe Branch)
Location: Bldg No. Jia 14, Zone 3, Sanlihe, Xicheng District (opposite to Capital Museum)
Mr.8 Rinse Meat Restaurant (Xindian Road Branch)
Location: No. 108, Beiyuan Road, Chaoyang District
Mr.8 Rinse Meat Restaurant (Yayuncun Branch)
Location: Bldg 304, Huizhongli, North Huizhong Road, Chaoyang District
Chongqing Jinshancheng Hotpot (Huayuanqiao Branch)
Chinese name: 重庆金山城火锅(chóng qìng jīn shān chéng huǒ guō)
Average Cost per Person: CNY 73
Hours: 10:00-21:00
Location: No. 12, Bei Wa Road (inside Zhongzi Mansion), Haidian District
Huang Cheng Lao Ma (Dewai Branch)
Chinese name: 皇城老妈(huáng chéng lǎo mā)
Average Cost per Person: CNY128
Location: 9, Jiaochangkou Street, Xicheng District
Beijing Specialties:
Recommended Restaurants: