Silk Market Beijing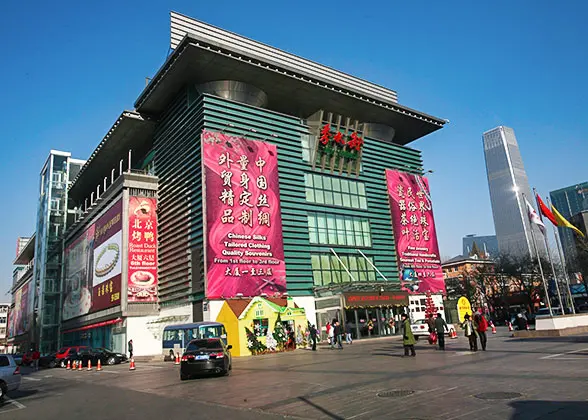 Silk Market

, Beijing
Silk Market Beijing, aka Silk Street, Xiushui Street or Xiushui Market, is a prosperous shopping market in the city, located at No. 8 East Xiushui Street, Chaoyang District. Used to be an outdoor market, it now becomes a shopping mall, which accommodates over 1,000 retailers and is regarded as one of the symbols of Beijing together with the Great Wall, the Summer Palace, and roast duck. Many foreign visitors, including some celebrities, enjoy Silk Market Beijing for shopping or having their clothes tailor-made. The former president of the US, George Bush, once went there with his daughter to buy some silk robes, and the wife of Jacques Rogge (8th President of the International Olympic Committee) also went there to buy traditional Chinese dough figurines.
What to Buy at the Silk Market
| | |
| --- | --- |
| | Office Area, Tongrentang Pharmacy, Food Area (Patio Pizza, Zheng Yi Yuan Restaurant...) |
| | International Jewelry Exchange Centre, Boutiques, Huaxia Bank, Supermarket, Teahouse |
| | Jewelries, Jade Articles, Antiques, Calligraphy and Paintings, Tea, Porcelain, Folk Handicrafts, Rugs, Cosmetics, Watches, Glasses, Stationery, Outdoor Supplies, Electrical Appliances, Digital Products, CDs/DVDs, Nail Salon, Foot Massage |
| 3F | Tailor's Shop, Scarves, Ties, Chinese Clothing, Pajamas, Silk Bedding, Children's Wear, Toys, Silk Carpets, Nail Salon, Foot Massage, ATM |
| 2F | Clothes, Boutique Corridor, Bedding, Nail Salon, Foot Massage, Money Exchange, ATM |
| 1F | Clothes, Cafes, Information Desk, ATM |
| B1 | Suitcases & Bags, Shoes, Hats, Leatherwear, CDs/DVDs, Electronics Maintainence, Gift Packing, KFC, Money Exchange |
| B2 | Office Area, Post Office, Food Area |
| B3 | Parking Lot |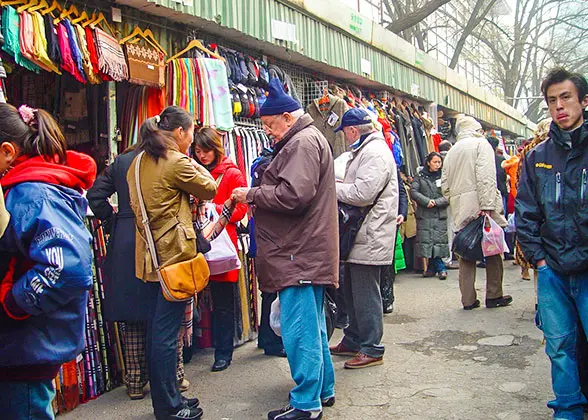 Silk Market
Although there are a variety of goods in Xiushui Street, the most attractive goods are silk. Even a silk museum was built on the third floor. 18 retailers who have been offering high quality silk over many years are located there, including some time-honored Chinese brands like Ruifuxiang, Shengxifu, and Neiliansheng. Ruifuxiang specializes in making high quality silk. Predominantly making caps, Shengxifu, a ninety-year-old shop, is famous for its selection of material and handmade craftsmanship. And Neiliansheng, established in the Qing Dynasty (1644 - 1911), is famous for its Chinese cloth shoes. On the third floor, you can buy authentic Chinese silk clothes like
Tangzhuang suits
and
cheongsams
. Or you can have the tailor's shop make something for you or someone in your family in no time. One can also experience the traditional methods of silk making in the Silk Museum, and learn about this ancient Chinese art.
As well as silk, other traditional Chinese articles like tea, porcelain, Chinese paintings and calligraphy, Chinese jade, etc. are available on the fourth floor. Some specialty Chinese skills can be found on this floor, such as palm painting.
Bargain for Shopping
If you want to enjoy shopping in the ultimate Chinese style, the first and the second floors cannot be missed. On these two floors, one can bargain freely in the Boutique Corridor. Here are some tips to consider when you shop there:
1. The most basic and important skill here is being able to bargain. You do not have to feel shy or embarrassed when you bargain with the sellers. It is part of everyday life in China, so you can try your best to cut the price by 10% to 30% of their offer.
2. You should be aware that almost all the world famous goods brands here are imitations, because a local and international reputation is gained for selling counterfeit luxury designer brands at relatively low prices. You can buy something very worthy if you like.
3. Wandering around, you need to remember to go to different stores to ask the Silk Market Beijing prices of the items you want to buy. In this way, you can buy your items at the lowest price. Meanwhile, remember to check the quality carefully and ask for better ones, if the products are not perfect.
4. When you buy electronic products in the market, be careful to check the quality. However, if you prefer to pay attention to the shape instead of the quality, you can buy anything you like without hesitation. But remember to bargain no matter what kind of article you buy.

There are both good restaurants and small eateries in the market, so you can have a rest and get refreshed when you are tired. Reputable establishments such as the Quanjude Roast Duck Restaurant, and some famous coffee and restaurant chains such as Lavazza, SPR Coffee, and Subway all have stores inside the building. Have an exciting time!

How to get to Silk Market Beijing
1. Take Bus 28, 43, 120, 126, 403, 639, 673, or Night Bus 24 to Yong'anli Lukou Bei and walk south for 3 minutes to the market; or take Bus 1, 9, 619, 668, 668 Express, or Night Bus 1 to Yong'anli Lukou Xi and walk east for 5 minutes to get there.
2. Take Subway Line 1 and get off at Yonganli.

Opening Hours
9:30 ~ 21:00
Other Famous Shopping Streets & Malls in Beijing

Wangfujing Street

Xidan Commercial Street

Hongqiao Pearl Market

Top 10 Shopping Streets in Beijing
Recommended Independent Tour:
Modern Beijing Walking Tour
: Wangfujing Street - Jinyu Hutong - Jinbao Street - Jianguomen Outer Street - Silk Street - CBD

Top 10 Places to Visit in Beijing
- Last updated on Aug. 14, 2023 -
Questions & Answers on Silk Market Beijing
Asked by Maurice Kerwin from DANMARK | Aug. 14, 2023 06:12

Reply
Purchase of duvets
Dear Sir or Madam. I would like to purchase 2 silk duvet 220cm + 2 silk pillows.
Have you a website where this can be purchased.
Yours sincerely.
Maurice Kerwin.
Answers (1)
Answered by Elsa | Aug. 14, 2023 23:20

0

0

Reply
It is suggested to try at Alibaba.com or Amazon.
Asked by Liyat from ETHIOPIA | Jul. 09, 2023 13:22

Reply
Is it open currently
I want to go to this place for shopping I will come to Beijing next week.
Answers (1)
Answered by Lisa | Jul. 10, 2023 01:58

0

0

Reply
Yes, it's open. Enjoy your shopping~
Asked by Dashen from SOUTH AFRICA | Jul. 08, 2021 08:56

Reply
i want to buy from silk street market - how do i get in touch
Answers (2)
Answered by Nina from CHINA | Jul. 12, 2021 01:31

0

0

Reply
You can call this number: 010-56767767
Answered by Katie | Mar. 27, 2023 09:57

0

0

Reply
Hi, is number still correct & were you able to shop on line ? I have been there in person shopping. And would like to purchase more from the silk market.
Asked by Gino from USA | Jun. 05, 2020 22:39

Reply
Has the Silk Market Beijing reopen now?
Answers (2)
Answered by Oliver from DENMARK | Jun. 08, 2020 02:37

0

0

Reply
Yes, it is reopen now.
Answered by JENS | Aug. 24, 2021 07:48

0

0

Reply
No, it is closed again!

Big reconstruction- a few shops might be open. Don't waste your time!
Asked by Deeah from BRUNEI | Dec. 07, 2019 15:51

Reply
Is the opening hours of Xiushui Street run the same for December (winter) too?
Cos the tour guide told us it closes at 5pm during winter..?
Answers (2)
Answered by Ada from AU | Dec. 09, 2019 21:57

0

0

Reply
As I know, the guide is correct. Many stores will be closed at 17:00.
Answered by Deeah from BRUNEI | Dec. 11, 2019 04:56

0

0

Reply
Thanks for the swift response 👍