Beijing Silk Street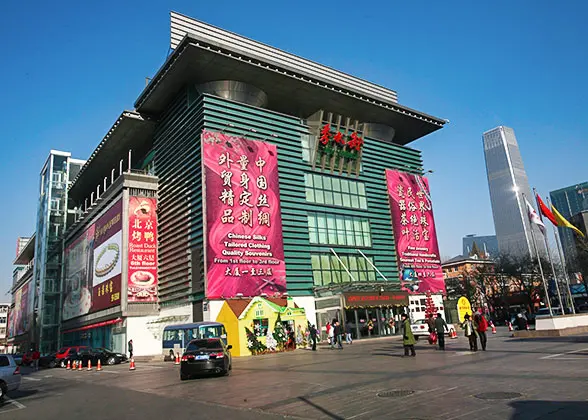 Silk Street, Beijing
Silk Street, aka Silk Market, is a prosperous shopping market in Beijing, located at No. 8 East Xiushui Street, Chaoyang District. Because of its location, it is also called Xiushui Street or Xiushui Market by locals. Used to be an outdoor market, it now becomes a shopping mall, which accommodates over 1,000 retailers and is regarded as one of the symbols of Beijing together with the Great Wall, the Summer Palace, and roast duck. Many foreign visitors, including some celebrities, enjoy Silk Street for shopping or having their clothes tailor-made. The former president of the US, George Bush, once went there with his daughter to buy some silk robes, and the wife of Jacques Rogge (8th President of the International Olympic Committee) also went there to buy traditional Chinese dough figurines.

What Can You Buy at the Silk Street
| | |
| --- | --- |
| | Office Area, Tongrentang Pharmacy, Food Area (Patio Pizza, Zheng Yi Yuan Restaurant...) |
| | International Jewelry Exchange Centre, Boutiques, Huaxia Bank, Supermarket, Teahouse |
| | Jewelries, Jade Articles, Antiques, Calligraphy and Paintings, Tea, Porcelain, Folk Handicrafts, Rugs, Cosmetics, Watches, Glasses, Stationery, Outdoor Supplies, Electrical Appliances, Digital Products, CDs/DVDs, Nail Salon, Foot Massage |
| 3F | Tailor's Shop, Scarves, Ties, Chinese Clothing, Pajamas, Silk Bedding, Children's Wear, Toys, Silk Carpets, Nail Salon, Foot Massage, ATM |
| 2F | Clothes, Boutique Corridor, Bedding, Nail Salon, Foot Massage, Money Exchange, ATM |
| 1F | Clothes, Cafes, Information Desk, ATM |
| B1 | Suitcases & Bags, Shoes, Hats, Leatherwear, CDs/DVDs, Electronics Maintainence, Gift Packing, KFC, Money Exchange |
| B2 | Office Area, Post Office, Food Area |
| B3 | Parking Lot |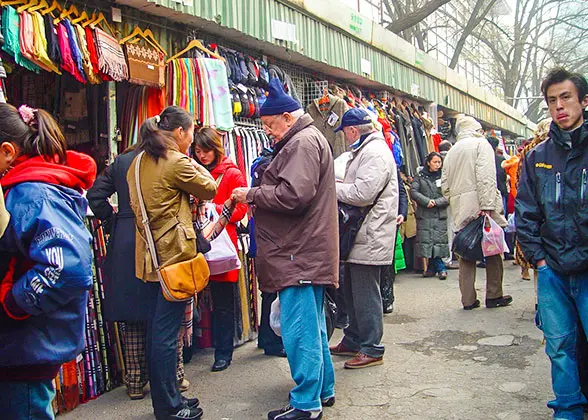 Silk Market
Although there are a variety of goods in the market, the most attractive goods are silk. Even a silk museum was built on the third floor. 18 retailers who have been offering high quality silk over many years are located there, including some time-honored Chinese brands like Ruifuxiang, Shengxifu, and Neiliansheng. Ruifuxiang specializes in making high quality silk. Predominantly making caps, Shengxifu, a ninety-year-old shop, is famous for its selection of material and handmade craftsmanship. And Neiliansheng, established in the Qing Dynasty (1644 - 1911), is famous for its Chinese cloth shoes. On the third floor, you can buy authentic Chinese silk clothes like
Tangzhuang suits
and
cheongsams
. Or you can have the tailor's shop make something for you or someone in your family in no time. One can also experience the traditional methods of silk making in the Silk Museum, and learn about this ancient Chinese art.
As well as silk, other traditional Chinese articles like tea, porcelain, Chinese paintings and calligraphy, Chinese jade, etc. are available on the fourth floor. Some specialty Chinese skills can be found on this floor, such as palm painting.



Shopping Tips
Bargain for Shopping
If you want to enjoy shopping in the ultimate Chinese style, the first and the second floors cannot be missed. On these two floors, one can bargain freely in the Boutique Corridor. Here are some tips to consider when you shop there:
1. The most basic and important skill here is being able to bargain. You do not have to feel shy or embarrassed when you bargain with the sellers. It is part of everyday life in China, so you can try your best to cut the price by 10% to 30% of their offer.
2. You should be aware that almost all the world famous goods brands here are imitations, because a local and international reputation is gained for selling counterfeit luxury designer brands at relatively low prices. You can buy something very worthy if you like.
3. Remember to go to different shops to ask the prices of the items you want to buy. In this way, you can buy your items at the lowest price. Meanwhile, remember to check the quality carefully and ask for better ones, if the products are not perfect.
4. When you buy electronic products in the market, be careful to check the quality. However, if you prefer to pay attention to the shape instead of the quality, you can buy anything you like without hesitation. But remember to bargain no matter what kind of article you buy.
There are both good restaurants and small eateries in the market, so you can have a rest and get refreshed when you are tired. Reputable establishments such as the Quanjude Roast Duck Restaurant, and some famous coffee and restaurant chains such as Lavazza, SPR Coffee, and Subway all have shops inside the building. Have an exciting time!

Bus Route:
1, 4, 9, 28, 37, 43, 120, 126, 205, 639, 640, 668, 673, 728, 729, 802, 810 (get off at Yonganli Stop)
Subway:
Line 1 (get off at Yonganli Stop)
Opening hours: 9:30 ~ 21:00

Other Famous Commercial Centers in Beijing:

Wangfujing Street

Xidan Commercial Street

Hongqiao Pearl Market

Other Pedestrian Streets

Related Tour including the visit to Silk Street:
Beijing One Day Tour
: Silk Market - Hongqiao Pearl Market - Cloisonne Market