Top Beijing Attractions
More Things to Do
Top 10 City Tours
Code: BJ-WT03
Modern Beijing Walking Tour
Route: Wangfujing Street - East Church - Jinyu Hutong - Jinbao Street - Jianguomen North Street - Jianguomen Outer Street - Silk Street - CBD
Feature: Following this Beijing walking tour itinerary, independent travelers will go through prosperous downtown shopping blocks and busy business districts. Clustered shopping malls and skyscrapers showcase the city's great skyline.
Walking Distance: 4 miles (6 kilometers)
Time: 4 hours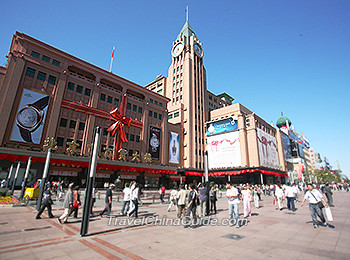 Wangfujing Street
This independent Beijing walking tour should be started from Wangfujing subway station, which is on the East Chang'an Avenue and no more than 1 mile east of the Tiananmen Square. You can take subway line 1 to Wangfujing Station; use Exit B1 or C2 and walk northwards to reach the most bustling area of
Wangfujing Commercial Street
, the most popular shopping destination in the city center of Beijing. Here, plenty of fancy stores and malls are lined up along the road to meet your various shopping demands.
Wandering northwards for 850 yards while doing some shopping, you will see the East Church, also known as the Wangfujing Catholic Church, standing at the eastern side of the street. Although in the midst of the bustling commercial center, this holy site is still a peaceful and solemn destination for people to perform religious rituals. You will definitely take good shots on the square in front of the church.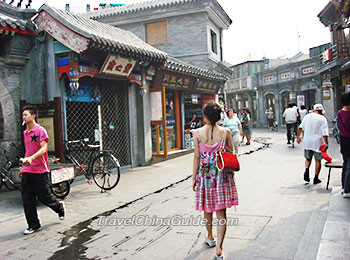 An old hutong in Beijing
After that, please stroll backwards for one block to find the western entrance of the Jinyu Hutong. It used to be one of the most popular destinations of the old city of Beijing, gathering numerous traditional workshops, restaurants, and theaters. Now, quaint courtyards as well as the flagstone-paved narrow lane have long gone. Instead, wide asphalted road and modern malls make up a totally different scene.
Once you reach the eastern end of Jinyu Hutong, continue walking eastwards to go along the Jinbao Street. Turn south onto Jianguomen North Street at the end of the Jinbao Street. Then, keep heading forward for 750 yards to the Jianguomen Outer Street. Go east along the street for around 15 minutes and you will reach the next site of this independent Beijing walking tour, the
Silk Street
. If you intend to purchase some Chinese-style souvenirs at a reasonable price, you must not miss this place.
In most foreign visitors' eyes, the Silk Street is the 'shopping paradise'. Distinctive silk products such as clothes, handkerchief, and scarf, as well as abundant exquisite gadgets can all be bought there. Most products there are of superior quality but lower price than those in other malls. Besides selecting favorite souvenirs, bargaining with sellers is also an impressive and enjoyable thing. Some experienced independent travelers can cut down the price with a discount of 10%-30%.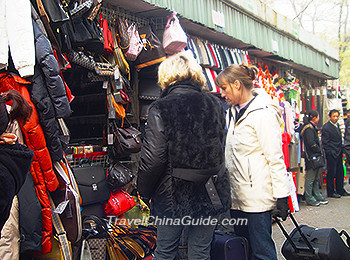 Xiushui Street
Getting out from the Silk Street Mall, we suggest you extend your independent walking tour to the east. Stretching from Dongdaqiao Road on the east of the Silk Street to the East 4th Ring Road, these blocks are clustered with towering office buildings. Headquarters of many Fortune Global 500 enterprises, high-end tech corporations, and newly-rising companies all set their bases there, forming the Central Business District of Beijing City.

If you start this tour route after lunch at around 14:00, you'll probably arrive at the CBD at dusk. Remember not to miss the dazzling night scenes of the CBD. When the darkness falls, skyscrapers and wide streets will be lightened. Standing on an overpass viewing shuttling headlights and crowds should be the best way to feel the modern charm of this metropolis.

Along Jianguomen Outer Street, there are Yonganli station of subway line 1 and Guomao station of subway lines 1 and 8, which are convenient for you to leave; or you can directly take a taxi back to your hotel to end this Beijing walking tour package.

Other Beijing Walking Tours:
Central Axis Hiking: A classic south-north route from Qianmen Street to Bell and Drum Towers.
Old Beijing Walking Tour: Feel traditional Chinese culture by a walk from Qianmen to Liulichang.
Garden Walk: Follow the scenic hiking trail from Yuyuantan Park to Summer Palace.