Top Xian Attractions
More Things to Do
Top 10 City Tours
Terracotta Warriors Day Tour from Beijing
Airport Pick-up - Terracotta Army - City Wall - Small Wild Goose Pagoda - Airport See-off
Free Cancellation

24-hour Before

Frequent schedules of flight and train make it possible to take a one-day round-trip tour to Xi'an from many cities of China. To ensure enough time for the one day Xi'an private tour, you're suggested to reach Xi'an in the early morning before 09:00am and leave after 20:00. If you are planning to take this Xi'an trip from Beijing, you can take flight HU7137 0625/0845 or CA1231 0725/0955 to Xi'an. Alternatively, the overnight train Z19 2040/0829+1 is also an option.
Upon your arrival, your guide and driver in Xi'an will pick you up at the airport or the railway station on time and then escort you to the Terracotta Army Museum which is praised as one of the "Eight Wonders of the World", containing three pits as well as the Bronze Chariots and Horses Exhibition Hall. You will spend at least 2.5 hours here to learn more about this world's miracle. Lunch is by your own arrangement and you can have meals at a nearby restaurant with the advice and help of your guide. In the afternoon, your Terracotta Warrior tour from Beijing will continue to the City Wall - the best-preserved and largest ancient city wall in China. Your guide will tell about histories related to this brilliant relic. Afterwards, your guide will lead you to visit the Small Wild Goose Pagoda, a major historical and cultural site from the Tang Dynasty, also a lovely place for photographs and to enjoy some peace and quiet.
Terracotta Army Museum
Bell Chime of the Small Wild Goose Pagoda
As your Beijing to Xi'an 1 day tour ends, your guide and driver will escort you back to the airport or the railway station to see you off. For the return trip to Beijing, flight CA1236 2030/2245 is particularly recommended and the last flight is MU7032 2230/0040+1. Or overnight trains Z20 1912/0658+1 and T56 2038/1045+1 are also available.
Attention: For this day trip from Beijing to the Terracotta Warriors, flights or trains to and out of Xi'an are not included in the below quoted prices. If you need us to book it for you, please make a remark when you fill in the tour inquiry or feel free to tell your travel consultant via email. Thank you.
Terracotta Army Museum
The Terracotta Army is a burial object to guard the mausoleum of Qin Shi Huang, the first emperor in ancient China. There are 3 pits and 1 exhibition hall in the museum, with more than 8,000 pottery soldiers, horses, and chariots in total. Pit 1 is the largest which contains at least 6,000 terracotta figures and horses and is the main body of the army. Pit 2 is the most spectacular one with various military divisions, formed by four mixed squares consisting of chariots, cavalrymen and crossbowmen. Pit 3 is the headquarters with pottery guards standing on both sides of the passageway. The Bronze Chariots and Horses Exhibition Hall displays two bronze chariots which are half the size of the real ones. The first chariot is used to clear the way and guard the emperor, while the second one was made after the carriage for emperors.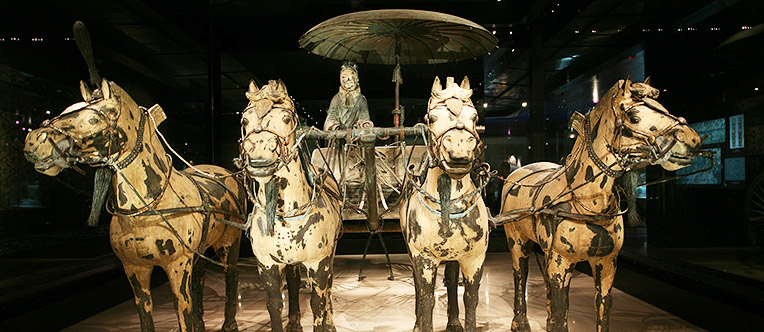 Bronze Chariot and Horses
City Wall
The City Wall, with a length of 13.74 kilometers (8.54 miles), is the largest and best-preserved ancient wall in China. The large-scale renovation work was implemented during the Ming Dynasty (1368-1644). There are four major gates in each direction of the wall - Changle Gate (East Gate), Yongning Gate (South Gate), Anding Gate (West Gate) and Anyuan Gate (North Gate) as well as many watchtowers, turrets, gate towers, and sluice gate towers. Every 120 meters (130 yards), you can see a part of ramparts stretching out from the wall, which was for the soldiers to shoot enemies from the side.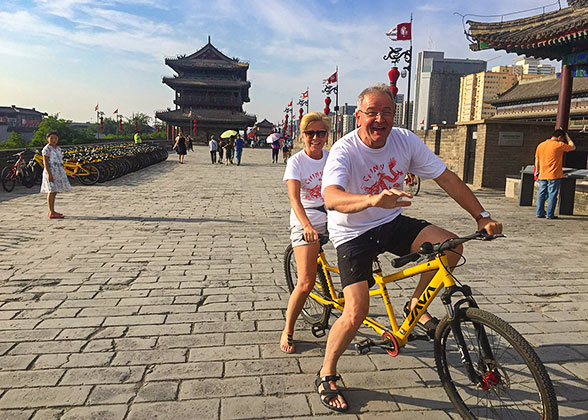 Riding bicycles on the City Wall
Xian City Wall
Prices (US$ Per Person)
1 person

$268

2 persons

$161

3 persons

$130

4 persons

$113

5 persons

$101

6 persons

$90

7 persons

$89

8 persons

$83

9 persons

$78

10+

$73

Price Includes
Private English-speaking guide
Private driver & air-conditioned vehicle
Entrance fees to tourist sites
Price Excludes
Flights or trains to and out of Xian
Hotel accommodation with breakfasts
Lunches and dinners
Tips or gratuities for guide and driver
Itineraries you may also like:
The above routes do not meet your requirements? Please click
Tailor My Trip