Pandas & Yangtze Cruise
SG04: 15 Days Small Group Tour of Beijing - Xi'an - Guilin - Chengdu - Chongqing - Yangtze River Cruise - Yichang - Shanghai
Tour Type:
Small Group of max 18, guaranteed departures
Guide & Driver:
English-speaking guide, experienced driver with an air-conditioned coach
Accommodation:
11 nights at good 5-star & 4-star hotels, 3 nights on Yangtze River cruise
Highlights:
Must-see sights - Mutianyu Great Wall, Forbidden City, Terracotta Army.
A cruise tour to take in breathtakingly beautiful views along Li River through Guilin.
Have a once in a life chance to visit the home of legendary Giant Pandas.
Travel back 200 years in Shanghai as you walk along the Bund.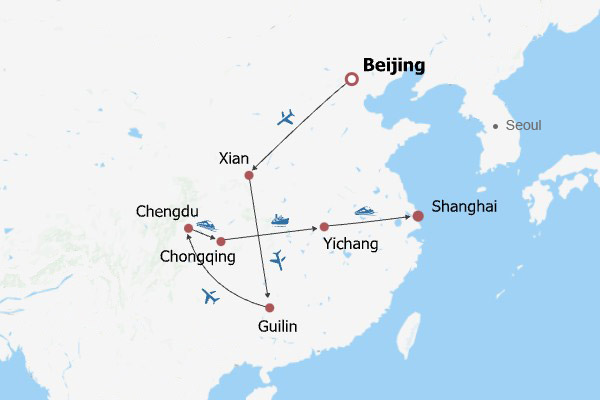 Welcome your arrival anytime at the airport and transfer to hotel.
Upon arrival at Beijing Airport, please clear yourself through Customs. Our English-speaking guide will meet you at the arrival hall and then transfer you to the hotel. Have a good rest to restore yourself for your lovely China tour; or, as your hotel is located right in Beijing's cultural and commercial center, while away the hours by exploring whatever may interest you in the nearby areas.
Accommodation: The Great Wall Hotel Beijing





- the former Sheraton
Visit Tiananmen Square and Forbidden City including Treasure Gallery; enjoy an a la carte welcome lunch with authentic Peking Duck; continue to visit Yonghe Temple and Temple of Heaven; and watch the classic Peking Opera in the evening. (B+L)
After breakfast, our guide will host a 30-minute welcome meeting at the hotel lobby, to share some travel guidelines and tips for everyone in the group to make good preparations for your journeys ahead. Then, start this morning with an excursion to the world-famous
Tiananmen Square
and the
Forbidden City
.
Our Group Visiting the Forbidden City
Situated at the heart of Beijing, the Tiananmen Square has developed from an imperial enclosure in front of the Forbidden City to an open city square for grand national-level rallies. We will stroll all the way from south to north, until we reach the gate of the imperial palace.
Once home and office to 24 emperors during the Ming and Qing dynasties (1368 – 1911 AD), the Forbidden City is drawing people from all over the world to bathe themselves in the imperial radiance. Familiarize yourself with the glorious architecture for some time, and your guide will take you to the Treasure Gallery at the northeastern corner, to witness the luxury of imperial lives of ancient China, as well as the top-notch craftsmanship at that times, through breathtakingly delicate works of art.
An
a la carte welcome lunch
(valued at CNY150.00 per person and included in our price) will follow at a noted nicely decorated local restaurant, for you to taste diversified Chinese food. Of course, Peking Roast Duck - an elaborately made cuisine served for royal families at ancient times - is covered.
The afternoon will see our visit to the
Yonghe Temple
, or Harmony and Peace Palace Lamasery, the largest imperial lamasery in China that survived over 300 years intact. Also the birthplace for two great Qing emperors, the temple is called "the womb of Chinese Dragons".
Then we will head for the
Temple of Heaven
. This was where emperors of the Ming and Qing dynasties offered sacrifices to Heaven in order to pray for bumper harvests. Its architecture, with round roofs symbolizing Heaven and square walls Earth, exudes a divine majesty you would hardly find anywhere else in the world.
Observe the Locals' life at the Temple of Heaven
To end today's trip, we will surprise you with a special program:
appreciating Peking Opera
. We will go to a noted long-established theatre - Liyuan Theatre – to watch artists perform the art. There will be English subtitles displayed for you to understand it, so no need to worry about the language barrier. Listed as a Representative of Intangible Cultural Heritage by UNESCO, it is something you would not want to miss. Wonder about the heavy makeup of the artists? We will come earlier to watch them wear it, as well as their lavish layers of costumes.
Meals: Western buffet breakfast, A la carte welcome lunch
Visit Mutianyu Great Wall by round-trip cable car and toast for Great Wall challenge with red wine; drive by Olympic Bird's Nest; then take a rickshaw ride through Hutong alleys and visit a local family in a traditional courtyard house. (B)
This morning, we will set off to the suburban
Mutianyu Great Wall
, the most beautiful part of an engineering feat of humanity – the Great Wall of China. As the Wall was originally built as a defensive system against the attack, you get to marvel at its impenetrable magnificence set against a pristine natural landscape. We recommend you take a cable car up, hike all the way from No.14 watchtower to the highest No.20 watchtower, relish the picturesque landscape en route, and then come back down by cable car. The moderate incline of the segment makes it just the best choice for most people. Or you can go up on a chairlift to No.6 watchtower and down by a trilling toboggan, which would be more fun for families with children! Fees of all vehicles are included in our price, so just devote yourself to the hiking! We will also propose a toast and cheering with red wine for your accomplishment of the Great Wall tour.
Marvel at the Grandeur of the Great Wall
Since restaurants and other businesses are restricted to protect the Wall from commercial pollution, we kindly suggest you have a sufficient breakfast at the hotel, and have some fast food for lunch around the site.
Then we will return downtown. A photo stop is arranged for you before the
National Stadium
, also the Bird's Nest, to take pictures. You don't want to miss the Olympic sports venue, which is praised for its award-winning artistic exterior design.
Let's finish today's trip with a
Hutong tour
. A rickshaw ride will take you to experience real life of old Beijing though Hutong alleys, which are lined with courtyard houses – a traditional Chinese quadrangular residence. You get to see another side of Beijing through this 500-year-old historical part. The tour will end with a visit to a local family house in a Hutong, where you can interact with family members and ask them questions to learn about whatever you want. After that we will drive you back to the hotel.
Meals: Western buffet breakfast
Day 4
Beijing to Xi'an by Flight
Visit Panda Hall and Summer Palace; taste local flavors for lunch; fly to Xi'an and transfer to hotel. (B+L)
Today you will be able to get close to those adored pandas in the
Panda Hall, Beijing Zoo
. Ever heard of the strange diet habit of these cute creatures? They satisfy their hunger with around 12 kilograms of bamboo per day and could spend up to 12 hours eating. We will have a lovely early morning by watching them eat and play!
Then visit the
Summer Palace
, the former imperial summer resort, originally ordered as a birthday gift from a Qing Emperor to his mother. In this largest, best-preserved imperial garden in the world, one thing of note is its Long Gallery. Listed in the "The Book of Guinness World Records" in 1992, it's the longest gallery (728 meters, or 2,388 feet long) on earth with 14,000 paintings decorated up inside the roof.
Take your time to enjoy some local food as your lunch in Beijing, which will be the last memory Beijing leaves to you. Then you will be transferred to the airport for your flight to Xi'an. Our professional guide will meet you outside the baggage claim area of the airport and transfer you to the hotel.
Meals: Western buffet breakfast, lunch
Accommodation: Crowne Plaza Xi'an





Experience A Hutong Rickshaw Tour
Visit Terracotta Army and the discoverer's home of the first terracotta warrior; have a unique experience to make your own mini clay warrior; continue to visit Giant Wild Goose Pagoda, and then enjoy dumpling dinner and Tang Dynasty Music and Dance Show in the evening. (B+D)
We are going to start our journey in Xi'an with a visit to a world-famous astounding discovery - the
Terracotta Army
. Before you will be an epic spectacle – the mausoleum of the Emperor Qin Shi Huang (259 – 210 BC), the founder of the first empire - Qin Empire (211
–
206 BC) - in China's history, once constructed to serve his afterlife. Here, you get to marvel at a life-size battle formation, formed by his funeral objects of warriors, horses, weapons, and chariots made of terracotta or bronze, all sculpted with unique features and details.
★
Privilege of our guests:
►
Family visit to discoverer of the first terracotta warrior.
The Terracotta Army might have still been underground if it was not for Mr. Yang Zhifa, who dug into the ground and found some pottery pieces with his hoe in 1974. Today, we will visit his family home and get to hear authentic stories from their mouths. Inside his house, the hoe used to dig, the cart carrying the first warrior, and its 1:1 copy might also interest you.
►
Make your mini clay warrior and bring it home.
We have also prepared a special souvenir for you. In a workshop which appears to be a traditional cave dwelling for northern Shaanxi people in the past, an artisan will instruct you on how to craft a mini warrior with the help of a mold you will select from several of them provided. Your masterpiece will be done in 40 minutes. Gain a sense of unusual achievement and take it with you!
The Marvelous Terracotta Warriors
Make Mini Terracotta Warriors
Then a visit to the
Giant Wild Goose Pagoda
is scheduled. A major participant along the Silk Road in translating and introducing Indian Buddhism, this pagoda invites you to witness the history through its remains.
Tonight, a delicious dumpling dinner will be served along with the
Tang Dynasty Music and Dance Show
, for you to gain more insights into China's intangible cultural heritage. We will escort you back as the curtain falls.
Travel Tip:
If you are keen on the dumpling dinner and the show, you might want to join us in months except Jan, Feb, Mar and Dec, when the theatre is usually not open.
Meals: Western buffet breakfast, Dumpling dinner
Connect with local people at City Wall Park and learn to practice Tai Chi from a master, then visit City Wall; taste local flavors for lunch at Muslim Quarter; in the afternoon visit Great Mosque and Shaanxi History Museum. (B+L)
This morning, refresh yourself at the
City Wall Park
, spend some time leisurely, and experience local life. A Tai Chi master will also take you on a mind-nurturing journey by teaching you some moves of a 600-year-old tradition that combines martial art and meditation.
From the park, you will ascend the ancient
City Wall
and have a panoramic view of the city. You can either stroll the broad brick walkway to take in all vistas from various angles, or ride a bike for a breezy experience.
Cycling on the Ancient City Wall
As for lunch, we take you to the
Muslim Quarter
, which should be your top choice if you want to experience local life and flavors. You might be curious about some local dishes like Rou Jia Mo (Chinese burger), Niu Rou Guo Tie (fried beef dumplings), Ma Jiang Liang Pi (cold noodle with sesame paste)… Or the most interesting Biang Biang Mian, a type of sauced hand-pulled kind of noodles that dates back to Qin Dynasty, wide as belt, with a name consisting of complicated Chinese characters that don't even exist.
After lunch, we will have a tranquil afternoon first at the
Great Mosque
and then at the
Shaanxi History Museum
. Constructed during Tang Dynasty (618–907 AD), the Great Mosque is a mosque but with classical Chinese garden architecture. It is a quiet delight hidden deep amid the bustling Muslim Quarter. If the temple attests to the religious side of the inclusive Tang culture, then the relics in the Shaanxi History Museum, which boasts over a million historical treasures with an emphasis on those crafted by Tang people, illustrates the Tang culture on a more comprehensive level. Out from the museum, we will take you back.
Seek for Local Snacks at Muslim Bazaar
Meals included: Western buffet breakfast, Local flavor lunch
Day 7
Xi'an to Guilin by Flight
Fly to Guilin and transfer to hotel; visit Reed Flute Cave and Elephant Trunk Hill. (B)
Your stay in Xi'an ends with a morning flight to Guilin, a city world-famous for its natural beauty beyond compare. Upon your arrival, our guide will meet you outside the baggage claim area. Have a little break and prepare for your lovely excursions ahead!
In the afternoon, we will head to the
Reed Flute Cave
, a 240 meter (787 feet) deep karst cave. Praised as the splendid "museum of natural sculptures", the cave is a symphonic poem written with stalactites, stalagmites, rock formations in various shapes, as well as environment-friendly atmospheric lightening against the darkness. Remember to wear non-slip shoes, for it might be slippery sometimes because of the moisture. Then we head to the
Elephant Trunk Hill
, which is a cult destination for its lifelike resemblance of a giant elephant scooping water from the Li River with its trunk.
The sun is setting. Time for us to drive you back to hotel.
Meals: Western buffet breakfast
Accommodation: Sheraton Guilin Hotel





Day 8
Guilin - Yangshuo - Guilin
Take a Li River cruise from Guilin to Yangshuo; explore West Street and have a countryside tour; drive back to Guilin. (B+L)
After breakfast at hotel, we drive to a pier of the Li River where you will start your
river cruise
all the way down to Yangshuo. Revel in the primitive majesty flanking the river and experience local life through the popular West Street and then in the countryside.
The cruise will be a journey awe-inspiring from start to finish, getting past views acclaimed as the most beautiful karst landscape in the world. During the cruise, you will enjoy a simple folksy lunch before continuing to appreciate the intoxicating natural paintings surrounding you.
After 4 hours of cruise, disembark at Yangshuo County and walk into the 600-year-old West Street. A hot attraction for both domestic and foreign tourists, it has everything you might be interested in: local flavors loved nationwide, boutiques for souvenirs, cafes, bars… all amid hills and rivers.
Li River Cruise
Yangshuo Rural Scenery
Then we take you to explore the rustic side of Yangshuo. Through villages nestling in green hills, you get to see traditional houses very different from Beijing's courtyard residences. Your trip here will be perfected with a visit to a local peasant's home. Perhaps you will learn how to fetch water from a well, or try on a traditional bamboo hat and a straw rain cape, just to have fun! After that, we will drive you back to the hotel in Guilin.
Meals: Western buffet breakfast, Lunch
Day 9
Guilin to Chengdu by Flight
Fly to Chengdu and transfer to hotel; visit Jinsha Site Museum, and taste local Gai Wan tea and see the Chinese matchmaking corner at Renmin Park. (B)
After breakfast, say goodbye to Guilin and we will escort you to catch the flight to Chengdu. Upon your arrival, our guide will welcome you at airport and take you to hotel.
We will leave lunch on your own. As your hotel is located at the most lively center of Chengdu City, it would be convenient to explore whatever may cater to your private taste, be it of local or western style. Feel free to ask your guide for any recommendations!
Holiday Inn Chengdu Oriental Plaza
Hotel Swimming Pool
In the afternoon, we are going to travel back 5,000 years in the
Jinsha Site Museum
, which exhibits relics left by and was built upon the sacrificial site of the ancient Shu civilization that thrived during the late Neolithic Age. The strange disappearance of the civilization in the 2nd millennia BC would remind everyone of the more famous Maya civilization. Whether it's due to natural disasters or ultimate assimilation into neighboring cultures, no one could provide an exact answer. If you are into its enigmatic atmosphere, come and explore the site together with your expert guide!
Let's come back to reality. Now we will head for the most popular park in Chengdu – the Renmin Park, or
Peolple's Park
. To experience real life of local people, you get to drink local Gai Wan tea (tea served in cup with lid and saucer) and have a glimpse of the China's marriage market. Called "Blind Date Corner" in a literal sense, the market here is where parents post their children's profiles to "help" them find their future partners.
Meals: Western buffet breakfast
Accommodation: Holiday Inn Chengdu Oriental Plaza




Day 10
Chengdu to Chongqing by High Speed Train
Visit Giant Panda Base and Wide and Narrow Alleys; take a high speed train to Chongqing and board the Yangtze River cruise ship for a 3-night stay. (B+D)
If the Panda Hall in Beijing is an introduction, now you are going to watch the main part of the drama. Today you will have a pleasant date with those black and white fur balls at the
Research Base of Giant Panda Breeding
, pandas' home on earth. We will visit the base this morning, when our stars are most willing to show their active personality.
Close Contact with the Cute Pandas
Then, continue to the Wide and Narrow Alleys, a relic that has survived from Qing Dynasty to become one of the hottest historical attractions here in the city for both tourists and locals. With quaint restaurants for local snacks, tea houses, bars and boutiques lined on both sides of alleys, the site is where authentic Chengdu cultures meet modern pleasures.
In the afternoon, our guide will drop you off at the railway station and help you get on a high speed train to Chongqing. It is a two hours trip. Upon your arrival, our guide in Chongqing will meet you and then escort you to board one of the most luxurious cruise ships on Yangtze River, on which you will spend your next two days to fully take in the views along its length.
It will be late into the afternoon when you're aboard the ship. Have a break, eat a buffet dinner, and make this evening special by joining the Welcome Party at the cordial invitation of the captain. Dream sweetly, and then your unforgettable journey begins!
►
Century Glory, one of the most luxurious cruise ships on Yangtze!
With advanced purified water systems, largest standard cabins with private balconies, a bar on sun deck, a la carte restaurants, grand atrium lobby and so on, Century Glory is carefully selected after field researches to provide you with consistent five-star services and the most immersive tour experience. Since the Century fleet were newly-built and launched only in recent two years, you are going to enjoy state-of-the-art amenities. There will also be a buffet dinner the day you go aboard, alcoholic drinks with themed meals each day, as well as night snacks, all for free, and all exclusive to Century Glory.
Meals: Western buffet breakfast, Dinner
Cruises: Century Glory





Day 11
Yangtze River Cruise
Take an onshore excursion to Ghost City, then enjoy your leisure time on board or participate in some cultural activities; three buffet meals a day plus midnight snacks are served. (B+L+D)
Disembark at Fengdu County, and we will visit the "underworld" mentioned numerous times in Chinese classics and folklores – the
Ghost City
, where the spirits of the dead face the judgement of the God of Hell. Perching on a mountain by Yangtze River, the Ghost City is a compact palace complex, built 2,000 years ago by Chinese ancestors to simulate Hell. This is definitely a hot attraction for everyone who take an interest in Chinese version of afterlife, although a little spooky!
Now it's near lunch time. Get back on the ship and have an exquisite buffet lunch. In the afternoon, you may enjoy leisure time on sundeck or in your private balcony to appreciate river sceneries. The cruise company will also hold some cultural activities like a lecture on the Yangtze Three Gorges, flying kites, learning to tie a silk scarf, etc. You are welcomed to join in.
Meals: Full board served in buffet style
Cruise Ship
Day 12
Yangtze River Cruise
Admire Yangtze Three Gorges and take an onshore excursion to Shennv Stream. (B+L+D)
Today, your journey through the Three Gorges officially begins. The cruise guide onboard is expected to make a formal presentation. Get your camera ready! You are going to have one of the most breathtaking cruises in China. The Three Gorges comprises
Qutang Gorge
,
Wu Gorge
, and
Xiling Gorge
from west to east, each with its own unique landscape. If you describe Qutang Gorge as the steep, Wu Gorge would be the poetic, and Xiling Gorge the fearsome for its turbulent currents. Although the last is the longest, you would be most impressed by the middle one, which is the most sung gorge in Chinese poetry.
This morning, you will cruise by Qutang Gorge and Wu Gorge, until it's time for a buffet lunch. Your afternoon will start with a side trip on a boat to Shennv Stream, a tributary from Wu Gorge, to get even closer to the natural primitive beauty and the tranquil life of Tujia Minority, a Chinese ethnic group who live an isolated life from the bustling outside world. Then you will get back ship and continue to cruise down the western section of Xiling Gorge.
Then, come inside the lobby from the twilight to have a buffet dinner and watch evening artistic performances prepared for you. Hope you will enjoy!
Meals: Full board served in buffet style
Yangtze River Cruise
Shennv Stream Excursion
Day 13
Yichang to Shanghai by High Speed Train
Disembark from cruise ship and visit Three Gorges Dam; take a high-speed train to Shanghai and transfer to hotel. (B)
Your last excursion stop on Yangtze will be the
Three Gorges Dam
in Yichang City, the world's largest hydro project for flood control and providing more than enough electricity to the entire area of southwestern China. It is a symbol of humanity's unbending will against destructive natural disasters. Pack your belongings for disembarking before the visit. It is an engineering feat you would not want to miss.
Afterwards, the cruise ship company will drive you to the Three Gorges Tourist Center to meet the local guide. You will take a convenient high speed train to your last scheduled destination, Shanghai. Since it's a 7.5-hour trip, you might want to entertain yourself with music, books or movies. On arriving at Shanghai railway station, you will be met and transferred to the hotel.
Meals: Western buffet breakfast
Accommodation: Radisson Blu Hotel Shanghai New World





Visit Shanghai Museum and Yu Garden; enjoy an a la carte farewell lunch; have a panoramic view of the city skyline, and then explore the Bund with a Huangpu River cruise tour. (B+L)
After breakfast, you will start your trip from
Shanghai Museum
, one of the four most important museums in China. It's a treasure house for precious ancient Chinese art works, with a focus on ceramic art. Then head to the 460-year-old
Yu Garden
, a typical classical garden. You will walk into a nature in miniature, where trees, potted plants, pavilions, rockery, and ponds are harmonized into a mesmerizing waterscape. Nearby is Yuyuan Bazaar. We will leave you some free time, so you can explore the marketplace, perhaps for some souvenirs.
Around noon, you will enjoy an a la carte farewell lunch (valued at CNY150.00 per person and included in our price) at a famed local restaurant.
Your afternoon trip will begin with a visit to Duo Yun Bookstore on the 52nd floor of Shanghai Tower, the highest bookstore on the second highest building on earth. This will be your best vantage point to take in the panorama of the most bustling area of Shanghai – the Bund, along with the great Huangpu River.
Relaxing Cruise Tour on the Huangpu River
Enough of mere watching, now you will go down to experience the energy of the city's landmark yourself. The various architectural styles on the west side of the
Bund
will make you travel back to 1800s. To perfect your trip, a one-hour
cruise tour
along the Huangpu River will be followed, which stood witness to the vicissitudes on its riverfront in the past. The views on the banks, as well as the breeze through your hair, will surely leave you an unforgettable memory of this place.
After a whole day's sightseeing, now it's time for our guide to transfer you back to the hotel and bid farewell to you.
Meals: Western buffet breakfast, A la carte farewell lunch
Day 15
Departure from Shanghai
Please check out before 12:00, and head for the airport in our recommended ways; a pleasant journey home! (B)
My friends, it's time for us to part ways and to wish you bon voyage. You will check out from your hotel before noon, and choose a way to the airport according to your flight schedule. To go to Shanghai Pudong International Airport or Shanghai Hongqiao Airport, You can either take Metro Line 2 from the metro station just outside your hotel, or hail a cab, which costs about CNY200 and CNY100 respectively.

We will be of your assistance at any time you need. Be safe and have a pleasant journey home!

Meals: Western buffet breakfast
B-- Breakfast
L-- Lunch
D-- Dinner
Prices are per person on twin sharing basis; departures are guaranteed even with two persons!
Christmas & 2024 Special:
12% off
- Book before Dec 31, 2023
| Arrival Date | Departure Date | Double Occupancy | Single Room Supplement | |
| --- | --- | --- | --- | --- |
| Oct 06(Fri) | Oct 20(Fri) | USD3999 | USD1289 | |
| Oct 13(Fri) | Oct 27(Fri) | USD3999 | USD1289 | |
| Oct 20(Fri) | Nov 03(Fri) | USD3969 | USD1289 | |
| Oct 27(Fri) | Nov 10(Fri) | USD3939 | USD1399 | |
| Nov 03(Fri) | Nov 17(Fri) | USD3789 | USD1249 | |
| Nov 10(Fri) | Nov 24(Fri) | USD3759 | USD1219 | |
Remark: The prices in red reflect the current discount.
Prices are per person on twin sharing basis; departures are guaranteed even with two persons!
Christmas & 2024 Special:
12% off
- Book before Dec 31, 2023
Arrival Date
Departure Date
Double Occupancy
Single Room Supplement
Apr 08(Mon)
Apr 22(Mon)

USD3499

USD3079

USD1129
Apr 19(Fri)
May 03(Fri)

USD3499

USD3079

USD1129
May 10(Fri)
May 24(Fri)

USD3499

USD3079

USD1129
May 24(Fri)
Jun 07(Fri)

USD3459

USD3043

USD1129
Jun 10(Mon)
Jun 24(Mon)

USD3419

USD3008

USD1059
Jun 21(Fri)
Jul 05(Fri)

USD3419

USD3008

USD1059
Jul 05(Fri)
Jul 19(Fri)

USD3529

USD3105

USD1169
Jul 19(Fri)
Aug 02(Fri)

USD3529

USD3105

USD1169
Aug 02(Fri)
Aug 16(Fri)

USD3529

USD3105

USD1169
Aug 16(Fri)
Aug 30(Fri)

USD3529

USD3105

USD1169
Sep 06(Fri)
Sep 20(Fri)

USD3529

USD3105

USD1169
Sep 16(Mon)
Sep 30(Mon)

USD3529

USD3105

USD1169
Oct 07(Mon)
Oct 21(Mon)

USD3529

USD3105

USD1169
Oct 18(Fri)
Nov 01(Fri)

USD3529

USD3105

USD1169
Nov 01(Fri)
Nov 15(Fri)

USD3249

USD2859

USD1039
Nov 15(Fri)
Nov 29(Fri)

USD3249

USD2859

USD1039
Price Includes
Domestic airfares & train fares
Hotel accommodation with breakfasts
A la carte lunches as itinerary specifies
Professional English-speaking guides
Drivers & air-conditioned vehicles
Entrance fees to tourist sites
Yangtze River cruise with full board
Tips or gratuities for hotel porters
Price Excludes
International airfares
Entry Visa fees
Personal expenses
Tips or gratuities for guides and drivers
Why Travel With Us
Itineraries you may also like: