Reed Flute Cave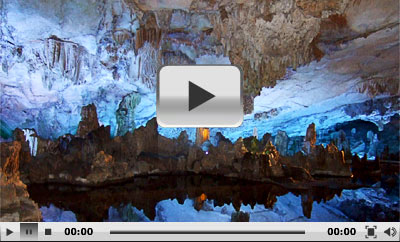 Reed Flute Cave Photos
As a brilliant Karst cave marked on almost all travel itineraries, Reed Flute Cave got its name from the verdant reeds growing outside it, with which people make flutes. Actually, inside this water-eroded cave is a spectacular world of various stalactites, stone pillars and rock formations created by carbonate deposition. Illuminated by colored lighting, the fantastic spectacle is found in many variations. Walking through the serried stone pillars, tourists feast their eyes on changing spots, feeling they are in a paradise where the Gods live.

Reed Flute Cave Facts
Location: 5 kilometers (3 miles) northwest of downtown Guilin
Size: 240 meters (262 yards) deep; the maximum height 18 meters (59 ft); the widest point 93 meters (102 yards)
Tour length: about 500 meters (550 yards) long
What's inside: a spectacular world of various stalactites, stone pillars and rock formations
How old: around 700,000 years old
When discovered: in 1959

How to Tour Reed Flute Cave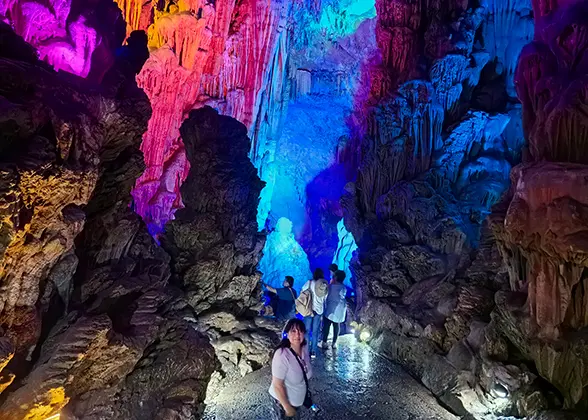 Tourists in the cave
Tourists enter the cave and then take a U-shaped sightseeing route to see different spots, whereupon they exit it from another cave quite near the entrance. One trip lasts about forty minutes.
It is a Chinese habit to give each formation a legendary or poetic name such as Crystal Palace, Tower-shaped Pine and other interesting names. For some of these names, you need to use your imagination, but the story behind each is quite fun. It's a pleasure to listen to romantic or fairy tales whilst appreciating the fantastic stone formations.
Top Spots inside Reed Flute Cave
Tower-shaped Pine (Ta Song Ao Xue)
There are two peculiar stalagmites: one is like a snowman, and because of the coldness, he put his hands into his pockets. Another is like a round tower-shaped pine, whose branches are covered with a thick layer of snow and ice.

Crystal Palace
"Crystal Palace" is the widest part inside Reed Flute Cave. This is a brilliant hall and the height decreases to all sides. The stalactites are hanging up in four directions, and they are like series lanterns decorating the hall. Under the light effects, some stalagmites look like jumping fish.

Leaving Crystal Palace, several narrow lanes appear in front of tourists. According to Chinese myths and legends, this is the place where Monkey King, a main character in Journey to the West, fought with numerous underlings of Dragon King to get his powerful weapon, the magic needle of fixing the sea.

Inscriptions on the Cave Wall
Despite the fantastic natural scenery inside Reed Flute Cave, there are many writings on the wall. According to some statistics, there are 77 travelogues and poems left, which are said to be derived from the Tang Dynasty (618-907), making the cave a popular tourist site at that time.
| | |
| --- | --- |
| Spectacular interior scene of the cave | The illuminated cave looks like a fairyland. |
How was the Reed Flute Cave formed?
Reed Flute Cave is formed by long-term water erosion and carbonate deposition. The rocks inside the cave are mainly limestone. When the underground water flows, it dissolves the calcium carbonate inside the limestone. When the water containing calcium carbonate flows out from underground or drops out from cave roof, the water evaporate, only leaving calcium carbonate. After years of accumulation, stalactites form. Till today, these stalactites inside the cave are still "growing" as the water keeps dropping or flowing.
How to get to Reed Flute Cave
1.
Take city bus 3, 58, 13 and get off at Reed Flute Cave Station.
Entrance Fee
1. CNY 90;
2. CNY45 for children from 1.2 meters (3.9 ft) to 1.4 meters tall (4.6 ft).

3.

Free for children under 1.2 meters.

Opening Hours
Apr. to Nov.: 7:30-18:00
Dec. to Mar.: 08:00 to 17:30
Recommended
Time for a Visit
Three hours
Print
- Last updated on Apr. 18, 2022 -
Questions & Answers on Reed Flute Cave
Asked by Albert from U.S.A. | Aug. 14, 2019 16:23

Reply
What to see at longji rice terrace field ? Does it need a whole day to tour there ?
Answers (2)
Answered by Connelly from FINLAND | Aug. 15, 2019 00:40

0

0

Reply
The Dragon's Backbone Rice Terraces is a beautiful natural picture. In spring, the water is irrigated into the fields and they look like great chains or ribbons hung on the hillsides. When the onset of summer, green waves rush continuously down the mountainside from the heaven. The theme of autumn is the harvest, with the mountainside decorated with the gold of ripened millet. Coming into winter, the whole mountain will be covered with white snow, just like dragons playing with water. Generally speaking, the suggested sightseeing time is 1-2 days. Thus it will be worth to tour around for a whole day.
Answered by Albert | Aug. 15, 2019 07:53

0

0

Reply
Thanks much ! Long hair show and climb to the field, are they good to go ? How much ?
Asked by Albert from U.S. | Aug. 14, 2019 16:18

Reply
What is the best way from yangshuo hotel to you San Jose and back ?
Answers (1)
Answered by Ary from POLAND | Aug. 15, 2019 00:36

0

0

Reply
Do you refer to Liu San Jie? If yes, after watching the performance, you can hire a car or share a car with other passengers.
Asked by Albert from U.S. | Aug. 12, 2019 18:47

Reply
How much time needed to tour Guilin Reed Flute Cave?
Answers (1)
Answered by Jeremiah from UNITED KINGDOM | Aug. 13, 2019 02:46

0

0

Reply
The suggested sightseeing time is 1-2 hours.
Asked by Frances from USA | Apr. 18, 2019 07:09

Reply
What number of bus to Reed Flute Cave is the tour bus and where can i catch it? Thanks.
Answers (1)
Answered by Clara from UKRAINE | Apr. 22, 2019 23:09

0

0

Reply
There is no exact bus number. In Chinese, this bus line is '旅游观光一号线'. Hope helpful!