Two Rivers and Four Lakes Scenic Spot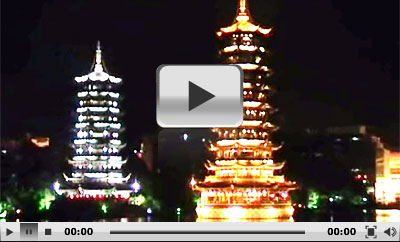 Located in picturesque Guilin City, Two Rivers and Four Lakes Scenic Spot refers to the landscape located around the city which includes part of Li River within the city, Taohua (Peach Blossom) River, Mulong Lake, Guihu Lake, Ronghu Lake and Shanhu Lake. After years' of development, it can be also divided into Mulong ancient water way scenic area reflecting city culture, Guihu Lake Scenic Area featured by natural beauty and rustic charm and Ronghu-Shanhu Lake Scenic Area showing the elegant demeanor of the landscape ecology city. From these natural and manmade sights, visitors can truly feel the born beauty and deep cultural details of Guilin City.

Guihu Lake Scenic Area
Guihu Lake was originally the city moat of the western Guilin City in Song Dynasty (960-1279). It measures over 1,700 meters (1 mile) from north to south and about 110 meters (120 yards) wide on average. A large number of precious arbors and flowers are planted along the lake, such as banyan tree garden, gingko garden, white pines garden, redwood garden, magnolia garden and palm garden. It is also a world of bridges such as Xiqing Bridge, Baoxian Bridge, Lize Bridge, Yingbin Bridge and Guanyin Bridge where visitors can enjoy the beautiful landscape and find them a good setting to take photos. It is not exaggerating to call it an Expo combining famous gardens, flowers, trees and bridges in one. Walk in it, visitors will feel fresh and comfortable as if attaining the perfection of the harmony between man and nature.

Ronghu-Shanhu Lake Scenic Area
Its history can be traced back to Tang (618-907) and Song dynasties. Originally called Nanyang River, it was the manmade city moat of the southern Guilin at that time. In Yuan Dynasty (1271-1368), people called it Jianhu Lake. It was enlarged in Ming Dynasty and became an inner lake, and from that on, many local governments and public offices were installed by the lake. The rich and the famous all built their houses on the lakeside one after another. Many poets and intellectuals have written a lot of poems and literary pieces to describe the charming beauty of the lake.
| | |
| --- | --- |
| Taohua (Peach Blossom) River | Sun and Moon Pagodas |
The Sun Pagoda and Moon Pagodas in Shanhu Lake Scenic Area are also known as Twin Pagodas. The Sun Pagoda is a bronze tower, which is about 41 meters (135 feet) with nine layers; the Moon Pagoda is a glazed tile one, which is about 35 meters (115 feet) with seven layers.
Twin Pagodas
| | |
| --- | --- |
| Entrance Fee | CNY 35 (children below 1.2m (3.9 feet) are free of charge.) |
| Opening Hours | 08:00 - 22:30 |
| Transportation | Take bus 2, 3, 10, 11, 99 or 100 to Yangqiao Station. |
Mulong Lake Scenic Area
It features the integration of historical culture into the nature. To the north of Mulong Lake, visitors can find a group of manmade sights such as Dongzhen Gate and the site of the City Wall in Song Dynasty. A very large building complex is scattered around. The construction includes Song Street, Half-side Street, Mulong Pagoda, Mulong at Night, and Ancient Song City. Mulong Pagoda was built by imitating Longhua Pagoda in Song Dynasty in Shanghai. Besides, there is an ecological landscape zone between the southern Mulong Lake and
Folded Brocade Hill
where visitors can admire forest, grass, falls and streams.
| | |
| --- | --- |
| Entrance Fee | CNY 90 |
| Opening Hours | 08:30 - 21:00 |
| Transportation | Take bus 1, 18, 89, 100 or 203, and get off at Dongzhenlu Station. |
Li River and Taohua (Peach Blossom) River
The beautiful Li River, like a poem and a picture, is an important component of the mountains and waters in Guilin. Taohua River was diverged into Li River in Ming Dynasty. The two rivers thus connected and have added more beauty to each other.
Visitors are suggested to take a cruise to visit the Two Rivers and Four Lakes Scenic Area.
Cruise on Two Rivers and Four Lakes Scenic Area
Itineraries
Boarding & Disembarking Docks
Sailing Time
Ticket Information
Opening Hours
One River (Li River) and Four Lakes Cruise (day time)
Riyuewan ⇌ Jiefangqiao
70 min
Adults: CNY 90
Children: CNY 45
09:50 - 16:40
Two Rivers and Four Lakes Cruise (night time)
Wenchangqiao

⇌

Jiefangqiao
90 min
Adults: CNY 220
Children: CNY 110
18:00 - 23:00 in peak season;
19:00 - 21:30 in off season.
Note:
1. Free for children under 1.2m (3.9ft); children ticket for those from 1.2m to 1.4m (4.6ft).
2. The opening hours and departure frequency are subject to change during the low and peak seasons (especially public and legal holidays) without notice.
3. In the flood season or special period, One River and Four Lakes Cruise can be operated.
Ticket Office Location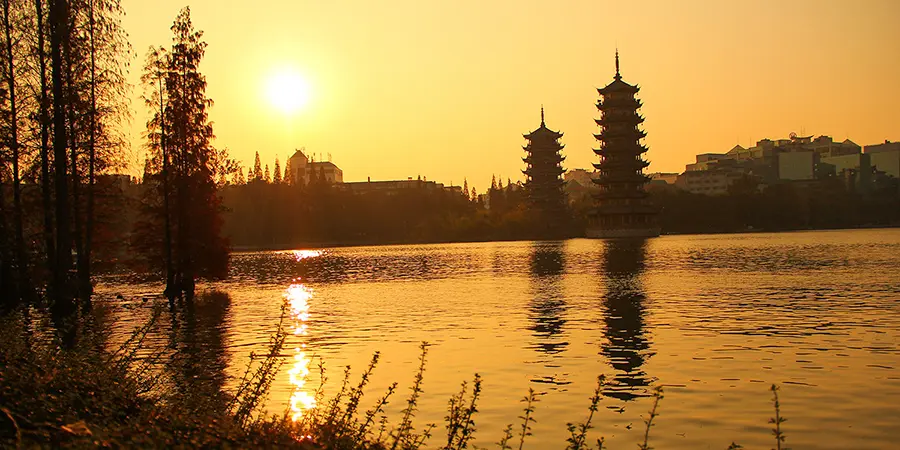 Twin Pagodas at night
Binjiang Road Ticket Office
Address: No.12, Binjiang Road
Tel: 0773 - 2829393 / 2885898 / 2805098
Jiefang Bridge Liupima (Six Horses) Ticket Office (opened at night)
Tel: (86)0773 - 5634666

Riyuewan Dock Ticket Office
Address: No.1 Shanhu North Road
Tel: (86)0773 - 2858822

Wenchangqiao Dock Ticket Office (opened at night)
Address: No.29, Minzhu Road
Tel: (86)0773 - 3893777
How to get to Two Rivers and Four Lakes Scenic Spot
1. Take bus no. 2, 3, 10, 11, 99, or 100 and get off at Yangqiao Station and then walk along Shanhu North Road to reach Riyuewan Dock. Or take bus no. 2 and get off at Lijiang Theater and then walk along Shanhu North Road to get there.
2. Take bus no. 2, 16, or 23 and get off at Xiangshan (Elephant Hill) Park. Then walk along Binjiang Road until you reach Wenchang Bridge and cross the bridge to reach Wenchangqiao Dock.
3. Take bus no. 14, 28, 30 or 204 to Longyin Bridge Station, the nearest bus stop to Jiefangqiao Dock, about 1.1 kilometers (0.7 miles) from the bus station to the dock. Better take a taxi to the Jiefangqiao Dock.
Guilin Bus Search

Top 10 Things to Do in Guilin
- Last modified on Sep. 21, 2018 -