Solitary Beauty Peak and Jingjiang Prince City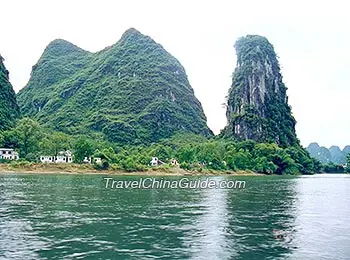 Solitary Beauty Peak
Located in the center of Guilin City and built around the Solitary Beauty Peak, Jingjiang Prince City Scenic Area is a highest grade tourist resource in the city which was built on the site of the mansion of the Prince Jingjiang in
Ming Dynasty
(1368-1644). In the scenic area, the manmade sights embrace the natural beauty. The authentic work of the inscription "Guilin's Scenery Ranks First in the World" is found there. It is a typical representation of the culture and history of Guilin.
History of Jingjiang Prince City
The Prince Jingjiang was the master of the present prince city. He was given the title by his grandfather Zhu Yuanzhang, the creator of Ming Dynasty. It took over 20 years to build his mansion and the history is longer than the
Forbidden City
in
Beijing
. In the 257 years from the construction to destruction, all together 14 regional princes in 12 generations have lived in the mansion. In
Qing Dynasty
(1644-1911), it was served as the imperial examination hall. It was Sun Yat-sen's base camp during his north expedition. At present, it is a part of the campus of Guangxi Normal University.
Construction of Jingjiang Prince City
Covering an area of 20,000 square meters (49 acres), it is mainly composed of Chengyun (Be Ordained by Heaven) Gate, Chengyun Hall, Bedchamber, Ancestral Temple, The Altar of the Earth and Harvests, pavilions, terraces and towers. The whole city is a huge building complexes decorated with red walls and yellow tiles, splendid and glorious. Around the Prince City, there is a city wall piled up by strong square green stones. Four city gates are opened in the eastern, western, northern and southern sides, named Tiren (Donghua Gate), Duanli (Zhengyang Gate), Zunyi (Xihua Gate) and Guangzhi (Hougong Gate) respectively. The straight Solitary Beauty Peak stands erect in the city. Yueya (Crescent) Pool is lying at the top of the peak. Move up, visitors can find Xuanwu Pavilion, Kwanyin Hall, Sanke Temple and Sanshen (Three Deities) Ancestral Temple elegantly dotted on the peak.
It is located in the ancient Mansion of Prince Jingjiang, in the center of Guilin City, Guangxi Province, with an area of 6,100 square meters (1.5 acres). Towering 216 meters (709 feet) above the sea level and 66 meters (217 feet) above the ground, this peak has been a major scenic site in Guilin since ancient times and is renowned as the 'Sky-Supporting Pillar in the South'. Composed of limestone from the shallow sea sediment biochemistry about 0.35 billion years ago, the peak got its name from the famous line in Southern Dynasty (420-589) literature, 'none can surpass this solitary peak in beauty'. When bathed in the dawn sunshine or afterglow, the peak seems to be wearing a purple gown and a golden belt, which is the origin of its other name 'Purple Golden Hill'.
A stone stair of 306 steps will lead you to the top of the peak, where you can enjoy the beautiful scenery of Guilin City. Here, you will also find the famous Solitary Beauty Pavilion, which is 7 meters (23 feet) high, has 2 floors and is supported by several red pillars.
There are many peculiar caves in this scenic site. The most famous one is the Dushu (Study) Rock at the east foot of the peak, which looks like a stone room with natural windows and beds inside. It is said that Yan Tingzhi, governor of Guilin and also a famous writer, often studied here about 1,500 years ago. At the west foot lies the Taiping (Peace) Rock, which is 2.9 meters (9.5 feet) high and covers an area of 140 square meters (1,507 square feet). This cave looks like a gracious house with a very smooth floor and stalactites of various shapes hanging down from the roof. Flowers are planted in the front of the cave, and statues of Buddha have been erected inside. On the wall of the cave, you can read poets' praise of the cave's exquisite characteristics. The Snow Cave on the other hand, which is located at the north-west foot, is famous for its stalactites that are white as snow.
The renowned Yueya (Crescent) Pond is located at the east foot of the peak. Its name is owing to its distinct crescent shape. The Sun Yat-sen Memorial Tower stands on the bank of the pond, and was established in 1921 to memorize the revolution led by its namesake, Sun Yat-sen. Now, it has been acknowledged as one of the major protected heritages of Guilin City.
Guangxi Examination Hall
Sanyuan Jidi Hall
Located near Zhengyang Gate, Sanyuan Jidi Hall was built for Chen Jichang, one of the 15 candidates that came first in the imperial examinations at all the three levels, which was called "Sanyuan Jidi" in Chinese. Chen Jichang was born in Lingui County in Guilin. His success has won glory for his hometown. In order to memorize him, a memorial gate way carved by a big stone was erected on the main gate of the Prince City, which was the highest honor of the successful people in imperial civil examinations in ancient China.

Zhuangyuan Jidi Hall
"Zhuangyuan" is the title conferred on the candidate who won the first in the highest imperial examination in ancient China. Located on Donghua Gate, Zhuangyuan Jidi Hall was built for Long Qirui, the number one scholar in 1841 in Qing Dynasty. The hall was destroyed in 1900. Today it was reconstructed and opened to visitors.

Bangyan Jidi Hall
"Bangyan" is the second place of the first grade in the highest imperial examinations during Ming and Qing dynasties in ancient China. Located on Xihua Gate, Bangyan Jidi Hall was built for Yu Jianzhang who won this title in Qing Dynasty.

A series of activities is held in these halls. The simulated examination halls of the provincial imperial examination center in Qing Dynasty are set up for visitors to experience the ancient exams. Visitors enter the exam hall, use brush pens and answer the test papers, and luckily they become the successful candidates and are put on the glorious clothes. This is to taste the happiness of ancient candidates when they succeed in the ancient imperial exams.
How to get to Jingjiang Prince City
Take bus 1, 2, 18, 22, 89, 100, 203, 206, 301 or k99 and get off at Lequn Crossing Station.
Take bus 2, 10, 11, 14, 18, 21, 24, 25, 28, 30, 91, 203, 206, Sightseeing Bus Line 1 or Sightseeing Bus Line 2 and get off at Jiefang Bridge Station.
Guilin Bus Search
Entrance Fee

CNY 100 (including Guangxi Examination Hall, Mansion of Prince Jingjiang and Solitary Beauty Peak)

Opening Hours

Mar. - Apr. & Oct. 8 - Dec. 7: 07:30 - 18:00
May - Oct. 7: 07:30 - 18:30
Dec. 8 - Feb.: 08:00 - 18:00

Top 10 Things to Do in Guilin
- Last updated on Apr. 18, 2022 -
Questions & Answers on Solitary Beauty Peak and Jingjiang Prince City
Asked by Jennifer from INDONESIA | May. 04, 2015 02:25

Reply
We will stay at prince city honglou hotel, located inside duxiu feng (solitary beauty peak) resort.
How far from zhenyang gate to hotel ? This hotel using the old building complex (which part of the building) or built in what year ?
Answers (1)
Answered by Jane from AUSTRALIA | May. 04, 2015 03:01

2

0

Reply
The distance between these two places is about a mile.
I don't know when it was built. But this hotel has been opened to public since 2010. And the last decoration was in 2012. So the hotel isn't an old building.

Asked by PetPet from GERMANY | Dec. 21, 2014 08:14

Reply
Is it a good time to visit Guilin in December? What should I do there??
Answers (1)
Answered by Christian from FRANCE | Dec. 22, 2014 01:27

1

1

Reply
Personally, It is not a good time to visit in Dec. when the scenery is not that attractive. You are suggested to go during Apr. and Oct.

The Li River Cruise is a must-try. You can visit the Elephant Trunk Hill, the Folded Brocade Hill and others on the way. Besides, the Seven-Star Park and Reed Flute Cave are also worthwhile.
Asked by khaled from SAUDI ARABIA | Jun. 18, 2011 00:16

Reply
Tour pricing of Hong kong-guizhou-shanghai-Macau?
dearfrind,
I am khaled seafan planning to visit china on july will you qout for me as list

v Country of residence is SAUDI ARABIA – Riyadh

v The No. of travelers are 2 for sure or might 4 (me and my wife sure) and might my 2 children (17 and 21 years)

v 15~21 days

v The Expected arriving date is 4th July

v Arrival city not decided yet might be Hong Kong or Guizhou

v I like to visit Guizhou, Shanghai ,Hong Kong and Macau

v If me and the wife one room with the kids 2 rooms

v The hotel 5~4 stars

v I like to travel from Hong Kong to Shanghai by cruses (ship) and from Shanghai to Guizhou by Fast train, from Guizhou to Macau by train and Macau to Hong Kong by any kind of transportation.

Answers (1)
Answered by Jason from CHINA | Jun. 19, 2011 22:16

0

0

Reply
If so, I think Hong Kong is better to be the arrival city. The fastest train will take 27 hours from Shanghai to Guizhou (Guiyang) and there is no direct train from Guizhou to macau. Perhaps you should go to Guangzhou first and then to macau by bus. Anyway, that's a better idea to find a travel service to arrange all these for you. It will the the student's summer holiday since early July. Train ticket from Shanghai and other big cities are not easy to buy. You may contact this
travelchinaguide.com|tours
for further help.