Xingping Town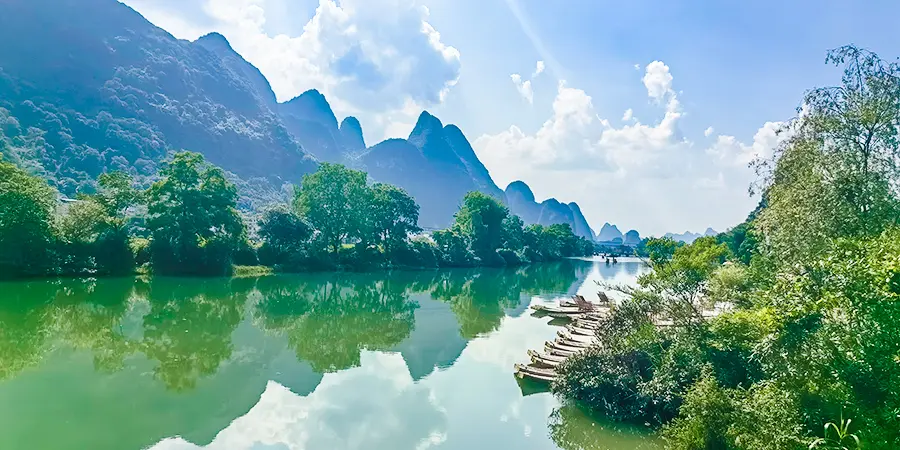 Enthralling scenery
Once, in ancient times, Xingping Town was the largest town along the Li River, and is 63 km (39 miles) from Guilin and 25 km (15.5 miles) from Yangshuo, on the east bank of the river. The town is really a beautiful place, surrounded by enthralling scenery. Both
Mural Hill
and
Yellow Cloth Shoal
belong to this scenic area.
The charm of the Xingping Town is greatly enhanced by the surrounding hills. The town is located at the foot of Wuzhi (five fingers) Hill. The hills in the east are Sengni Hill that resemble a monk and a nun are bickering with each other, Chaoban Hill is said to look like the tablet held by officials in court in ancient times and Arhat Hill looks like a smiling arhat monk exposing his breast to the sun. The hills in the south are Carp Hill and
Snail Hill
. The hills in the west are Bijia (pen holder) Hill and Meinv (belle) Peak. The hill in the north is Camel Hill resembling a camel crossing the river.
The historic sites here can be found in Xingping Old Street and Fishing Village about 2 km (1.3 miles) from the Xingping Town. The old street is a one-kilometer long stone street lined with old brick buildings and assembly halls like those of many different provinces. The old banyan tree, which needs as many as eight people's outstretched arms to encircle it, and Guandi (General Guan Yu) Temple which was built in the Qing Dynasty both tell the long history of the Xingping Town.
Fishing Village has a history of nearly 500 years. It typically represents the architectural style of northern Guangxi Province during the Ming and Qing Dynasties, the houses in the village conform with those in the Xingping Town. They have horse head walls, flying eaves, painted rafters and windows with carved patterns. When the former US president Bill Clinton and his wife visited here, they highly praised the village and were deeply attracted by the residences. The villagers fish for a living with the help of cormorants. Maybe you can go fishing with them on a raft instead of a boat. It's really exciting. Not far from the village is Water-Dropping Village where lies a waterfall, the water from which is often used to make wine.
| | |
| --- | --- |
| Xingping Town | Playing Mahjong |
Three km (1.9 miles) northeast of Xingping Town, there is the newly opened Lotus Cave. The cave is more than 600 meters long and is 2 meters wide along its broadest part. Striking stalactites of different shapes are to be seen in the cave. For example, the main sights include 'the Lotus Petals Suspended Upside down', 'Two Dragons Creeping out the Cave' and the 108 large and small 'Lotus Pods'. The diameters of the 'lotus seed pods' vary from 20 cm to 1.5 meter (4.9 feet) and it's really amazing that the small stones inside the pods look like real seeds! In spring and autumn, the sight is really lifelike under a layer of mist. There is a piece of stalactite which can make euphonic sound when struck. Do you want to have a try?
Lying on the east bank of the
Li River
upstream from Yangshuo, the fishing village has a history dating back more than 500 years. Founded during the Ming Dynasty in 1506, this picturesque village is infused with typical Lingnan or southeastern Chinese provincial culture.
There are 48 traditional residences that have been remarkably well preserved throughout the years. Special features of these residences include blue brickwork, black tiles, sloping roofs, horse head walls, cornices and carved windows. The houses are classic examples of Ming (1368-1644) and Qing (1644-1911) dynastic architecture.
Natural scenery in the area is eye-catching. A variety of mountains including Liyu (carp), Jinwa (golden tile), Yuanbao and Jiandao (sword and blade) stand aside as if they are bodyguards protecting this small village.
Behind the village is a precipitously hilly site called Tianshui Stockade. Despite its strategic place in military history, it covers an area of only three acres. Surrounded by cliffs, the area can only be traversed by walking though a narrow path.
Historically, this area has been the destination of many predominant figures. In 1921, Dr. Sun Yat-sen, the first president of the Republic of China set foot on the Tianshui Stockade and highly praised the beautiful scenery. In 1998, while paying a visit to China, then U.S. president Bill Clinton and first lady Hillary Clinton expressed their admiration of the simple and genuine features of the village.
| | |
| --- | --- |
| Fishing Village, Yangshuo | Charming Scenery around the Village |
Traveling in the Yangshuo-Xingping area, you can actually experience the life of local fishermen by going fishing with them. Their fishing techniques are unlike anything you've ever seen. They use bamboo rafts instead of wooden boats and they use cormorants to catch the fish. They do this by tying a noose around a bird's long neck to prevent it from swallowing its catch. After you finish fishing, the hospitable villagers will cook your freshwater bounty.
How to get to Xingping Town
Take a bus from Guilin General Bus Station directly to Xingping, and the buses depart at 7:00, 8:00, 13:00 and 14:00 with the fare of CNY31.

Next: Laozhai Mountain


More about: Top 10 Things to Do in Yangshuo
- Last modified on Apr. 15, 2021 -
Questions & Answers on Xingping Town
Asked by John from USA | Mar. 03, 2019 07:39

Reply
We are interested in visiting Xingping from Yangshuo by hiring a car and driver.
Are there vans?
Answers (1)
Answered by Madelyn from UNITED KINGDOM | Mar. 03, 2019 19:35

0

0

Reply
Yes, you can. As I know, the fare is around CNY100 for the single trip. And the duration is around 40mins.
Asked by william from NEW ZEALAND | Nov. 25, 2018 17:04

Reply
Hey what is the earliest bus avaliable from Yangshuo to Xingping?
I am aware there are different times for non-peak seasons.
Answers (1)
Answered by Denny from USA | Nov. 26, 2018 00:55

0

0

Reply
The bus starts at 07:10.
Asked by william from NEW ZEALAND | Nov. 14, 2018 14:07

Reply
Hey I was wondering when is the last bus to Yangshuo from Xingping?
Answers (1)
Answered by Rabi from USA | Nov. 14, 2018 18:17

0

0

Reply
The last bus departs at 14:40.
Asked by Andy Sowers from USA | Oct. 30, 2018 23:48

Reply
We know about the LI River cruise between Guilin and yangshuo.
But what about staying overnight in xinping or yangshuo from this cruise?
Answers (1)
Answered by Jane from USA | Oct. 31, 2018 18:47

0

0

Reply
I'm afraid you cannot stay overnight in Xingping or Yangshuo from the cruise because the boats from Guilin to Yangshuo only set out before the noon and arrive after 4 -4.5 hours. Then the boats travel back to Guilin without passengers. And the boats pass Xingping but don't stop. So if you want to visit the place, you have to get there by bus.