Departure: Mon/Wed/Fri
We Promise
No Shopping Arrangement
A Maximum of 6 Travelers
Expert Guide and Driver
One-on-one Customer Service
Departures with even one person
One Day Mini Group Tour to Yangshuo & Li River
No Shopping, Max. 6 persons
Drift along the Li River while soaking in the beauty of the surroundings
Escape from the bustling city and experience a rural life in Yangshuo
Cycling in the countryside of Yangshuo adds much joy to your trip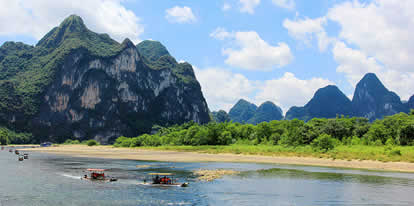 8:00-8:30 Hotel Pick-up
In the morning, we will pick you up from the lobby of your hotel. Our guide will contact you before 21:00 the previous day to confirm the exact time.
8:30-10:00 Drive to Xianggong Hill
After picking you up, we will drive to Xianggong Hill. Generally, visitors staying in Guilin city will spend 1.5 hours on the road to reach the hill; for those staying in Yangshuo town, the coach ride will take around 50 minutes.
Once all six members are assembled, our guide will purchase the entrance tickets for Xianggong Hill and lead the group into the scenic area.
10:00-10:50 Bird's-Eye-View of the Li River from the Top of Xianggong Hill
We will climb for 15 minutes along a moderately sloped staircase to reach the top of Xianggong Hill. Please inform our guide in advance if you need a walking stick. Lying between the famous Yellow Cloth Shoal and the Mural Hill, Xianggong Hill is one of the greatest viewing platforms in Guilin to take in the glamour of the Li River. The supreme view of the meandering Li River making a 180-degree bend, attracts countless visitors and photographers annually.
Enjoy the panorama of Li River from Xianggong Hill
10:50-12:40 Enjoy Yangshuo Countryside by Bicycle or E-bike
Returning from Xianggong Hill, our guide and driver will escort you to extend this Guilin day tour to Jiuxian Village in Yangshuo, a one-hour ride. Then you will go along the Yulong River by bicycle or E-bike to immerse yourself in the local idyllic landscape. En route, you will see vast farmlands dotted with colorful wildflowers and log cabins, stretching out from the foot of rolling hills. There are sometimes peasants driving one or two oxen to plow the fields, injecting a sense of vitality into the rustic scenery.
12:40-13:30 Enjoy Lunch at a Local Restaurant
To recover from the half day's excursion, we have chosen an elegant restaurant for you to enjoy the authentic local foods and take a short rest.
Cycling around the picturesque Yangshuo
Immerse in the peaceful idyllic life
13:30-16:30 Take a Motorized Raft Ride on the Most Famous Part of the Li River
After the lunch break, we will drive for an hour to the Xingping Dock for your motorized raft journey on the Li River. On the way we will pass by Fuli Town which is renowned for a traditional handicraft - painted fans. If you are interested, we can make a short stop there. Upon arrival at Xingping Dock, you will board the motorized raft. Taking a ride on the Li River is always on the to-do list of Guilin Yangshuo day tour. Compared with ordinary ships, the raft - a traditional means of transportation usually sitting four people - offers a wider view and is the best way for visitors to enjoy the picturesque natural scenery. During the one-hour raft ride, you will see famous spots, including the Yellow Cloth Shoal which is painted on the CNY20 banknote, and Murals Hill where verdant plants portray images of nine horses on a sharp cliff.
Important Tips: People over age 70 and children less than 1 meter high are not allowed to take the Li River boat raft due to safety concerns. Please consider this when you book the tour.
Appreciate the stunning landscape of Li River
Pupils are on the way home from school
16:30-18:00 Transfer Back to Guilin & Hotel Drop Off
Our Guilin Yangshuo tour ends here. Our guide and driver will transport group members back to their hotels in Guilin. Those staying in Yangshuo can spend some time exploring West Street and then return to their hotels on their own.
Friendly Tip:
There is a night show option in Yangshuo. It is the 'Impression Sanjie Liu', performed above and on the Li River and against verdant hills. The dreamlike stage effect and original singing and dancing of national minorities have won the performance a great reputation among visitors. The show begins at 20:00 and lasts for 70 minutes; ticket prices range from CNY 198 to CNY 320 depending on the seats. If you are interested, our guide will reserve tickets for you and escort you to the site after you finish your dinner.
After the show, the guide and driver will take group members back to their hotels in Yangshuo. Those staying in Guilin will need to take a bus back to Guilin on their own, at a cost of CNY 30; our guide and driver will escort them to the bus station and see them off.
Price Includes
Pick-up & drop-off from the hotel in Guilin or Yangshuo
Chinese lunch at local restaurant
Entrance fees as indicated above
Raft ride on Li River as indicated above
Bicycle or E-bike rental fee as indicated above
Professional English speaking guide
Experienced driver & air-conditioned vehicle
Free mineral water
Price Excludes
Hotels
Gratuities
Personal expenses
Impression Liu Sanjie Show and transfer fee back to Guilin after the show
What makes this tour different?
Unlike other conventional itineraries, this Guilin mini group day trip concentrates the most essential sights and classic activities along the Li River within one day. The diverse experiences will definitely make it a worthwhile trip.
No tourist shops or factories take up your valuable time for sightseeing.
We keep the group size small with no more than 6 persons, so that every member will be well cared for.
Take in the beauty of the Li River from different angles: Climb up Xianggong Hill to enjoy its full view & be in the midst of the Li River on a raft.
Experience a lot of joy riding a bicycle or e-bike along the countryside of Yangshuo.
Our professional guide will indicate the most favorable view points for you to take amazing photos as mementos.
Booking Policy
Pick-up Service: The hotel pick-up and drop-off area is within the urban areas of Guilin and Yangshuo. Most of the major hotels are located within the pick-up range, such as the Sheraton Hotel, Shangri-la Hotel, Li River Waterfall Hotel, Guilin Bravo Hotel etc. in Guilin and the Green Lotus Hotel and most Boutique hotels in Yangshuo. For further distances, we suggest you take a taxi to the appointed hotel and your tour guide will discuss this with you the day before the trip.
Infant Price: for an infant under 2 years old, this tour is free of charge.
Confirmation: Upon receiving your booking request, confirmation will be sent within 24 hours. We guarantee departures even with 1 person.
Payment: Full payment is required at least two days prior to the day of the trip. We accept payment by PayPal, Credit Card, Alipay, Wechat and Bank Transfer.
Cancellation: Free cancellation for up to 7 days in advance of the day trip; for cancellations 4 to 7 days before the trip there is a 10% cancellation fee. There is no refund if you cancel within 3 days of the trip. Once the day trip begins, any unused portion is non-refundable.
Itineraries you may also like: