Yangshuo Attractions - Things to Do
Yangshuo is one of the most famous tourist destinations of China. It boasts breath-taking natural sceneries, mysterious ancient local dwelling houses and an insight into a diverse range of cultures. There are several areas offering different things to do in and around the area.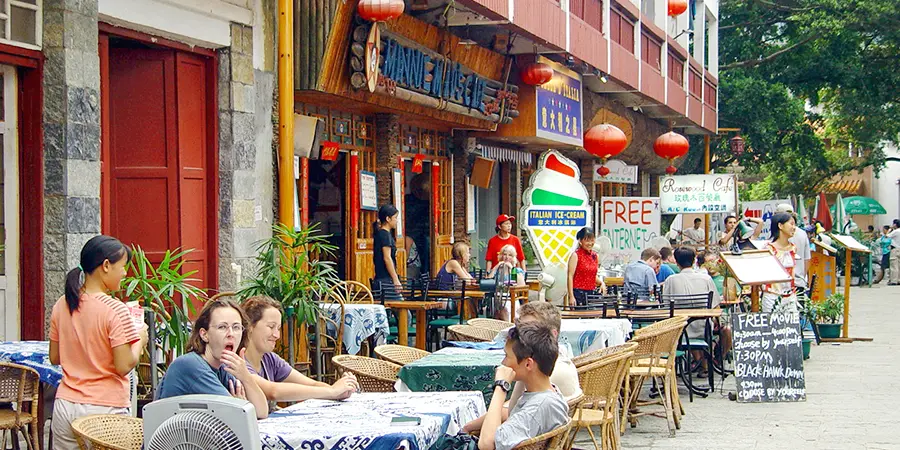 West Street

West Street (Xi Jie)


Ten-Mile Gallery (Shili Hualang)


Moon Hill


Big Banyan Tree


Impression Sanjie Liu



Assembling Dragon Cave


Butterfly Spring Park


Fuli Ancient Town


Green Lotus Peak


Laozhai Mountain


Rock Climbing Guide


Sanjie Liu Above-water Park


Shangri-la Park


Shutong Hill


Snail Hill


Xianggong Mountain


Yangshuo Park



Top 10 Things to Do in Yangshuo


Top 10 Things to Do in Guilin
Urban Scenic Area
In the center of the Yangshuo, the West Street (Xi Jie) attracts so many tourists from all over the world that it is called the 'Global Village'. People from different countries manage stores, cafes and restaurants creating an exotic
flavor in the street. Along the
Li River
that winds across the town, there stand hills of various sizes. The most famous are the Green Lotus Peak (Bilian Peak) and the Shutong Hill (Schoolboy Hill), named according to a ten meters (33 feet) high stone representing a figure of an ancient school boy on the hill. The Shutong Hill is the most exquisite and delicate hill along the Li River.
| | |
| --- | --- |
| Countryside Scenery around Yangshuo | Li River Scenery in Yangshuo |
Moon Hill Scenic Area
To the south of Yangshuo County, there is a romantic place where you can see the wax and wane of the moon (refers to a moon-like hole on the top of the Moon Hill). Various locations in close proximity to one another allow the sight to be viewed from different angles. Such a location and atmosphere is perfect for enjoying the love story of the fairy singer Sanjie Liu. The opportunity also exists to sit under the 1, 400 year old Big Banyan or to take a mud bath in the Moon Village. Between the Moon Hill and the Big Banyan, three large limestone caves wind along three stone hills and converge at a deep pool. It presents the image of three dragons assembling to drink in the pool, hence the pool's name 'Assembling Dragon Cave'. Two miles from the city, the Butterfly Spring Park provides the opportunity to view thousands of kinds of butterflies. A magnificent place for the butterfly enthusiasts.
| | |
| --- | --- |
| Xianggong Mountain, Yangshuo | Dusk at Xianggong Mountain |
Above-water Scenic Area
Along the lower reaches of the Li River lies the Sanjie Liu Above-water Park, where the film 'Sanjie Liu' was made. This is a picturesque environment consisting of pure water, green hills and farm houses. You can roll a bamboo raft and catch fish in the water, or you can act as Brother Aniu and sing a musical dialogue with the performer of Sanjie Liu. This area also provides you the opportunity to enjoy the famous performance 'Impression Sanjie Liu' that takes the natural environment around the Li River as its backdrop.
| | |
| --- | --- |
| Yulong River | Fishing Village |
More Attractions

Yulong River

Lotus Cave

Yangshuo Cultural Relic Landscape Garden

Yuzi Paradise
Apart from the areas mentioned above, there are also other special places worth visiting. Xingping, the most ancient town of the area, is famous for its most spectacular scenic spots such as the Fishing Village along the Li River. Located three kilometers (1.9 miles) northeast of Xingping Town, the Lotus Cave is greatly praised for its remarkable Karst spectacle, especially the 108 cave lotuses. Rolling a bamboo raft in the emerald water of the Yulong River, the so called Little Li River, is also a wonderful way to relax. To the east, the 'Hometown of Painting Fans' - Fuli will no doubt satisfy your desire to find traditional handicrafts. Xanadu provides the opportunity to escape the city life. Located approximately nine miles away from the city center, this mysterious village is full of fantastic buildings, primitive rurality and the diverse cultures of ethnic groups. It provides the perfect opportunity to bring you back in touch with nature. Moreover, Yuzi Paradise, a large outdoor art park showing primarily contemporary sculpture and cavern art and Yangshuo Cultural Relic Landscape Garden are also very popular sights there.
- Last updated on Apr. 21, 2021 -
Questions & Answers on Yangshuo Attractions
Asked by Diane from USA | May. 16, 2019 11:31

Reply
How is the Yangshuo weather in May and what is best to visit in May time frame?
Answers (1)
Answered by Eric from CANADA | May. 17, 2019 00:16

0

0

Reply
It may rain in the next half of May and May 21 may be a good day.
Asked by 1004223 | Feb. 18, 2019 22:51

Reply
is that a bus from Yangshuo to Longji terrace?
Answers (1)
Answered by Ethan from FRANCE | Feb. 19, 2019 23:35

0

0

Reply
Yes, there are direct buses from YS Coach Station to Longji Terrace. It takes 4-4.5 hours on the way. The ticket fare is CNY70/person. :)
Asked by Apad from USA | Feb. 08, 2018 01:32

Reply
Could someone tell me how can I get to Damian Hill (near Yangshuo).
Answers (3)
Answered by Olivia from NEW ZEALAND | Feb. 08, 2018 20:01

2

0

Reply
You can only take a taxi and it takes about 50mins, CNY80-90.
Answered by Arpad from USA | Feb. 10, 2018 09:43

0

0

Reply
Could you tell me where is exactly Damian Hill? My hotel is going to be in Xingping not YS.
Answered by Harley from CANADA | Feb. 10, 2018 19:49

1

0

Reply
It's in Dahebei Village, about 7k northeast to Xingping Town.