How to Get to Yangshuo
Situated 40 miles (65 kilometers) southeast of Guilin, Yangshuo is now a must-go destination as well as Guilin. To receive domestic and international tourists, the county has gradually improved its transportation system which at present is very convenient.

Air
There is no airport in Yangshuo, so Guilin is an ideal transfer place for those who prefer to travel by air. Passengers can easily arrive at the county from
Guilin Liangjiang International Airport
because it is the nearest one. After landing, passengers can take a direct shuttle bus to the county. Buses are available at 09:30, 11:00, 13:30, 15:30, 17:00, 18:30, 20:00 and 22:30. The trip takes around 1.5 hours and the ticket fare is CNY 50 per person.

Guilin Flights
Train
Yangshuo only has one train station –
Yangshuo Railway Station
, which is about 14 miles (22 kilometers) away from downtown. Situated along the
Guiyang - Guangzhou
and Yangshuo - Guangzhou High Speed Railways, the station operates bullet trains to/from Guiyang, Guangzhou, Guilin, Nanning and Liuzhou.

Transportation to the Train Station:
1. Take a direct minibus from Xingping Town Bus Station to reach there.
2. Take a bus from the Long-distance Bus Station beside Shima Yuanpan on Kangzhan Road and get to the front square of the station.

Major Rail Lines from Yangshuo to: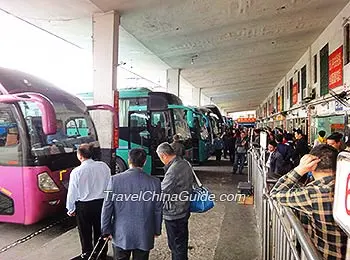 South Bus Station
Nonstop coaches and sightseeing buses at the coach station are mainly bound for nearby cities, such as Guangzhou, Shenzhen, Dongguan, Nanning, Wuzhou, Liuzhou,
Xingping Town
, Gaotian Town, Fuli Town, Puyi Countryside and Huangyao Ancient Town.

North Bus Station
Coaches to
Guilin Railway Station
from this bus station operate from 06:45 to 20:30 with the duration of about 1.5 hours. Other coaches here head for the towns and countryside within the county, such as Baisha Town, Putao Town and
Yangdi Village
.

Hereunder is a schedule for your reference:
Destination
Schedule
Ticket Price
Duration
Xingping
07:00 - 18:00 at intervals of 10 minutes
CNY 8
30 minutes
Yangdi
07:00 - 16:30 at intervals of 20 minutes
CNY 11
1 hour
Nanning
To Langdong Bus Station: 09:00, 15:30
To Jiangnan Bus Station: 11:30
CNY 130
5-6 hours
Liuzhou
06:30, 11:00, 13:30, 15:30
CNY 55-65
3-4 hours
Guangzhou
10:00, 12:00, 12:30, 12:40, 19:30, 20:00, 21:00, 21:30, 22:30
CNY 150-160
6 hours
Dongguan
To Nancheng Bus Station:12:30, 20:00, 21:00;
To General Bus Station: 11:00
CNY 170
8 hours
Shenzhen
12:30, 20:00, 21:30
CNY 220-250
10 hours
Zhuhai
To Gongbei Bus Station: 12:00, 16:30, 18:00, 20:20
CNY 230
8 hours
| | |
| --- | --- |
| Bamboo Raft on Li River | Cruise ship on Li River |

Cruise
Cruises on the
Li River
attract a large number of tourists. Two hot cruise routes are recommended:

Essential Route: Guilin – Yangshuo
Route
Zhujiang Passenger Wharf - Shuidongmen Wharf (near to West Street)
Main Attractions
Crown Cave, Nine-horse Mural Hill and Yellow Cloth Shoal
Duration
4.5 hours
Schedules
09:00 – 11:00
Ticket fare
April to November: CNY270-450/person
December to March the next year: CNY240-380/person

Downstream Route: Yangshuo – Puyi

Notes:
1. Travelers plans to enjoy Li River can book the
Li River cruise tickets
online in advance with TravelChinaGuide.
2. Children under 3.9 feet (1.2 meters) can take the cruise for free. Children between 3.9-4.9 feet (1.2-1.5 meters) can enjoy 50% off.

Bamboo Raft
Bamboo rafts provide an exciting way for travelers to explore the beauty of the Li River. The most popular routes are Xingping – Yangdi and Yulong River Drift. Most rafts allow 2 people only, while some big ones can hold 4-6 people. The sightseeing time for both routes is around 2 hours.

Compared with big cruises, its biggest advantage is that tourists can ask the boatman to stop at any banks and have much closer intimate contacts with the idyllic scenery. Tourists should prepare waterproof clothing in order to avoid getting wet. They are advised not to take the bamboo raft if it rains for the sake of safety. In addition, adults over 70 years old and children under 7 years old seem not to be allowed to take the raft.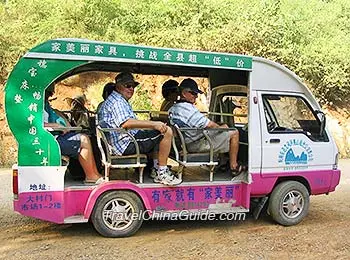 Storage battery car
City-bus (Battery Car)
Compared to public buses in other cities, those in the county are mainly battery cars. It is easy to flag down it along the street, and the ticket is CNY1-3 according to the distance. Besides, there are many minivans heading to Gaotian, Moon Hill, Dragon Bridge and Xingping.

Taxi
There are not many taxis. The county is small, so drivers usually don't charge by the meter. Thus, it's suggested to negotiate the price before getting in the car. Generally speaking, the fare is CNY 20-30 for in-town travels.

See the table below for reference taxi fare (all for single trips):
| Destination | Reference Fare |
| --- | --- |
| Liangjiang Airport | CNY 300 - 350 |
| Guilin Railway Station | CNY 200 - 250 |
| Yulong River | CNY 50 - 60 |
| Impression Sanjie Liu | CNY 30 - 40 |
| Moon Hill & Big Banyan | CNY 80 |
| Yangdi | CNY 120 - 150 |
| Huangyao Ancient Town | CNY 400 - 500 |
| | |
| --- | --- |
| Taxi | Local Bike Trip to explore County |
Bicycle
As the saying goes,"No bike trip! No Yangshuo!"In recent years, the most popular and interesting way to explore the county is cycling. Riding a bike enables you to appreciate the natural beauty of the town more freely. Various short-term bicycles can be rented from hotels or stalls along the West Street. The price is CNY 5-10/bike/day in usual time and CNY 15-20 on holidays. Tourists also need to pay a deposit of CNY 200-300 according to different types of bicycles.
Motor Tricycle
Motor tricycles are the commonest vehicles inside the county. They shuttle around the county just like taxis. Generally, one tricycle can carry three guests at a time and the charge is less than CNY20. Of course, if you like, you can hire one to travel for a total charge of CNY60-80 per day.

Further Reading:
How to Travel between Hong Kong and Guilin & Yangshuo
- Last updated on Apr. 15, 2021 -
Questions & Answers on How to Get to Yangshuo
Asked by Cherry from PHILIPPINES | Apr. 15, 2019 20:46

Reply
Hi! I need your help. How shall I get from Baisha town to Yangshuo High speed Train station?
What are my options? How much will it cost? Thank you in advance.
Answers (1)
Answered by Chase from FINLAND | Apr. 19, 2019 02:37

0

0

Reply
As I know, there is no direct public transportation. For your convenience, you are suggested to hire a private car directly. The fare is CNY 70 to 100.
Asked by Bernard Ng from SINGAPORE | Nov. 21, 2018 01:05

Reply
how to travel from Guangzhou Baiyun International airport to yangshuo?
Planning to visit YS for 5 days. Wish to go straight to YC upon touching down at Guangzhou Baiyun International airport.
What are the options ? Mode of transportation, etc ?
Answers (1)
Answered by Kent from FRANCE | Nov. 22, 2018 17:08

0

0

Reply
Route 1: At first, take the plane at Guangzhou Baiyun Airprt or bullet train at Guangzhou South Railway Station to Guilin. Then take a bamboo rafting at Guilin Zhujiang Pier to Yangshuo pier.

Route 2: take the bullet train from Guangzhou South Railway Station to YS Railway Station.

You can enjoy the natural scenery along Li River on the bamboo raft in the first route. The second route is much convenient. You can choose one for your convenience.
Asked by Felix from INDONESIA | Oct. 16, 2018 01:22

Reply
Bamboo Rafts from Yangdi to Xingping
Hi,

I'm planning to take bamboo rafts from Yangdi Pier to Xingping. I depart from Guilin. Can i get some information how to get to Yangdi Pier from Guilin ? and any fixed price for the Bamboo Rafts ? And is it possible to bring our luggage into the bamboo rafts ?

Thanks
Answers (5)
Answered by Shea from USA | Oct. 16, 2018 19:54

0

0

Reply
From Gulin to Yangdi Pier, you first get to Guilin Railway Station or Bus Station to take the bus to Yangshuo. Then get off at Yangdilukou(a junction of three roads) where there are buses that can take you to Yangdi Pier.

The price for the Bamboo Rafts from Yangdi to Xingping is about CNY220 and you can take your luggage into the rafts.
Answered by Felix from INDONESIA | Oct. 17, 2018 08:05

0

0

Reply
Thank you for your reply. Is 220 Yuan is for 1 person or 1 bamboo rafts? thanks for your help
Answered by Shea | Oct. 17, 2018 18:24

0

0

Reply
No, a bamboo rafts may hold several people and CNY220 is just for one person.
Answered by Bernard Ng from SINGAPORE | Nov. 23, 2018 00:52

0

0

Reply
Thank you for your reply Felix ! What would be the best way to go from YS Station to YS Town and roughly how long each mode of transport takes ?
Answered by Shea | Nov. 25, 2018 18:05

0

0

Reply
Does the YS Station mean the railway station or bus station?
Asked by Leoni Blume from GERMANY | Sep. 07, 2018 21:12

Reply
Is there an express/sightseeing bus directly from yangshuo to the rice terrace?
We are planning a trip von YS to the rice terrace of Longji. Since the bus for the locals take quite long, we hope to finde a non stop coach to the terrace.
Booking a guided tour (all inclusive) isn't an option for us though.
Thanks for your help!
Answers (1)
Answered by Emily from FRANCE | Sep. 10, 2018 19:29

0

0

Reply
There are two buses departing form Yangshuo Bus Station at 8:00 and 10:30. It takes about 3.5 hours to get the terrace and the fare is CNY 90.