Yangshuo Travel Tips

Fast Facts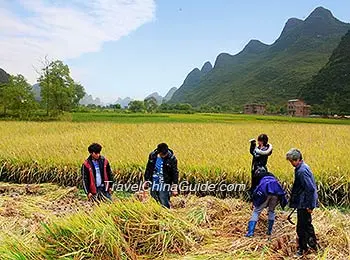 Autumn in Yangshuo
Location: in the northeast of Guangxi Province and to the south of Guilin City
Area: 1,428 square kilometers (352, 866 acres)
Population: 300,000
Nationalities: totally 13 including ethnic groups such as Yao, Hui and Zhuang
Postcode: 541900
Dialing Code: 0773

Useful numbers:
Fire alarm: 119
Police: 110
Ambulance: 120
Transportation Accidents: 122
Telephone Number Inquiry: 114
Weather Forecast: 121
Consumer complaint: 12315
Tour Information Consultation: 0773-8827944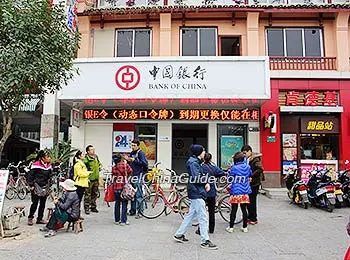 Bank of China

Medical Care
Yangshuo People's Hospital: No. 28, Chengzhong Road, Yangshuo Town
Addresses of Post Offices:
No. 28, Pantao Road, Yangshuo Town
North Town Street, Fuli Town
No. 6, Rongtan Street, Xingping Town

Money
In Yangshuo, you can find many kinds of banks including Bank of China, China Construction Bank, Agricultural Bank of China as well as China Industrial and Commercial Bank. With the credit cards issued by these banks, you can draw money from the ATMs 24 hours a day. For currency exchange, you will need to go to the Bank of China.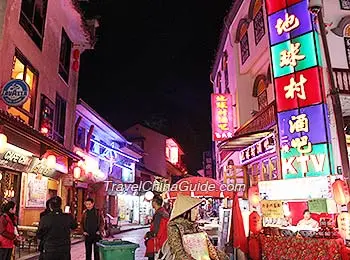 West Street
Addresses of some branches of Bank of China in Yangshuo County
No.11, Binjiang Road
No. 117, West Street

Communication
Along West Street, there are many public telephones available. The signal for mobile cellular phones is quite clear in the county and along the Li River. However, in the mountain and valley areas, the signal can be poor. It's a good idea to carry a supply of phone cards.

Internet bars are densely scattered in and around the county, especially the West Street. The charge ranges from CNY 2 to CNY 5 according to the facilities and locations of the bars. For example, the bars on West Street often charge more than those outside of the street. You also have access to the internet in many hotels and cafes in the county.
- Last modified on Dec. 09, 2018 -