Yangshuo Travel Tips

Fast Facts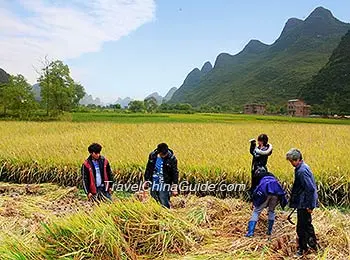 Autumn in Yangshuo
Location: in the northeast of Guangxi Province and to the south of Guilin City
Area: 1,428 square kilometers (352, 866 acres)
Population: 300,000
Nationalities: totally 13 including ethnic groups such as Yao, Hui and Zhuang
Postcode: 541900
Dialing Code: 0773

Useful numbers:
Fire alarm: 119
Police: 110
Ambulance: 120
Transportation Accidents: 122
Telephone Number Inquiry: 114
Weather Forecast: 121
Consumer complaint: 12315
Tour Information Consultation: 0773-8827944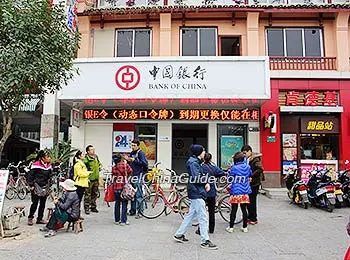 Bank of China

Medical Care
Yangshuo People's Hospital: No. 28, Chengzhong Road, Yangshuo Town
Addresses of Post Offices:
No. 28, Pantao Road, Yangshuo Town
North Town Street, Fuli Town
No. 6, Rongtan Street, Xingping Town


Money
In Yangshuo, you can find many kinds of banks including Bank of China, China Construction Bank, Agricultural Bank of China as well as China Industrial and Commercial Bank. With the credit cards issued by these banks, you can draw money from the ATMs 24 hours a day. For currency exchange, you will need to go to the Bank of China.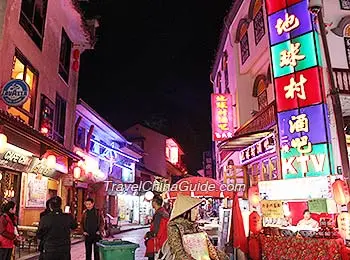 West Street
Addresses of some branches of Bank of China in Yangshuo County
No.11, Binjiang Road
No. 117, West Street


Communication
Along West Street, there are many public telephones available. The signal for mobile cellular phones is quite clear in the county and along the Li River. However, in the mountain and valley areas, the signal can be poor. It's a good idea to carry a supply of phone cards.

Internet bars are densely scattered in and around the county, especially the West Street. The charge ranges from CNY 2 to CNY 5 according to the facilities and locations of the bars. For example, the bars on West Street often charge more than those outside of the street. You also have access to the internet in many hotels and cafes in the county.
- Last updated on Jun. 07, 2022 -
Questions & Answers on Yangshuo Travel Tips
Asked by Sarah from UKRAINE | Oct. 30, 2019 14:32

Reply
Is there a bus on which to travel from Yangshuo to Fenghuang?
Is there a way to travel from Yangshuo to Fenghuang in a single day and if so, how long would it take? I hope to spend a couple of nights there before continuing to Zhangjiajie. Thank you.
Answers (1)
Answered by Ada from CANADA | Nov. 03, 2019 17:37

0

0

Reply
Sorry, there isn't. People usually hire a car from Yangshuo to Fenghuang with around 5-6 hours, or take bus from Guilin to Fenghuang.
Asked by Anna Melicharová from CZECH | Sep. 04, 2017 16:01

Reply
Hello, I will need to get from Guangzhou to Yangshuo.
the best way of traveling (train, bus), what would you recommend? There are more opportunities
Answers (1)
Answered by Julie from UNITED KINGDOM | Sep. 04, 2017 21:07

0

0

Reply
You are suggested to take the bullet train from Guangzhou South to YS, which is available from 7:18 to 16:01, and it takes about 2h 30 minutes and CNY140.5 for a first class seat, CNY117 for a second one.
Asked by Hil from RWANDA | Dec. 22, 2016 02:37

Reply
How do I get from downtown area to Yangshuo High-Speed Station, which I know is in Xingping?
Answers (1)
Answered by Doris from FRANCE | Dec. 23, 2016 00:56

1

0

Reply
You may go to the coach station near Shima Yuanpan in Kangzhan Road and and arrives at the front square of the station. The duration is 60-70 minutes.
Asked by SOH from SINGAPORE | Jun. 14, 2016 22:18

Reply
Is there any bus direct from Yangshuo to Nanning?
If so, where should I take the bus?
Answers (1)
Answered by Hunter from USA | Jun. 14, 2016 22:36

1

0

Reply
Yes, you can take the direct long-distance bus at YS Bus Station and get to Nanning Langdong Bus Station or Jiangnan Bus Station.
To Langdong Bus Station: 06:30, 11:00, 13:30, 15:30
To Jiangnan Bus Station: 11:30
Hope helpful!