Yangshuo Travel Guide
Yangshuo lies to the southeast of Guilin and in the northeast of Guangxi Zhuang Autonomous Region. Since being introduced by 'Lonely Planet' in 1980, it greets an increasing number of visitors annually.
The rippling Li River traverses the county and brings it breath-taking natural beauty. The county is regarded as one of the most beautiful counties in China and the local scenery is the essence of Guilin. It is also the termination of a Li River cruise.
The special geography gives it amazing beauty while over 1,400 years of history and diverse ethnic minority groups bless it with deep traditional and splendid cultures. Keeping their original charater, streets there present the simple and primitive atmosphere of the ancient town. Ethnic groups' special folk customs represented by their various festivals, and exotic flavors added by foreigners make this town more colorful. The West Street in town is the most popular site, gathering and dispatching a great number of tourists.

Top 10 Things to Do in Guilin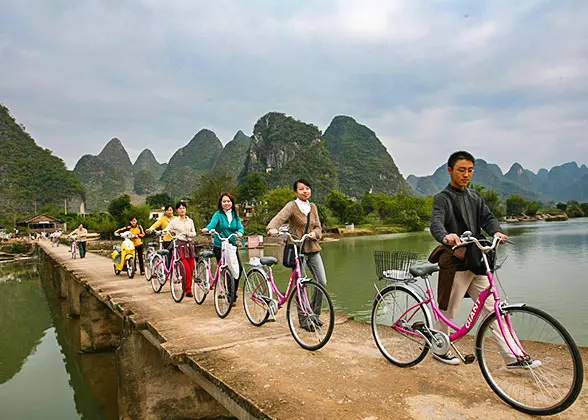 There is no airport in this town. But the high speed trains have connected it with Guilin, Guangzhou and Shenzhen. Besides, buses to Guilin, Guangzhou, Nanning, Shenzhen, and Xingping Town are available at the local bus station. Those traveling by air can transfer from Guilin, where you can choose a Li River cruise or take a train or bus to Yangshuo. City-bus and motor tricycles operate within the county. Cycling and hiking are good choices to view the idyllic countryside scenery.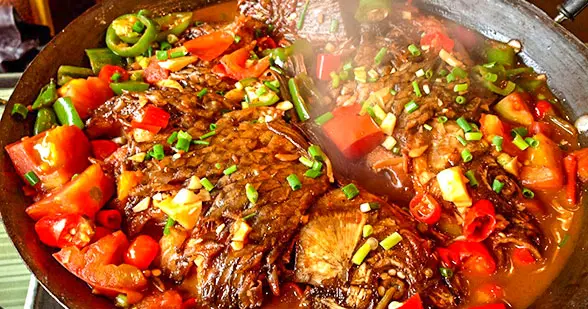 Yangshuo attracts tourists with its delicious specialty foods, such as Beer Fish, Niang dishes and special snacks including rice noodles and various glutinous rice cakes. You can taste them in most streets of the county. The local specialties such as Shatian Shaddocks, kumquats and Chinese chestnuts are worth tasting as well.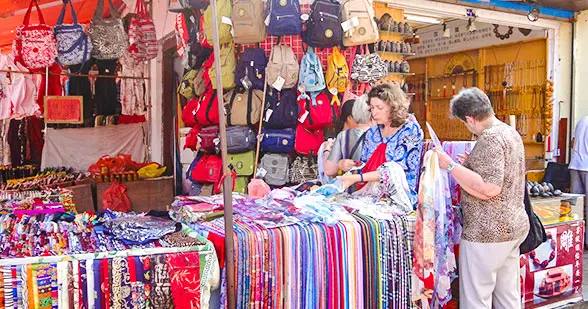 If you want to buy some souvenirs, painted fans, embroidered balls, and painted shirts are all good choices. You can buy in tourist spots or pick up some when wandering along West Street. Bargaining is necessary before paying. If you want to buy some local specialties, you are suggested to go to supermarkets like Ninety-nine Supermarket.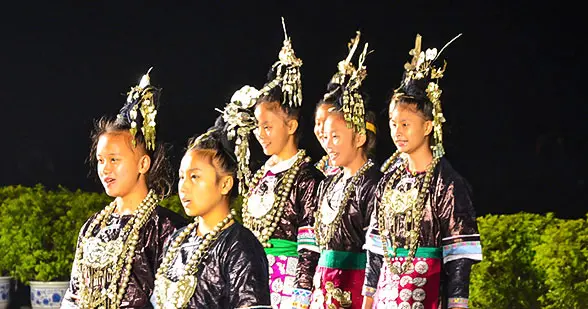 Impression Sanjie Liu, a local performance directed by Zhang Yimou, is highly recommended to enjoy at night. It is performed on the Li River as a natural stage and many folk songs and dances are shown. West Street turns into a bar street at night, where one can relax and listen to some pop songs. Many foreigners reside there. Different kinds of clubs and cafes, as well as plenty of snacks in the roadside eateries will leave you with an unforgettable experience.
Basic facts and practical tips are provided to facilitate your trip or living in Yangshuo.
Area & Zip Code
Hospitals
Money & Bank
Post Office
- Last modified on May. 13, 2019 -
Questions & Answers on Yangshuo Travel
Asked by Bruce Thompson from UNITED STATES (US) | May. 12, 2019 10:00

Reply
Is it best to take the bamboo rafts in Yangshuo or the cruise from Guilin?
Answers (1)
Answered by Dancy from USA | May. 13, 2019 18:35

0

0

Reply
The cruise is safer but it is also very interesting to take a raft at Yulong River.
Asked by DOUGLAS KINGSTON from AUSTRALIA | Apr. 25, 2019 16:45

Reply
Can you please advise the name of the boat you use for the 4-star Li River cruise?
Answers (1)
Answered by Joe from USA | Apr. 27, 2019 18:03

0

0

Reply
The Shengjing Cruise is available and its Chinese name is 盛景号.
Asked by Anna from RUSSIA | Mar. 23, 2019 20:16

Reply
How is it possible to reach Yangshuo from Fenghuang?
Yes, I know there's no direct bus o train. But I know about direct bus Fenghuang-Guilin. And I don't know what to do after this. Please help.
Answers (1)
Answered by Alyssa from FINLAND | Mar. 27, 2019 23:58

0

0

Reply
As I know, there is only one direct coach from Fenghuang to Guilin. After arriving, take the direct coaches from Guilin General Bus Station to the destination. The Coach Station is located about 800 yards (730 meters) to the northeast of Guilin Railway Station. Hope helpful!
Asked by Adrien from CANADA | Dec. 21, 2018 10:12

Reply
We will be visiting Guilin and Yangshuo late April into early May.
How many days do you suggest in each place or is it even advisable to split our stay in each town? We want to raft on the Li River, go to the Flute cave, enjoy the nature attractions/surroundings and possibly go to the Impression Sanjie Liu Show (has anyone seen this show?). We are not rushed for time, but we are just not sure how many nights we need in order to relax and really enjoy the area. We will be travelling from HK and back by high speed train. Thanks.
Answers (2)
Answered by LANCH | Dec. 23, 2018 23:29

0

0

Reply
Based on your planning, 3 or 4 nights would be okay, besides, Impression Sanjie Liu come from a Chinese folk story, I am not sure whether it is hard for you to get the meaning, may be you can read some background, and keep warm because of the weather. --- Haven't been to Yangshuo but hope the words from a Chinese could be helpful.
Answered by Adrien from CANADA | Dec. 27, 2018 21:13

0

0

Reply
Not knowing the meaning is fine. Chinese shows are always colorful and spectacular to watch.
Asked by Mim from DONGGUANG | Dec. 03, 2018 23:00

Reply
Hi we're in Yangshuo now, but would like to know is there any nice places to go by fast train
to another city worth to see and stay for couple nights? We already been to Guilin. Thanks
Answers (1)
Answered by Taylor from USA | Dec. 04, 2018 23:21

0

0

Reply
There are bullet trains operated to Chongqing and Chengdu in YS railway station. The duration is about 5-6 hours to Chongqing and 7-8 hours to Chengdu.The two cities border upon. You can take the bullet train to Chongqing first and then visit Chengdu where you can see pandas and eat authentic Hot Pot and other delicious local snacks.