Yulong River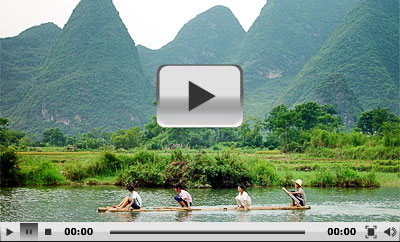 Pictures
Yulong River, also called Little Li River, rises in Lingui County in Yangshuo. The river is about 43 kilometers (26 miles) long, with a drainage area of approximately 158 square kilometers (39,043 acres). The part of the river that stretches from Yulong Bridge in Baisha Town, to Gongnong Bridge near Big Banyan Tree along the Ten-Mile Gallery, is known as the Yulong River Scenic Area, and includes some spectacular scenic views along each river bank.

The Chinese word 'Yulong' refers to 'meeting a dragon'. Local legend has it that a dragon from the East Sea strolled across the Yulong River and, being deeply impressed by the attractive landscape, decided to stay there forever. The villagers living on the river bank saw the dragon several times, and hence the river is named so.

The Yulong River Scenic Area has many tourist attractions interspersed with cultural and historical ones. The languid river is surrounded by a primitive, but pure, natural landscape, combined with green bamboo forests and rolling hills. Visitors to the area will delight in the picturesque scenes of simple rural life: bamboo waterwheels irrigating the paddy fields; village girls hand washing clothes outside of their cottages with smoke curling upward from the chimneys; old men fishing in the river; flocks of ducks swimming in the pond. Idyllic scenes such as these will allow tourists to forget their problems and experience a sense of calm relaxation.
| | |
| --- | --- |
| Drifting on Yulong River | Stone Bridge over River |
Other natural spots along the river that should not be missed are Big Banyan, Moon Hill, Five-Finger Hill, Lion Hill, Dragon Pool, Butterfly Spring, Tianping Greenland, the Eight Immortals Caves, Rhinoceros Pool and Chaoyang Village.
Historical attractions include the three most famed ancient bridges in Yangshuo:Yulong Bridge; Fuli Bridge; Xiangui Bridge (the oldest single arch bridge in Guangxi). The Han Dynasty (206BC-220) Tombs, Guiyi County Site, Jianshan Temple (the biggest one in Guangxi) and Pan Manor are also worth visiting. For an appreciation of simplicity and elegance, tourists should pay a visit to the local dwelling houses built in Ming Dynasty (1368-1644) and Qing Dynasty (1644-1911) style located in Jiuxian County.

Two Ways to Appreciate the Scenery
The first is by river, with the renting of a bamboo raft. The route starts at Jinlong (Golden Dragon) Bridge and ends at Gongnong Bridge and takes about 6 hours. Please do not rent those rafts without first ensuring a life preserver is present. The second is to appreciate the beauty of the natural and rural scenery along the river on foot. This option takes about 4.5 hours.

Tips:
It costs CNY 240 (per bamboo raft) by drifting along the Yulong River (from Jinlong Bridge to Gongnong Bridge).
How to get to Yulong River

The Yulong River scenic area has been under traffic control between 07:00 and 19:00 every day since September 15, 2017. Visitors can only enter the area by foot, bicycle, or special tour bus.

1. Take the bus (Yangshuo - Guilin), getting off at Baisha Town, and then walk to Yulong Bridge.
2. Rent a bicycle at the West Street in Yangshuo and ride along the river bank upstream to Yulong Bridge. It takes about 20-30 minutes.
3. Take the special tour bus to enjoy the river and the bus fare is CNY 60. It can be taken unlimited times a day.



Yulong River Postcard


Further Reading: Top 10 Things to Do in Yangshuo
- Last updated on Apr. 15, 2021 -
Questions & Answers on Yulong River
Asked by Antonio from PORTUGAL | Aug. 22, 2019 06:45

Reply
Nicest stretches of Yulong River
We have a half day in Yangshuo and would like to do the bamboo rafting on the Yulong River. What stretch of the river would you recommend for a 1-2 hour long trip? Thank You.
Answers (1)
Answered by Aesop from AUSTRALIA | Aug. 25, 2019 19:18

0

0

Reply
According to the information on the Internet, the classical route is from Chaoyang port to Gongnong bridge. Hope it helpful!
Asked by Anna from CHINA | Sep. 06, 2018 01:12

Reply
Yulong area by motorbike
Isn't it possible to enter the area on a motobike or electric scooter? The same question is about the Ten mile gallery. Does it mean that when coming to Yangshuo we should rent a bicycle not a motorbike?
Answers (1)
Answered by Sam from USA | Sep. 06, 2018 20:55

0

0

Reply
No worry, both bike and electric scooter are available! Nice trip!
Asked by Bladik from UKRAINE | Aug. 04, 2018 08:39

Reply
Special tour bus of Yangshuo Yulong River
Hi. Does anyone know about this bus?
3. Take the special tour bus to enjoy the river and the bus fare is CNY 60.
How often does the bus run, where it stop, where can i buy ticket?
Answers (1)
Answered by Dana from HUNGARY | Aug. 07, 2018 01:25

0

0

Reply
The bus departs from 07:00-19:00 and it stops at Jima village, Lingshang village, aishanmen village, Ji Ma Wharf, Waterwheel track, Qiqiu Shu Village, etc. You can buy tickets at Jima Bus Station or Gongnong Bridge Wharf.
Asked by Dana from ISRAEL | Apr. 07, 2018 09:57

Reply
Hi! We're thinking of visiting Fuli Ancient Town and Baisha Town (Yulong Bridge) on the same day.
Is this possiblerecommended? We'll be there in September of this year, if it helps.
Answers (2)
Answered by Tyler from USA | Apr. 08, 2018 00:52

0

0

Reply
Yes, it's possible and the two are not far, about 19km. Have a nice trip!
Answered by Dana from ISRAEL | Apr. 09, 2018 07:34

0

0

Reply
Thank you!