Big Banyan Tree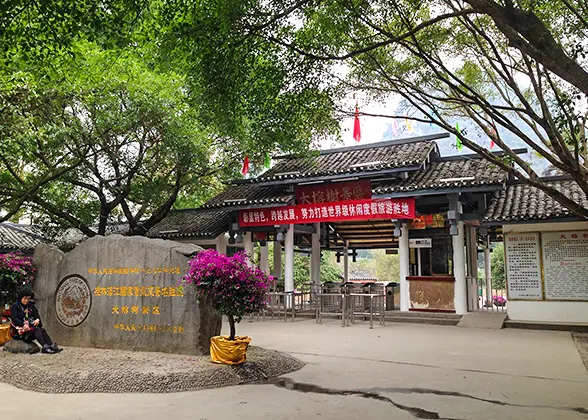 Big Banyan, Yangshuo
The Big Banyan Tree is a giant banyan tree that is 7km (4.3 miles) from Yangshuo County in Guilin, Guangxi. More specifically, it grows on the south bank of Jinbao River in Chuanyan Village, about 2km (1.2 miles) from
Moon Hill
. It has survived over 1,400 years of wind and rain since it was planted during the Sui Dynasty (581-618). You will encounter it while travelling in the picturesque "
Ten-Mile Gallery
" superb tourist section in Yangshuo County, which was once visited by the former American President Carter.
How big is the Banyan Tree
Before seeing the Big Banyan Tree, you can barely image how big it is. The tree measures about 7 meters (23 feet) in circumference and about 17 meters (56 feet) in height. Although the trunk is very old and the roots twisted, its branches and leaves stretch out so lushly that the sunshine hardly penetrates its foliage. Looking from a distance, it resembles a huge green umbrella. Sitting in its shadow on even the hottest summer days, one will feel pleasantly cool.
Big Banyan Tree - A Love Tree
Apart from its long history and huge size, the Big Banyan Tree owes its fame to Liu Sanjie, a famous singer of the Zhuang Ethnic Group. A Chinese film about her called "Third Sister Liu" was partly shot here in the 1960s. It was under this tree that Liu Sanjie threw an embroidered ball to her lover Aniu and sang antiphonal folk songs with him. It was also under this tree that Liu Sanjie declared her admiration for Aniu, thus the tree is regarded as a "Love Tree". Now thousands of people come to the "Love Tree" to pray for a happy relationship. By the way, you can find the former residence of Liu Sanjie southwest of the Big Banyan Tree.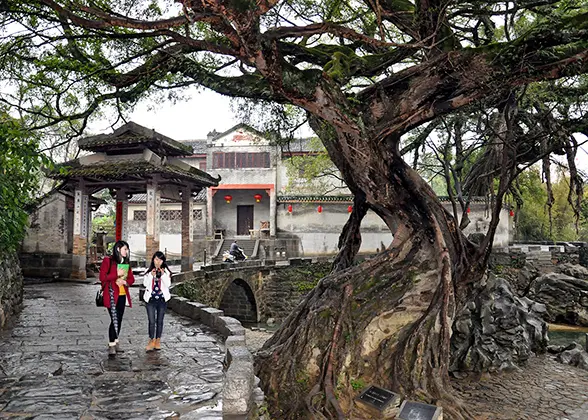 Entrance to Big Banyan Tree Scenic Area
Scenic Spots near Big Banyan Tree
Beside the tree is Jinlong River winding its way through Chuanyan Village. Here visitors are provided with the opportunity to be a ferryman and experience independent raft piloting. It is actually much fun. Across the river you will find a hill with a hole in it, thus the village is named Chuanyan, meaning a hill that is penetrated. Northeast of the tree is a popular rock climbing zone. There are ten well developed climbing routes, of which the first was opened by the American climber Todd Skinner.

See more
Yangshuo Rock Climbing Guide
How to get to Big Banyan Tree
There are many ways to get to the Big Banyan Tree from Yangshuo County.
1. The most popular way is to rent a bike or a motorbike. A bike costs about CNY10-20 per day and a motorbike may cost a bit more. A deposit of CNY 100 or CNY 200 is needed.
2. Take a bus to Gaotian Town from Yangshuo County and get off at the scenic area.
3. Or you can drift along
Yulong River
to Gongnong Bridge, and then walk southwest for a few minutes.
Entrance Fee
CNY 15;
CNY 10 for children between 1.2 and 1.4 meters (3.9 - 4.6 feet);
Free for children under 1.2m.
Opening Hours
8:00 - 17:30
Recommended Time for a Visit
Half an hour

Nearby attraction:
Jianshan Temple, opposite to the Big Banyan Tree Park, is one of the oldest temples in Yangshuo County. Outside the temple is a flower field, attracting many passing cyclists to stop and take pictures. The admission ticket costs CNY 20 per person.

Further Reading: Top 10 Things to Do in Yangshuo
- Last updated on Dec. 20, 2019 -