Moon Hill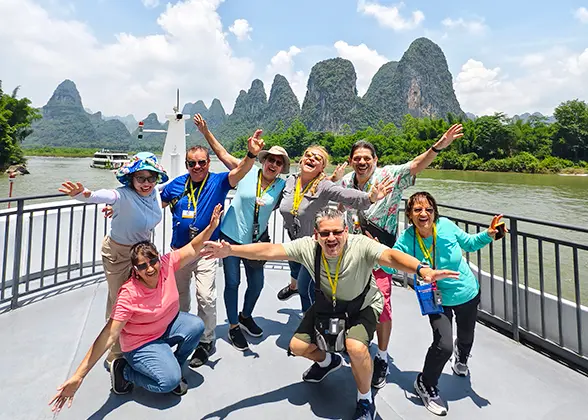 Yangshuo Moon Hill
To the south of the Big Banyan Tree in Gaotian Town, about 8km (five miles) away from Yangshuo County of Guilin, there is a natural masterpiece called the Moon Hill. On the hilltop is a round hole penetrating the hill from north to south, which resembles a bright moon, therefore, the hill is named Moon Hill. How was Moon Hill formed? Once as a limestone cave, it's actually one of the karst formations in this area. It is the last stop when you travelling along the picturesque 'Ten-Mile Gallery', the superb tourism section in Yangshuo County. In 1972, the former U.S. president Richard Nixon and his wife climbed the hill. Now, Moon Hill hike and rock climbing are popular among visitors.
The thin hill measures 230m (756 feet) high, resembling a huge screen. With another hill behind the Moon hill for reference, you will find the 'moon' constantly changes from a new moon to an old moon and then to a full moon. The hill is fronted by Licun Village, where a moon-admiration path is developed for the sake of visitors. Walking along the path, you will enjoy a show of waxing and waning of the moon. This village is also the best place to take distant view pictures of the Moon Hill.
800 marble paved steps lead visitors to the "Moon Palace", the hole on the top of the hill. In this huge palace about 50m (55 yards) in diameter, you will find a smooth wall and various stalactites hanging from the ceiling. Locals believe that three of them look like the fairy Chang'e, the Jade Rabbit, and the woodcutter Wu Gang respectively. On a fine day, blue sky and white floating clouds make a fantastic background against the hole. At the night of the
Mid-Autumn Festival
, people will light lamps made of grapefruit on the grassland at the mountain foot, then put them into the
Li River
at midnight to make good wishes.
| | |
| --- | --- |
| Beautiful landscape around Hill | Other Peaks nearby |
Rock Climbing of Moon Hill
Yangshuo County has long been a popular destination for rock climbing. It enjoys about ten climbing places and over 900 climbing routes. Annual Yangshuo Climbing Festival is the grandest of its kind in China and even in Asia, attracting thousands of climbers from home and abroad. The Moon Hill is one of these sought-after climbing places. The climbing site is at the hilltop and it takes nearly twenty minutes to reach it. In total there are 15 routes. The first route was pioneered by the American climber Todd Skinner in 1992. And the route no. 14, as long as 30m (100 feet), is one of the most demanding natural rock climbing routes in China.



See more Yangzhuo Rock Climbing Guide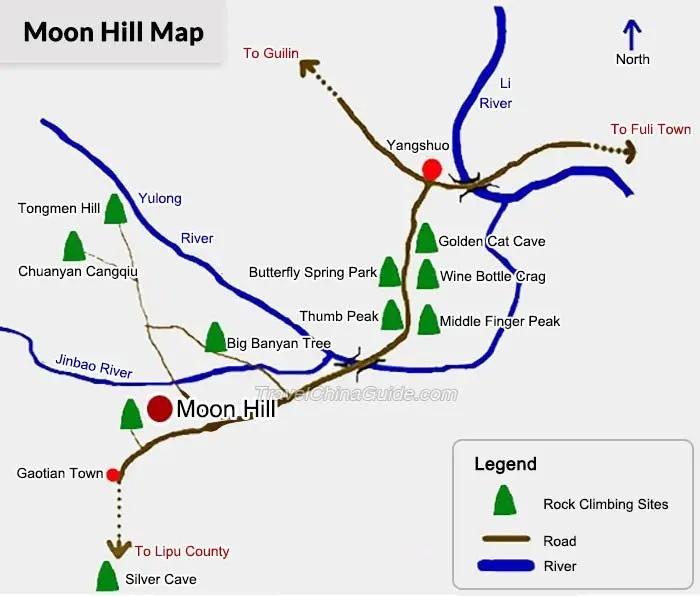 Moon Hill Map
How to get to Moon Hill
The Moon Hill is only 8km (5 miles) away from Yangshuo County and you can reach it by many ways.
1. You can hike from Yangshuo to there, and it takes around 2-4 hours.
2. Another popular way is to rent a bike or a motorbike. A bike costs about CNY 10-20 per day and a motorbike may cost a bit more. A deposit of CNY 100 or CNY 200 is needed. It takes about an hour by bike.
3. You can take a bus bound for Gaotian Town and get off at the Moon Hill.
4. Or you can drift along Yulong River to Gongnong Bridge, and then walk or bike southwest for a few minutes.
| | |
| --- | --- |
| Entrance Fee | CNY 11 |
| Opening Hours | 8:00 - 17:30 |
| Recommended Time for a Visit | One or two hours |

See More:
Top 10 Things to Do in Yangshuo
- Last updated on Apr. 15, 2021 -
Questions & Answers on Moon Hill
Asked by Alia from MALAYSIA | Aug. 02, 2018 19:26

Reply
What the food u recommend to me to eat at yangshuo
im muslim.
Answers (1)
Answered by Tanya from UKRAINE | Aug. 06, 2018 23:20

0

0

Reply
There is a halal restaurant located at Sunshine 100A 111 Diecui Road.
Asked by Rose from MALAYSIA | Mar. 29, 2016 23:31

Reply
How to get the moon hill and banyan tree from yangshuo, West Street? How much its costing?
Answers (1)
Answered by Jenny from USA | Mar. 30, 2016 03:17

2

0

Reply
The two places are next to each other. You may take a taxi for around CNY 30 for a single trip. The entrance fees of the hill and the tree are CNY 15 and CNY 20 respectively.
Asked by abraham from INDIA | Oct. 03, 2015 00:01

Reply
along with moon hill, can we cover any other location in a single day?
Answers (1)
Answered by Ben from UNITED KINGDOM | Oct. 08, 2015 00:53

1

1

Reply
Along the way, you can also drop by Darongshu (Big Banyan) Scenic Area and Julongtan Scenic Area.
Asked by Mel from USA | Dec. 17, 2012 14:39

Reply
How far is Moon Hill from West street area?
What would you recommed to visit the caves and the hills at Guilin or the scenery at Yangshuo? and how many days would you recommend at Guilin and at YS?
thanks for your help =)
Answers (1)
Answered by Lisa | Dec. 18, 2012 01:44

1

2

Reply
It is about 9km by road between the hill and the West Street. Well, both Guilin and Yangshuo are worth visiting. You can spend 2-3 days in Guilin and 1-2 days in YS.